Articles
Magento 2018 Year-in-Review: Everything You Might Have Missed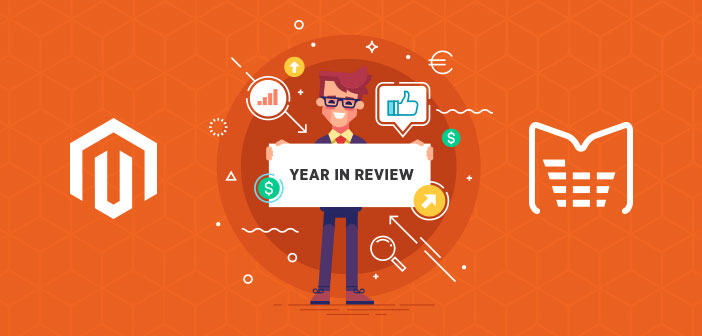 Magento disrupts the world of design as of 2018. New milestones have been achieved in ecommerce by the open source platform. Here's everything you need to know!
Without further ado, let's dwell into the happenings of 2018. Magento sets a roadmap towards new milestones by being acquired by Adobe in June. The core agenda of conferences was to shed light on extending digital footprints and improving their user database.
The Magento team and Magenticians managed to achieve a lot in 2018. The community held numerous conferences, while also improving the open source platform's digital footprints. Here's everything you need to know about what happened in 2018. Happy Reading!
A Sneak Peak into Magento's Head Office
Danielle Mundle gives us a tour of Magento's Head Office
Being Part Of The Adobe Cloud
The game changer for Magento in 2018 is being acquired by Adobe in June. The open source platform has already made its mark providing almost anyone an ecommerce gateway to set up their business online. Magento spokesperson mentioned that the company was thrilled to be working inline with Adobe. Both companies have similar goals of empowering people, creatively or via code.
Recent Big Updates
A month before the end of 2018, Magento 2.3 released upgraded its version with Multi-Source Inventory (MSI); a page builder, PWA Studio and improvements in their API. These updates are focused on the user's operational efficiency.
The core update, MSI manages the inventory across multiple physical locations while staying within the Magento admin portal. Merchants can now assign products and quantities such as warehouses, stores, distribution, etc. Moreover, the new update helps in tracking inventory, streamline operations and integrate the platform with third-party ecosystems.
Some big updates were done to page builder, integrating it with Bluefoot CMS to provide the user with an improved GUI. Magento also added PWA Studio, a tool that helps users in piloting the mobile experience of their webpage.
Additional updates include ReCAPTCHA, two-step security verification, declarative schema, bulk Web APIs and improved indexing performance. These features were mostly recommended by the global community and were needed by most customers.
What Else Happened in Magento 2018?
A month prior to the acquisition, the open source platformer hosted Magento Imagine 2018 in Las Vegas. This was its eighth annual event where Jamie Foxx, the keynote speaker from talked about leading the charge. The event mostly encompassed leadership case studies and showing support towards the open source community.
Magento invited Phillip Jackson to talk about his emotional journey to lose weight. He showed gratitude to the company showing how Leading the charge helped him reach his goals.
The event concluded with a quote from Mark Lavelle, the CEO of Magento:
"It takes people with different styles of skills to make change happen, and when leaders come together in a community…they have a powerful impact"
The case study sessions were presented by multiple influential speakers:
Peter Sinclair, the Senior Vice President, Consumer of Universal Music Group
Louis Pietragallo Jr., Director of Digital, and Gina Faiola
Digital Merchandiser & Marketer
Melissa Ben-Ishay, the President & Chief Product Officer at Baked by Melissa
Alex Melvin, President & CEO of Rural King
Sucharita Kodali, VP of Principal Analyst Serving eBusiness & Channel Strategy Professionals at Forrester
Bill Scott, VP, PayPal Consumer & Venmo Engineering
Jason Silva, Futurist and Host of Brain Games
Eric Broussard, VP of International Marketplaces and Retail at Amazon
Maier Bianchi, Founder / CTO at Bemeir LLC talks about his experience at Magento Imagine 2018
Click here to view more videos :)
Wagento, an ecommerce development company in India hosted a conference – Magento India In January. The agenda of this conference was to set company footprints and connect with Asian markets while speakers talked about best practices and standards of the open source platform.
In June, simultaneous to the acquisition by Adobe, Magento also updated its platforms; Enterprise Edition and Community Edition. The latter was revamped to Magento Open Source 1 and the former to Magento Commerce 1. The company mentioned in its blog that this update would provide its customers with a better platform while increasing the support to 2020.
In October, a Magento Enterprise Partner; Interactive4 hosted MagentoLive Europe 2018. Catering to about 50 countries the event composed of 1,800 attendees. Mr. Lavelle was joined by Shantanu Narayen the CEO of Adobe as they talked about the inner workings of a more personalized approach towards users.
During the conference, the company highlighted how it aims to make every moment shoppable for users. They said they would achieve this by changing their business strategy and invest in next-gen platforms and boost growth.
"Let's combine Art and Science. Why not help them measure it?" said Mr. Shantanu Narayen.
The CEO of Adobe also mentioned how Magento would help deliver a rich set of data-driven capabilities. Being the open source platformer Magento would be easy to use across the organization while also remaining efficient.
Michelle Beeson an analyst at Forrester UK shared insights about the Digital Transformation in businesses. She believes that a digital transformation is not contained within a department but rather works in the totality of the organization. She also mentioned that it's important to partner up when given the opportunity to achieve new goals and adaptations to the current business strategy.
The famous Bruce Dickinson also made his appearance at the event. The Iron Maiden lead singer shed light on the importance of engaging with fans with the use of technology. He said it's important to dream and make strong impacts while building these relationships. The event ended with plenty of giveaways for attendees.
In August, Magento community had another conference- MeetMagento in Singapore. Several prominent social media influencers attended the conference and the social media was abuzz with excitement. The event made it to the top trends with the hashtag #MM18SG.
Part of the team, hosting the event team koredotai commenced the event as the keynote speaker. Shortly after, Dene Schonknecht – Director Channel Sales at Magento showed the roadmap of the event. The community manager at Magento, Sherrie Rohde then took the reigns of the event explained the history and customer based statistics. She explained that Magento is here in Singapore to build on its global community.
Speakers such as Jack Tran from SmartOSC and Talesh Seeparsan, a consultant of Magento took over the stage explaining possible integrations and gaining a technological advantage. A panel discussion with the company's product manager, CEO of Divante Ltd and System Analyst; Eric Erway, Tom Karwatka, and Lalit Nama respectively went underway. The discussion shed light on current best practices when setting up a web page and the metrics to look out for.
In September, RedBox Digital hosted Meet Magento Dubai. Speakers such as Gary Specter, Irene O'Gorman and Will Johnston featured this conference. Gary is the vice president of Commerce Sales while Irene is the head of sales and marketing of KPMG lower Gulf Ltd. Will is the partnership manager at What3words.
The agenda of this conference was to highlight how businesses and business strategy is greatly impacted by the integration of technology. The world of ecommerce continues to grow and it's important for startups and established businesses to adapt to these changes.
Magento Contributors 2018
Let's not forget the 50+ Partners Contributors, check out the full list here: Magento Contributors
What Magenticians Achieved
Growth in Magenticians via The Ecommerce Hub
We launched our Ecommerce Hub; an all-in-one solution for ecommerce enthusiasts to get Magento plugins, extensions and more. In October 2018, our Ecommerce Hub reviewed by Kevin William David on ProductHunt.
The Ecommerce hub comprises of twenty-seven categories that cover tools from development to marketing resources. We know it's best to compile the best tools out there for the open source platform to keep customers satisfied with new themes and tools.
The Ecommerce Hub helped cement our Magenticians Blog. Moreover, we listened to the online community on multiple channels and started to work on providing more solutions.
Building on Magenticians
As soon as we started to see more traffic on Magenticians, we started working on retaining these users.To retain the users we gave the blog a brand new look, by redesigning it's UI. We were also mentioned as partners on LandOfCoder and started working on pulling more traffic while retaining subscribers. We worked hard and created more than 100 publications to help users around the world to solve frustrating tasks or review tools and plugins. Magenticians needed a new look now.
The revamping and traffic pull through the ecommerce hub helped us achieve 125% growth in subscribers. That's not all, throughout 2019 we plan to keep things simple and help our readers.
Interviews With Influential Magento Personalities
Industry leaders are an inspiration. That's why we kept our interview series the best part on Magenticians, so we talk to some of our industry-leading and startup ready influencers for feedback on Magento. These are the people we spoke to this year:
Inspiring Stories
MageWorx
A year after the beta version of Magento was released, MageWorx came into being. Vitali Dudin, CEO of MageWorx published his success story on our blog. In the mid of 2018, his team started to code in the after hours to develop an extension of Magento; Sitemap Suite.
He was sure that Magento proved to be a great opportunity to reach out to the open source community. Just as he predicted, the extension worked smoothly and the app picked up a lot of downloads with the help user's organic marketing through word of mouth, within the community. He shed light on how the company faced similar problems to startups, hence with the lack of a marketing department it was hard trying to make a name for themselves.
He said that he started to recognize the potential in MageWorx when he visited a 2014 Magento conference. A number of attendees already knew the name of MageWorx and the numbers only seemed to grow. He then decided to go back and get started on two more products; SEO Suite Ultimate and Advanced Product Options. Both these products lay down the groundworks of SavvyCube; one of the most comprehensive SAAS analytics tools with the simplest UI.
Mageplaza
There is no doubt that Mageplaza is a roaring success. In their own words, "we've earned well over 72,000 monthly unique visitors, and way more than 67,000 installations version Mageplaza Core Module has been downloaded"
Apart from the resiliency in attempting after failing, the spokesperson of the company highlighted their humble beginnings and how they defined their success. The team's recipe of success lies in the smooth onboarding experience. This is where a visitor arrives on the webpage through a social media channel. Within a few clicks, the visitor is welcomed to the Mageplaza family as a customer. Moreover, this new member does not face major barriers to exit if they aren't satisfied with the experience.
According to their team, there is only one boss – the customer. This approach aligned them towards their success as they continue to provide customers technical support in sustaining the online infrastructure of their store/business. Because of this, the team managed to attain 80,000 Global Rank on Alexa in March of 2018.
Our Engagement Initiatives
In the Magento community, we picked up the Security to be a trending keyword. This mechanics working in the background of this trending keyword were the number of talks, sessions, events, releases from software updates and so on. Furthermore, as businesses continue to dwell into ecommerce their biggest concern is security breaches and attempt to cover most grounds around this topic.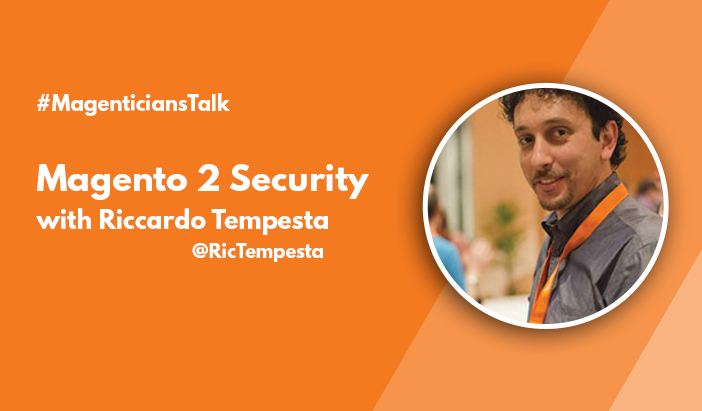 Knowing this, we started a discussion on #MagenticiansTalk on Twitter and reached out to many influencers. We invited the CTO at MageSpecialist,  Riccardo Tempesta to discuss security parameters around Magento 2. We hope to continue these sessions in the forthcoming years and give the Magento community a run for their money.
Recapping Our Top 10 Blog Posts of 2018
Committing to Making Magento Even Easier
We wish the Magento team to achieve more goals and dreams in the upcoming year. And as for us, our goal is to make Magento even easier for the community. To a better year, to an easier Magento.
If you feel we've missed out anything important this year, let us know!
Subscribe Newsletter
Subscribe to get latest Magento news