Articles
Why Should You Explore cPanel Alternatives for Your Ecommerce Stores?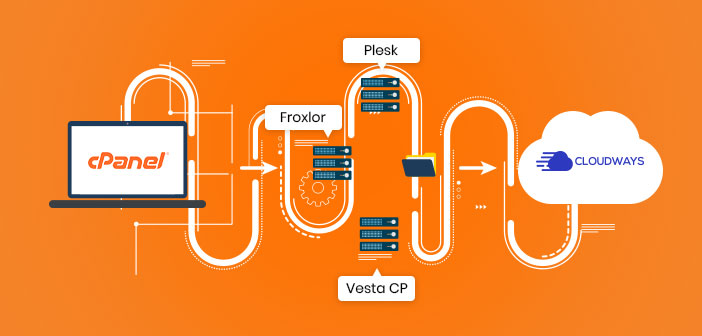 Almost every ecommerce store owner has encountered cPanel based hosting once in their career. Since cPanel is one of the most popular hosting management panels out there, it comes as no surprise that it is used by almost every shared hosting solution.
The times are changing now and the hosting providers now have the choice of cPanel alternative that provides a similar level of service and feature set. 
Many first-time store owners make the mistake of hosting their stores on cPanel enabled hosting simply because of low prices. However, many learn their lesson early on and move on to cloud-based hosting solutions because of the low performance of the cPanel enabled shared hosting solutions.
Before diving deeper into this article on cPanel alternatives, it's important to understand how cPanel works and its benefits and flaws that force users to migrate from cPanel to other alternatives.
Want to Migrate to a better cPanel Alternative?
With Cloudways, avail free migration, free SSL, 60+ data centers of top cloud providers and lot more
What is cPanel?
cPanel is a Linux-based control panel that comes with a GUI and a set of tools that simplify hosting management processes. cPanel quickly cornered the hosting management panel niche mainly because it minimizes the role of technical server management knowledge in general server management. As such, it is an all-in-one solution through which you can manage almost everything about your server from development to directory management.
cPanel also offers WHM (Web Host Manager) which further simplifies hosting management  processes. Many shared hosting providers use WHM to define tiered cPanel access for all users on the platform. As you can see, cPanel provides a complete solution from application management to server management. 
At this point, you can have a good idea of how cPanel provides a well-structured solution for managing servers and hosting solutions. You might be wondering about the reasons that compel users to research about cPanel alternatives?
cPanel Problems
If you are a newbie and not well versed in server management, cPanel might appear to be a great starting point. However, as users acquire more expertise in server and website management, the flaws in cPanel operations start to hinder business growth. 
Not only this, if you don't have any idea on server management then, this can be really daunting for you. So, it's better to search for the managed hosting solution that can reduce the server management related hassles. Moreover, there are a bunch of free cPanel alternatives available in the market that doesn't offer complete features. In short, be wise and smart while choosing any cPanel alternatives.
Let's have a closer look at these issues which force people to think about cPanel alternatives. 
Instability
cPanel has released several updates over the years. However, users still complain about the usability of the product. In addition, there is always the chance of data loss and settings overwrite that can have serious consequences for the ecommerce businesses that demand consistency for delivering results. 
Flexibility
Flexibility is not cPanel's strongest suites and many users feel restricted when using cPanel for managing web hosting. In particular, there isn't much room in terms of changing the default settings to optimize the hosting solutions. 
To boost ecommerce store performance, it's necessary to change several server settings to fit the store and platform requirements. This is where the flexibility (or rather the inflexibility) of the cPanel starts to create problems for store operations.  
Performance 
cPanel offers a non-standard software stack for server launch and management. For better performance, the stack needs to be optimized for a particular platform. For instance, a Magento store requires a standard Magento stack for application stability and better performance.
Time Consuming
cPanel comes with a bunch of pre-installed components such as file management, security, database, and email management. However, navigating these components and the multiple screens can take up a lot of time for simple tasks. That's one of the reasons website owners look for cPanel replacement to avoid all these hassles.
Simple Interface
cPanel's GUI is ideal for newbies for understanding and adapting to the platform quickly. However, this GUI fails experienced users who need real-time data and information which can help in making quick but important decisions. Similarly, for users who are looking for a quick fix, digging into the various screens can often be a huge time-waster. 
Limited Access & Functionality
cPanel allows you to manage the basic hosting functionalities which aren't quite enough for experienced users because of the requirements for multiple server operations. Another reason that people start looking for cPanel replacement is popular server optimization options such as cache management, server scaling aren't available with cPanel.
Error Log & Problem Identification
Server and hosting issues can happen because of multiple reasons such as server scalability, database connectivity, and plugin/theme conflicts. cPanel makes it rather difficult to detect if things have gone wrong and how to get the information about the issue.
First of all, there is no popup notification/alert about an error. Next, accessing and reading the logs can prove to be a real challenge. 
Security
cPanel acts as a middle layer between hosting hardware and the user. While this middle layer makes hosting management simple, on the other hand, there are multiple security concerns that hackers can exploit to target your website and steal valuable data.
This is a serious issue for ecommerce stores that handle sensitive customer information. For such stores, cPanel hosting isn't suitable for ecommerce businesses. 
cPanel is Not the Only Issue
When we talk about cPanel, it's mostly related to shared hosting which is another big reason that affects the performance of ecommerce stores. All the above highlighted issues does not only occur with cPanel but these issues are common with shared hosting. Hence, solving the cPanel issues won't help you in the better hosting performance, you have to switch on better solution rather relying on shared hosting.
The Solution: Alternatives To cPanel
Now that you know the reason behind the success of cPanel and why users have started looking for a better alternative to cPanel. As it stands, cPanel is a good solution for managing small hosting servers, however, the compromises you have to make are not worth the hassle. Here I've tried my best to list-out the free & open-source cPanel.

And the good thing about open-source cPanel is that they are also capable of managing FTP, SQL, BIND DNS, Database and Virtual servers depending on which brand you choose. Besides, there are always some pros and cons when it comes to technology so we will also talk about the alternative to cPanel.
cPanel Alternative List
There are multiple cPanel alternatives that provide more or less similar functionality and GUI. Let's explore some cPanel alternatives for a better understanding of these choices.
Plesk vs. cPanel has always been a popular debate topic on tech forums and fanboys have compared the features and GUI of both options. The real benefit you get while using Plesk is the support for both Docker and Git on Linux. In addition, Plesk supports both Linux and Windows environments. 
Another cPanel alternative that offers a host of rich features and a simple GUI. The best thing about Webmin is the price – it's FREE. However, the interface leaves a lot to be desired and is not considered very user-friendly. 
This is an open-source cPanel alternative which is ideal for developers and agencies who need a simple interface for managing their hosting solutions. In addition to the standard management features, visitors can create tickets that site owners can respond to from the same platform. 
CentOS Web Panel offers an auto-configure/auto-fix feature that detects system configuration files and tries to fix any issues. This alternative to cPanel is a free solution but not completely open-source cPanel.
Zpanel is another cPanel alternative solution that offers cPanel style features on Linux, Windows and OSX servers. Beware that Zpanel has some reported security issues as it does not encrypt information. As a result, this is not a suitable option for ecommerce stores.
This cPanel alternative is the best solution for sites that are already hosted on a server and require a hosting management solution that retains the current configurations. This solution works with the current configurations and makes the necessary adjustments without any issues in server management. 
Vesta Control Panel offers an attractive and user-friendly interface that simplifies server monitoring and provide information through easy-to-read graphs. While the standard features are similar to cPanel, you have to pay for the support.
I believe 40,000 downloads a month is clear proof that ISPConfig is a great cPanel alternative. The feature set is similar to other cPanel alternatives. However, the distinguishing feature is the ability to manage multiple servers from a single location.
List of Free cPanel Alternatives

YunoHost
YunoHost bills itself as a "server operating system aiming to make self-hosting accessible to everyone."
With this free cPanel you will find only a number of officially-supported "apps" for installing various programs, such as Baikal, Nextcloud, WordPress, Zerobin, and more.
YunoHost is a great free cPanel alternative for beginners to self-hosting who just want to get started with some basic applications quickly. It officially supports Debian 8 and is coded primarily in Python under an open source GPL license. The code is available on GitHub.
BlueOnyx is a free cPanel and an integrated internet hosting solution that includes e-mail, DNS, file transfer, and web service. It offers a user-friendly web-based interface that is installed on or virtual private server or commodity hardware.

It provides pre configured Apache, Sendmail (email routing facility), MariaDB or MySQL, Mailman software, and much more. By using this free cPanel you can run Perl and SSI (Server-Side Include). Besides, it allows resellers to create virtual sites and this application supports HTTP/2.

aaPanel
AaPanel is a web hosting control panel that works on CentOS, Debian, and Ubuntu. You can have this cPanel for free and it enables you to manage the web server through the web-based GUI.
By using this cPanel for free you can effortlessly create and manage the website. It provides FTP (File Transfer Protocol) for website access and quickly manages the Python projects using an online aaPanel editor.
All these cPanel alternatives are more or less similar to cPanel with a similar feature set. The downside is that they share all the issues that exist in cPanel. Since cPanel is a paid service, the options and features of some free cPanel alternative can be a hit or miss for the users. 
Migrating to a cPanel alternative that offers similar features and comes with the same flaws does not make much business sense. A better decision would be a solution that offers similar features and none of the issues that force people to look for cPanel alternatives. 
Optimal cPanel Alternative – Managed Hosting
Managed hosting is a great alternative to cPanel powered hosting for several reasons. 
First, you do not need a lot of technical knowledge for managing your servers. The managed hosting provider takes care of all server management tasks without taking up a lot of your time. The services provided by the managed hosting provider removes many issues that frustrate cPanel users. 
Reporting and data analytics is an important requirement for running an ecommerce store. This is an important reason why ecommerce store owners seek out the best cPanel alternatives. Managed hosting providers have a dedicated reporting feature that offers a wealth of information to the users. 
When it comes to choosing managed hosting for your ecommerce store, it is always best to pick the hosting that is optimized for your chosen platform. For instance, if you have a Magento store, a Magento optimized managed hosting solution works wonders for your business. 
Many people consider a dedicated server/VPS as the best cPanel alternative. On the surface, this is a great idea as the ecommerce store can leverage all the resources of a physical server at your disposal. However, if things go south, migrating the store to a new server takes the time that can severely damage your revenues and brand reputation.
Then comes the best solution which is cloud hosting where clouds do not exist physically so no such issues like for VPS server do not exist. In cloud hosting resources are divided over the cloud. Below definition of virtualization and cloud computing will give a clear picture.
Virtualization
Virtualization is a technology that allows you to create multiple simulated environments or dedicated resources from a single, physical hardware system. Software called a hypervisor connects directly to that hardware and allows you to split 1 system into separate, distinct, and secure environments known as virtual machines (VMs). These VMs rely on the hypervisor's ability to separate the machine's resources from the hardware and distribute them appropriately.

Cloud Computing

Cloud computing is a set of principles and approaches to deliver compute, network, and storage infrastructure resources, services, platforms, and applications to users on-demand across any network. These infrastructure resources, services, and applications are sourced from clouds, which are pools of virtual resources orchestrated by management and automation software so they can be accessed by users on-demand through self-service portals supported by automatic scaling and dynamic resource allocation.

Source: Red Hat
Since you already know the problems with cPanel, I would now discuss how managed cloud hosting takes care of these issues.
Performance
Managed cloud hosting generally offer SSD based hosting solutions for better performance.

The server comes with several cache management options (FPC, Varnish, Memcached, and Redis) for improving page load time

The stack comprises of industry-leading technologies such as Apache, NGINX, PHP-FPM, and MySQL/MariaDB for better response time

For better performance, CDN integration is a simple process that ensures optimal performance irrespective of the location of the data center and server
Security
Unlike cPanel based hosting, managed cloud hosting comes with dedicated firewalls for continuous security. 

1-Click free SSL installation simplifies and augments server security

Servers are generally capable of auto-healing to take care of minor issues. 

Through IP whitelisting, you can directly control access to your server. 

2FA adds an additional layer of security for your account. 
Freedom
Generally, you have the option of picking the cloud hosting provider (such as AWS, Google Cloud, Linode, Digital Ocean, and Vultr) with the choice of data centers in 60+ locations.

The server and application launch is a breeze. 

Scale your server resources almost instantaneously. 

No contract-lock in. 

With the pay-as-you-go model, you only have to pay for the resources which you have used
Workflow
Clone servers and applications in just a few clicks. 

A single team member can be a part of multiple projects with different project-level access privileges.

Managed hosting offers staging areas for testing features without breaking the live site. 

Support for managed hosting solutions is available through several channels and round the clock. 
As you can see managed cloud hosting is not just another cPanel alternative. It is a complete end-to-end solution that takes care of all server management hassles so that the ecommerce store owners can focus on their business. 
If you are impressed with the above features of managed cloud hosting and want to experience all the benefits at a single location, I invite you to try out Cloudways.
Bonus Tip:
The cPanel related issues highlighted above are not exclusively because of cPanel or the choice of inappropriate hosting options. Several problems that ecommerce stores face can also occur because of the ecommerce platform itself. 
The platform on which you develop your ecommerce store must be stable and scalable as required by the business needs. In addition, the platform must have all the essential functionalities that ecommerce stores need. 
All things considered, Magento is a great option because it can handle all the requirements of  your online business. Here are some reasons that confirm Magento's status as a premier ecommerce solution:
Developed for ecommerce: Magento is a great ecommerce platform that is suitable for low to middle-tier businesses. If the need arises, the store can be easily scaled for optimal performance. 
Open source: Magento is open source which means that a community edition (CE) is completely free to use for commercial stores. 
High performance: Magento relies upon cache solutions such as Varnish, Memcached, Redis, FPC, and optimized database options and other features which reduces the page load time.
SEO friendly: Magento CMS, SEO friendly URL structure, sitemaps, positioning layer, URL rewrites, tags, descriptions, etc. are some of the basics but essential SEO practice. An ecommerce platform must offer and all such SEO essentials to make the store SEO friendly. Magento offers all such essential SEO features to give your store more visibility on search engines.
If you still want to dig deep into it then you can refer to our article: Top 10 Reasons To Choose Magento For Ecommerce.
Conclusion
cPanel is a good option for newbies to start off with but as the experience increases, users start looking for cPanel alternatives. In many cases, there are several options that you can use to set up the best cPanel alternative for your projects. Managed hosting is a popular choice that takes away all the hassles of server management.