Interviews
"Magento Certification Is the Most Important Thing for Any Magento Developer," Keyur Shah Believes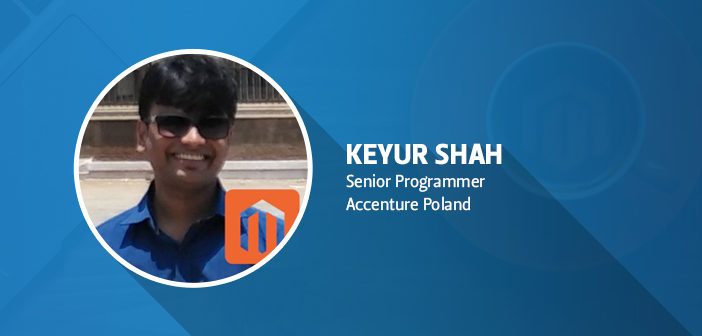 We are back with another great interview. Today we have Keyur Shah, currently a Senior Programmer at Accenture Poland. He's been working with Magento for several years and has Magento Developer Certification to his name.
Here's what Keyur Shah has to say.
Muneeb: Keyur, thank you for taking out the time. Can you please share some highlights of your career with our readers?
Keyur: First of all, thank you so much Syed for including me in Magenticians Interview series and it's an honor to be a part of this series. Well, for those who don't know me, my name is Keyur Shah and I am 25 years old. I've been working for Accenture Poland for the past 1.5 years as a "Senior Programmer", residing in Łódź. In terms of my career path, I completed my IT engineering in 2013 and at that time I was looking for training opportunities. Thanks to my first company that gave me the opportunity to work with core PHP and later on (after 6 months) I was introduced to Magento (thanks to the first client). Since then, I've been continuously working with Magento.
Muneeb: Why Magento? What distinguishes it from other ecommerce platforms?
Keyur: I don't have too much experience with other ecommerce platforms except PrestaShop and WooCommerce. But after working with this two platforms I can easily say why not Magento :) Because Magento platform is so flexible that you can do anything that an ecommerce store requires.
Muneeb: Being a Certified Magento Developer, what would be your advice to the people that wish to get the Magento Certification? Also, did the certification have any major impact on your career?
Keyur: Magento Certification is the most important thing for any Magento developer. It's not just a piece of paper to showcase in your CV. To pass this certification, you need to have knowledge of each and every aspect of Magento. While preparing for the exam (at least for me) you need to know lots of Magento hidden features. And yes, with the certification I gained a lot of technical knowledge. It also helps in creating a good image for the company that you're employed at (generally, client always Impressed with certification :))
Muneeb: What key points do you consider when planning or accepting a project?
Keyur: When considering a Magento project, I analyze the requirement of the client (the most important thing). Also, I believe that it's really important to spend time on R&D rather than developing. After that, I divide the OOTB features and custom features.
Muneeb: What is the future of Magento 1? Do you think it has been able to hold its own against Magento 2?
Keyur: I think Magento 2 is better than Magento 1 and any other ecommerce frameworks. I also believe that future releases of Magento 2 #PWA will remove all the doubts related to comparison with others.
Muneeb: What are some of the useful resources for Magento newbies? Where should they begin?
Keyur: Well now-days you can find lots of resources available online but generally, this is what I follow and also recommend to newbies:
I would also recommend Magento core code pool to check how the Magento team is doing. I strongly recommend everyone to attend Magento events that are happening near your area. There's a lot of knowledge sharing and you also get the chance to speak with "Magento Gurus."
Muneeb: In your opinion, what is the major difference between Magento 1 and Magento 2. What would be your advice for Magento 1 users?
Keyur: From the technical perspective, Magento 2 uses the latest technologies when compared to Magento 1. These include PHP 7, Knockout.js, OOTB unit test, integration test, Composer, RequireJS, JQuery, HTML5, and CSS3. And for Magento 1 users, I would say be ready to survive in this competitive world :) and don't always look for readymade solutions.
Muneeb: How do you enjoy your free time? What are your hobbies?
Keyur: Whenever I get free time, I like to give answers on Magento stack-exchange and read others' answers. This way I get to know what others are doing in different projects :). Apart from that, I really like cycling, mountain tracking, cricket (I'm an Indian :)). And last but not least, traveling. Whenever I get a few days off, I like to travel to different areas.
Muneeb: Please share your workplace picture with our readers.
Keyur: I can share a picture of my workstation at home: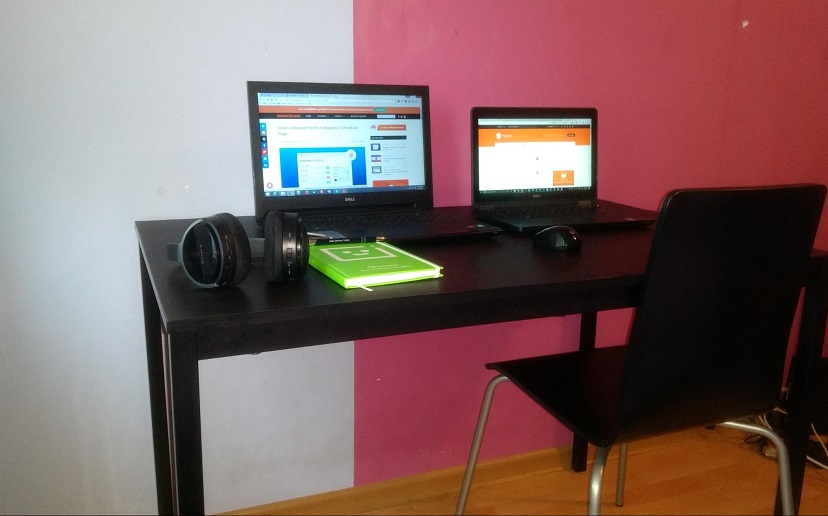 Muneeb: Now it's time for a fun Rapid Fire round!
Rule: You can't spend more than 15 seconds on this question ;)
| Muneeb | Keyur |
| --- | --- |
| Shopify or PrestaShop? | I don't have experience with "Shopify" and I know "PrestaShop" so I can safely say neither of them:) |
| Movies or Games? | Movies, but sometimes I like to play sports games. |
| Travelling or Party? | Of course, travelling :) |
| Tea or Coffee? | Tea |
| PlayStation or Xbox? | PlayStation |

Muneeb: At last, who would you like to nominate to be interviewed next on Magenticians.
Keyur: Well, I think in this Magenticians Interview Series, you've already covered various "Magento Gurus." I would like to nominate Fabian Schmengler, Fooman, Miguel Balparda, Bartek Igielski, Rafael Corrêa or Rakesh Jesadiya.
You can follow Keyur Shah on Twitter or LinkedIn.