This time we are back with a bang because today we have one of the most popular and beautiful Magento personality –  Danielle Mundle.
She is currently working as a UX Researcher at Magento. Overall she is well versed in UX research.
So now to end your curiosity, let's start the interview :)
Danielle Mundle discusses the awesome Magento community with Cristian Partica, Mark Brinton, and others.
Muneeb: First of all thank you for taking out time from your busy schedule. Please share your career highlights with the readers.
Danielle: Hey, no problem! I tend to ramble so I'll try to be as brief as I can manage. I started as the UX Researcher at Magento at the tail end of 2016, so it's been a little over a year now. If I had to pick one highlight, it would have to be Imagine 2017, where I no longer saw the community as simply a pool of research participants, but instead as a prosocial ecosystem much greater than the sum of its parts. It was a magical experience!
Muneeb: How has been the experience of being a UX Researcher at Magento Commerce? How did you get the role?
Danielle: I love working at Magento. It's got an awesome culture and there's always interesting work ahead of me. Previously, I worked for tiny UX research agencies, and I'm glad I tried something new working for a company larger than 10 people. It's helped me think about solving problems in different ways. Simply being around a variety of people brings new perspectives.
Muneeb: How would you compare Magento with other ecommerce platforms? In your opinion What are the unique features of Magento?
Danielle: The unique feature of Magento is the awesome community it comes with. To be honest, I think the community is a compelling selling point for the product – where else do you see such widespread passion for an ecommerce platform?
Muneeb: How would you differentiate Magento 1 and Magento 2? Do you think that merchants who are using Magento 1, should upgrade to Magento 2 and why?
Danielle: I think upgrading to M2 makes a lot of sense, and not only because M1 won't be around forever. I understand that having lots of custom code can make the process seem scary, but benefits like increased performance and others make it totally worth it to migrate now and get ahead of the game. It's also a perfect time to think about your store's UX. Exceptional interactions on a modern platform sound like a winning combination for any customer.
Muneeb: What are three pointers for effective Magento store UX? Is there any relationship between the UI and UX of the store?
Danielle: The UX team's main focus is making sure Magento's products are great. That way, we can better enable developers and teams to create awesome online stores and equip merchants with the tools they need to run a successful business. Therefore, most of my research is focused on that, and I'll defer to blogs from awesome Magento agencies that are more expert at understanding shopper behavior. Although I will offer one general tip: Focus on the goal of your user, and the tasks they do to achieve that goal. Fancy animation and overly-styled text are not going to impress your customers if they can't understand what to do next in your store.
Muneeb: What do you like the most about your job? What makes your office so special to you, and can you share a picture of your workplace?
Danielle: I've already gushed about the community, but it really is the people I work with that make Magento so great. I feel comfortable to be myself and empowered to suggest new ideas. Here's a picture of my desk! I love collecting swag, especially stuffed toys or unique items, but I try not to keep it too cluttered – there's work to be done!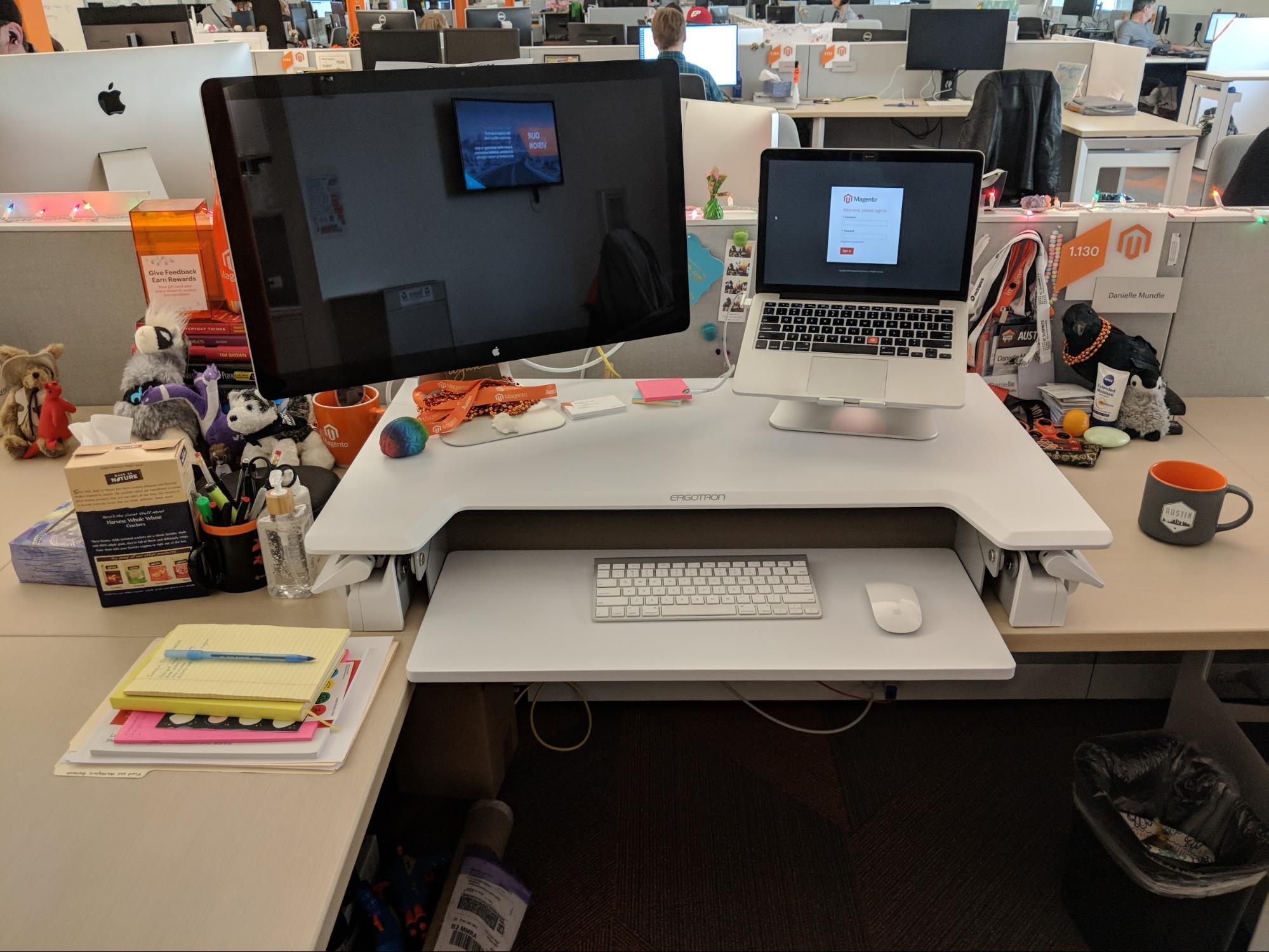 Muneeb: Who inspired you to follow your current career path? Do you have any personal heroes?
Danielle: I've always been curious about how things work, and I love talking to people and hearing their stories. But I would have never put those two passions together if not for the encouragement of my undergraduate mentor, Dr. Jennifer Dyck. She encouraged me to learn about Human Factors, a discipline involving the application of human mental/physical capabilities to systems engineering. Now I use that frame of reference to better understand the world of ecommerce.
Muneeb: How do you manage your work-life balance? What are your hobbies?
Danielle: I have a lot of energy, and I love doing things to the extreme! At work, I am sometimes a full-force social butterfly, and other times I'm secluded to think. It's the same in my personal life – I love travelling to foreign countries to be immersed in new environments and take part in whatever interesting thing people are doing, but I also love hanging around Austin in my comfort zone, enjoying visiting parks and my neighborhood coffee shop, and relaxing with friends.
Muneeb: Now it's time for a Rapid Fire Round!
Rule: You can't spend more than 15 seconds on this question ;)
| Muneeb | Danielle |
| --- | --- |
| Shopify or PrestaShop? | Prestashop because of puffins > bags |
| Movies or Games? | Games! Love board games. |
| Travelling or Party? | Travelling |
| Tea or Coffee? | Coffee in the am, (herbal) tea at night |
| PlayStation or Xbox? | PlayStation |

Muneeb: Last but not the least, who would you like to nominate to be interviewed next on Magenticians?
Danielle: I'd love to see some of the "unsung heroes" featured here. There are so many people doing great work for Magento that deserves recognition. I would love to hear stories from people new to the Magento community as well!
Anyway, my nominations…for community folks, I'd nominate Renato Cason or Pierre Martin; for Magento-employed folks, my buddies Andrew Levine or John Stennett. As for UX teammates, Soumya Ashok is someone everyone should know – dedicated worker with a winning personality!
You can follow Danielle Mundle on Twitter or LinkedIn.