Announcements
A Quick Recap of Magento Achievements in 2019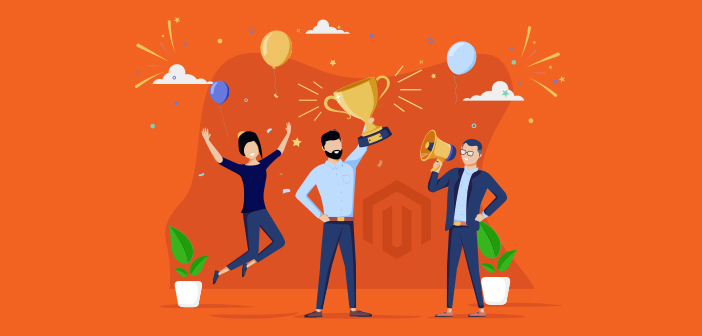 Every year Magento brings something unique in the market to enhance the end-users' online shopping experience. Offering user-friendly features,  Magento is one of the most popular content management systems (CMSs) amongst the ecommerce store owners. 
From the release of Magento Progressive Web Apps Studio to the latest release of different versions, 2019 was an amazing year for Magento. On the back of tremendous success last year, Magento has set high expectations for the year 2020 with its rich features and friendly community support available to its clients.
This roundup blog highlights the major successes of Magento CMS from last year.
Magento Marketplace Security Update
Magento cares about its users' information. That's why Magento had to take down the Magento Marketplace for a while, only to be live again once the ambiguity resolved. Moreover, the maintenance time didn't affect the operational processes of the Magento Marketplace.
Magento Innovations Lab Teams Up With Amazon Web Services (AWS)
A partnership with AWS tremendously boosts the motivation of a developer who wants to try and implement innovative ideas using Magento. 
With Amazon services, Magento developers can leverage the benefits of:
The visual search recognition with AWS is an easy to use API that can analyze any image and video stored on  Amazon S3 storage service

Amazon forecast machine learning services that help build personalized forecast applications coupled  with time-series data and some additional variables

Voice Commerce tools with Alexa 

Free AWS developer account, guides and much more
MagentoLive Europe 2019: Adobe Announces New Commerce Capabilities for SMBs and Mid-market Merchants
The 2019 MagentoLive Europe was a huge success. Check out some of the important announcements related to Magento Commerce Platform:
The product recommendations feature powered by Adobe Sensei will be directly available for Magento Commerce. 

Amazon Sales Channel in Magento will be available for the Amazon, U.K. Marketplace.

Magento will be available on both Microsoft Azure and Amazon Web Service (AWS) to enhance the multi-cloud experience.

Magento engineering team continues to make progress towards integrating Adobe Stock with Magento Commerce and Open Source.

The release of Open Source Magento Commerce version 2.3.3   
Magento Acquires New B2B Technology
Magento managed to acquire Accorin's order approval technology. This technology will be incorporated in Magento Commerce in 2020.
Introducing New Capabilities to Magento Business Intelligence
Magento business intelligence is a cloud-based data management platform that provides an easy-to-use dashboard for Magento merchants to gather the data for future use.
Adobe Announces Next Generation of Adobe Exchange Application Marketplace
The next-generation Adobe Exchange Marketplace helps to advance the development and management of technology with Adobe solutions. The advancements include Adobe I/O APIs, streamlined packaging and distribution, API gateways and much more. 
Magento Announces Availability of PWA Studio
Magento started the year 2019 with a bang. It announced the availability of PWA studio to help online merchants to provide a better shopping experience to the customers. Magento PWA studio offers you to experience a feeling like a mobile application that facilitates merchants with faster browsing, instant "App" gratification, push notifications, rapid re-engagement, etc. 
In a nutshell, it was a great year for Magento and we wish them Good Luck for the year 2020. 
Source: Magento News
Time Flies! 
Being a top-rated resource for everything Magento, Magenticians also recorded outstanding achievements in the year 2019.  We started slowly with a blog in 2017. Two years down the road, we are so proud that we have made such tremendous progress. It all comes down to the team effort that we put in, and the amazing support that we get from the ever-expanding Magento Community. Kudos to you guys.
Throughout the year, 2019 – Team Magenticians worked day and night to publish informative, problem-solving content, and release useful tools, and giveaways. We started the year 2019 with the motive to contribute towards the betterment of the community and educate as many people as we can with all that we have learned about Magento.
We are happy to share with our readers some of the milestones that we have achieved during the last year. 
200% Increase in Traffic 
No doubt, it was a long hectic year. We, at Magenticians,  believe in and work to produce high-quality, engaging content to help our target audience decide for themselves which ecommerce solution suits best for their needs and requirements.  Not only this, but we also cover all the related topics that help developers to learn about and resolve various technical issues related to Magento CMS.
Exciting Free Tools
We love to engage with the Magento community. This is the sole reason why we managed to successfully develop some exciting and free tools for Magento security, hosting, ecommerce recommendations. More useful tools are in the pipeline.
Let's have a quick look at our top-rated tools:
Hosting Calculator
SSL Checker
Ecommerce Glossary
Ecommerce Recommendation Tool
Magento Store Builder
Top-Rated Blogs
Check out some of the top-rated blogs that we had published in 2019. A big thank you to all of you for showing your love for our blogs. Check them out:
Is 2020 a Good Year for Dropshipping Business? Or Is Dropshipping Dead?
20 Best Free Magento Themes You Should be Using in 2019
Learn How to Install Magento on AWS (Amazon Web Services)
The Top Ecommerce Companies Of 2020
How to Override Block in Magento 2
Installing Magento 2 With Composer
How to Migrate Magento Store from cPanel to Cloud Hosting
First-Ever Contest for Community
We successfully conducted the first-ever Twitter contest at the end of the year 2019. The three winners were duly recognized and were awarded the premium discounts on ecommerce extensions, themes, and hosting.
We are incredibly proud of serving you and so many people out there.
Stay tuned for the amazing contests and giveaways during the year 2020. Do follow us Facebook and Twitter.
Lastly, we're open to your valuable feedback. Let us know your opinion about Magenticians and how we can improve our content for the year 2020.