Articles
Is Dropshipping Dead And What's The Future of Dropshipping Business?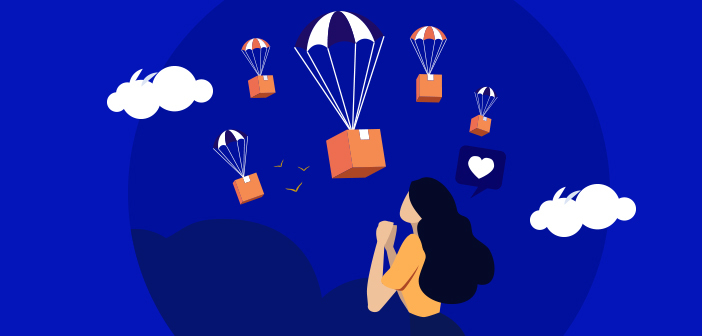 In this new post-COVID scenario, businesses are adopting new features & technologies to ensure survival. Ecommerce businesses have gone through a lot and have adopted multiple business models.
One of the most profitable models has been Dropshipping, but now people are asking questions such as is Dropshipping profitable anymore or is Dropshipping worth it. 
Let's explore the reasons behind these questions.
Why Dropshipping Might Be Dead?
It seems that the world is going through a series of crises, most importantly COVID-19, with a visible impact on businesses around the globe. In the dropshipping community, both experts and practitioners are asking questions like: 
Is Dropshipping Alive Anymore?
Is Dropshipping Still profitable?
As the Dropshipping business is all about delivering goods from one region to another, the risk of COVID-19 is great enough to limit the movement of goods, thereby impacting the business. However, this might not be the only blocker to the success of the dropshipping business. It is widely believed that the dropshipping business is saturated and has reached the point where you cannot make good money anymore.
To tackle these questions, I will first analyze what people are really saying. Here's what a user on the Fastlane Forum asked the community:
I read a few guides about dropshipping. And they all say how great dropshipping is for getting started with eCommerce. But, what most guides only mention on the side: typical shipping time is 20-30 days. Wow.

I mean, when dropshipping, I would basically sell generic, unbranded products, which people have to wait several weeks for.

Other pain points that really devalue your (customer) service / the perceived value of your products I have in mind are:

The quality of the packaging your supplier delivers (I guess this can be really horrible)

The Chinese address of the supplier being shown on the package (people most of the time probably think Chinese products = low-quality products)

Refunds

 I would love to get some opinions from you, guys and girls. Anybody here still operating a dropshipping business?
Based on this question and few thought-provoking responses from other users, we can summarize the main issues that people have in general with a dropshipping model of ecommerce:
Product delivery can take several weeks = unhappy customer

Usually only unbranded products available

No control over your service

Chinese products and packaging = Perceived cheapness/low quality

Returns or refunds take too long.
Based on the points above, one can assume that dropshipping indeed is not the shining star business model of the ecommerce world.

Alternatively, it can be easily argued that dropshipping is not dead. Yes, that's right. And I'm not going to claim this without any supporting evidence. So let's just dive into why you can still consider dropshipping as a good business in 2020 and beyond.
Is Dropshipping Business Still Alive?
In the past couple of years, the dropshipping model of business has seen a huge rise. With so much awareness and knowledge in the palm of our hands, the world has become a global village.
For a person who shows interest, it's not difficult to start a business of any kind. And since dropshipping has been all the rage for many years now, too many people have jumped the ship (pun intended) in the past couple of years. And that, without a doubt, has made dropshipping too competitive to sustain on a small scale.
This is one of the primary reasons why people don't consider dropshipping as a great business model to start with and even go as far as claiming that Dropshipping business is dead.
News Flash: It's NOT!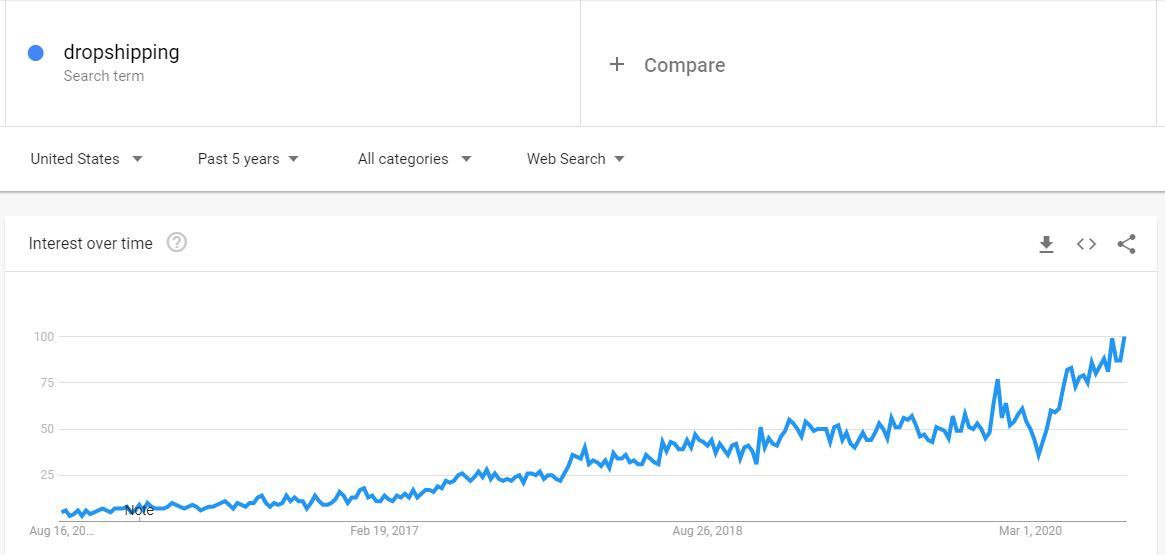 This is a five year trend for the word Dropshipping and graph clearly shows the rise in Dropshipping. At the start of year 2020 a clear upward spike is seen which means this year could have shown a major rise in dropshipping business. But due to COVID-19 a downwards spike can also be seen in the month of March-2020. Now again the spike have gone upwards and has achieved the highest volume on keyword 'Dropshipping' which is a clear sign that Dropshipping business is alive and growing. So the future of Dropshipping seems to be very bright.
Point to Consider While Starting a Dropshipping Business?
Here's something you should keep in mind when dealing with dropshipping business:
People don't order goods from AliExpress or other stores that have a long delivery time that they need; in fact, they order the goods that they want!
This fact alone validates that dropshipping as a business is not a bad model. You just have to sell products that people don't need, but want!
Hence, if someone goes into the 'consumer electronics' category of your store and orders a smartwatch, chances are that they don't really need it asap. They can wait, and besides, it's not as expensive as an Apple Watch, so it's all good.
Strategy for Starting a Dropshipping Business
All you need to do is pick a niche because otherwise your store is going to look like every other store and you won't be able to stand out.
Picking a niche means you're going to have to spend a lot of time finding the market and delivering the message across. If your marketing is done right, you'll be selling a whole lot more than an online store that is not focused and wants to step into all the products category that is out there.
However, you can raise the appeal of your business by keeping a small lot in your room that you can sell as 'Immediate Shipping' for a premium price. That way, you can entice your audience with the charm of not having to wait, but for those who don't want to pay a premium, the price and the wait will seem like a good bargain.
You can drive your own strategy for Dropshipping business which may differ from this one. In the end, It's all about the strategy you use.
It's Hard Work, But It Pays Off
Part of the reason why it's hard work as compared to prior years is that it's simply more competitive, and we've made that pretty clear in the last discussion.
So, let's look into each question regarding Dropshipping business and will try to share actual figures and related argument about it.
Is Dropshipping Profitable Business?
It's a low cost and high returns business. It doesn't take a lot of investment to set up a dropshipping store since you don't have to keep an inventory, you don't have to deliver any product, and you don't need to hire much staff (or any at all mostly). 
Calculation on How to Make Money from Dropshipping Business?
According to Fit Small Business you can estimate the your profitability by this formula
(Traffic x .02) x (average order x .20) = Estimated Profit
Let's suppose you are generating a traffic of 1000 people per month and average price of your product is $50. So according to this formula
(1000 x .02) x (50 x .20) = $200 is your estimated profit of a day, which equals to $6000 per month. This is a pretty decent amount of money for a Dropshipping business starter.
This above calculation shows that Dropshipping business is still profitable in 2020 and will also be in future too. However, if you think that you can sell and get business just by listing products on your store and without doing much effort then you can't get success. To utilize it properly you must know profitable dropshipping products and also all the techniques of marketing your store. And once you follow these rules then the dropshipping success rate can become higher.
Is Dropshipping Legal?
Dropshipping on it's own is perfectly legitimate but it may raise a legal issue based on your supplier, products and country policy towards it. 
Supplier Issues:  You need to Dropship your product from a reliable and trusted supplier otherwise your customer may not get the desired quality product which may endup to be a legal matter with the customer.
Products Issues: To sell different branded products you need to be their authorized dealer, you can also not sell replicas of these branded products and some products are not legal to be sold in specific regions. So you need to understand the legal matters of the products before getting it Drop Shipped.
Country/Government Policy: Ecommerce Dropshipping policy varies from country to country. So you need to take into account the government policy that it does not abide by the current law.
Is Dropshipping Allowed on eBay and Amazon?
Dropshipping is allowed on eBay and Amazon. You just need to be sure that their requirements of doing Dropshipping business is fulfilled. As they are one of the largest online marketplaces in the world, it makes complete sense to source products and attract customers through these platforms. Essentially, there is a right way to conduct dropshipping on eBay and Amazon and wrong ways.
The wrong way could essentially be explicitly against the rules. Therefore, it's very important to study up on their requirements for doing Dropshipping business.
So Does Dropshipping Worth It in 2020 and Future?
Yes. Without a shadow of a doubt, it's a great option. But not really if you just intend to list items on your Magento store and expect to start selling without much effort. Ecommerce is not a child's play, the Internet is a crowded place now more than ever, and your voice cannot be heard without hard work. Amazon Prime is a great option (maybe the best), but not for everyone. Not all the people in the world have access to Amazon Prime, so they'll stick to ordering goods from your store if the price and the item are right.
Successfully dropshipping in 2020 requires a few key adjustments that can be made by carefully selecting the dropshipping companies you decide to use. For example, new companies like Spocket, while they don't have millions of items like those listing AliExpress, have drastically improved on the old model by focusing on vetting US and EU suppliers. This provides numerous advantages, mainly: faster shipping, higher quality goods, faster return processing and consistency since the suppliers are held to a high standard. Another key issue Spocket solves is branded invoicing so your customers can receive your invoice to not make it as obvious the product is coming from a third party company.
2020, or any year for that matter, cannot invalidate a great business opportunity like dropshipping. So go ahead and give it a go, and if you succeed in making huge bucks, let us know and we'll cover your story!
Before I completely wrap this up, I want to answer some of the most important questions that might be clicking in your mind regarding how to start a dropshipping business.
What are the best dropshipping websites?
Some best dropshipping companies are:
Worldwide brands

Oberlo

Wholesale2b

Megagoods

Dropship Direct

Sunrise Wholesale

Dropship Design

Doba

Inventory Source
Which are the most profitable dropshipping products?
The most dropshipping products are:
N95 Respirator Mask

Hand Sanitizer

RC Car

Ear Plugs

Slime

Neck Phone Holder

Magnetic Charging Cable

Pocket Language Translators

Posture Correction Belts

Waterproof Phone Cases

Portable Mini Air Conditioner

Desktop Punching Bag

Wireless Charger

Car Phone Holder

Scalp Massager

Mini USB Vaccum Cleaner

Instrument Repair Tool Kit

Beauty Salon Decor Hair Salon

Water Shower Filter

Roller Elliptical Massager
Which are the most profitable dropshipping niches?
The most profitable dropshipping niches are:
Power Tools

Tech Supplies

Lifestyle Niche

Beauty and Health Niche

Drones And Camera Accessories
Quick Summary
Looking for best ecommerce dropshipping tools?
Then, Our Ecommerce Hub will be a solution for YOU!