Reviews
Configure AMP on Magento 2 Using BSSCommerce Extension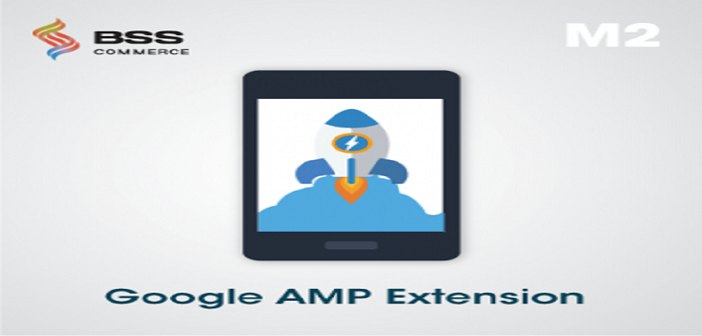 Accelerated Mobile Pages (AMP)  is an open source project founded by Google in 2015 with the aim of creating mobile pages which can be loaded at super fast speeds. After just 1 year, at the end of 2016, Google reported that AMP pages now load 4 times faster than regular mobile pages. Now, you can easily find many articles on Google search result pages with the tiny lightning bolt symbol and AMP written next to it, and which can be loaded in an instant. You can check out more details of Google AMP for Magento or the pros and cons of this new tech for Magento store.
There are over 700 thousand domains publishing AMP content and the number is growing fast. This promises an even more impressive development in the future. Thus, Google AMP Extension for Magento 2 by BSSCommerce was released so that Magento store owners can catch up with this brand-new technology.
The extension supports the needs of admins to generate and customize powerful and fast-loading Accelerated Mobile Pages for Magento 2. Plus, it comes at an incredibly reasonable price in terms of the benefits it brings to your stores by reducing bounce rates on mobile pages and improving page ranking.
Key Features of Google AMP Extension for Magento 2
Auto-create AMP pages for Home Page, Category Pages, and Products Pages of Magento 2 Store
The extension helps you generate an AMP version of your Magento 2 store automatically. Home Page, Category Pages, and Products Pages are all supported. All Accelerated Mobile Pages are created by the extension following AMP-standard of specific HTML, CSS, and JS. You can click HERE on your mobile to see how the AMP pages of the demo version display on search result pages and how fast it they load.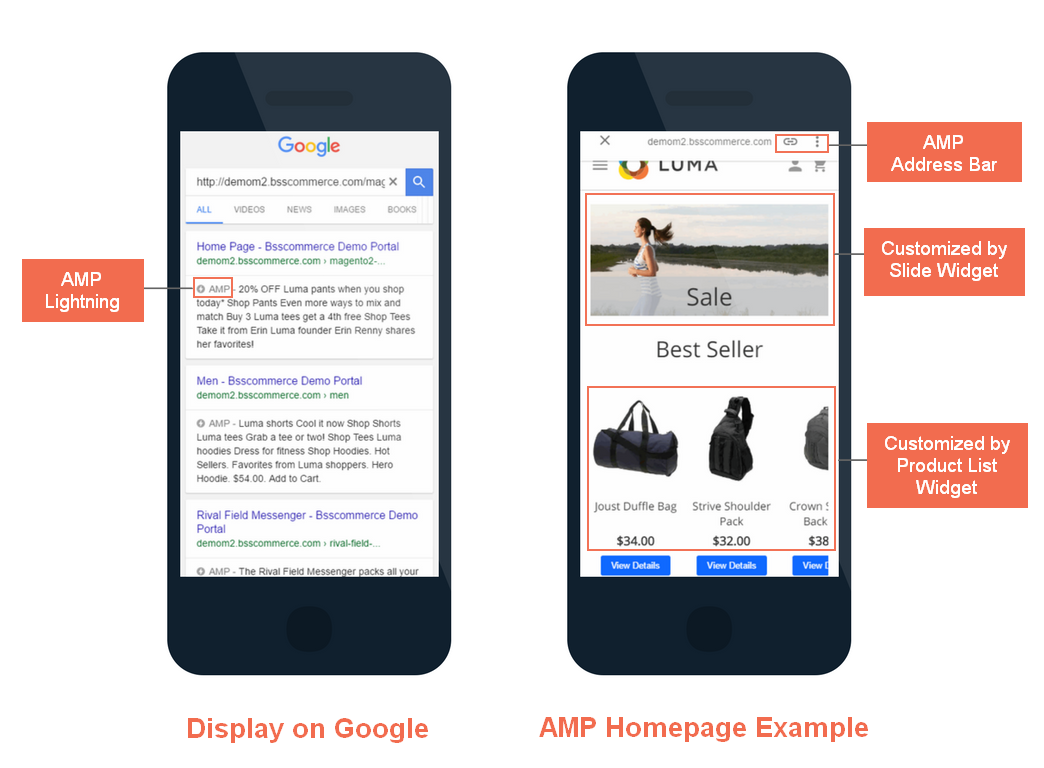 Support Rich Snippets for AMP Magento Product Pages
On Google search result pages, AMP product pages created by the extension will be shown with Rich Snippets including ratings and the price of the product. This will make the product pages more appealing to buyers.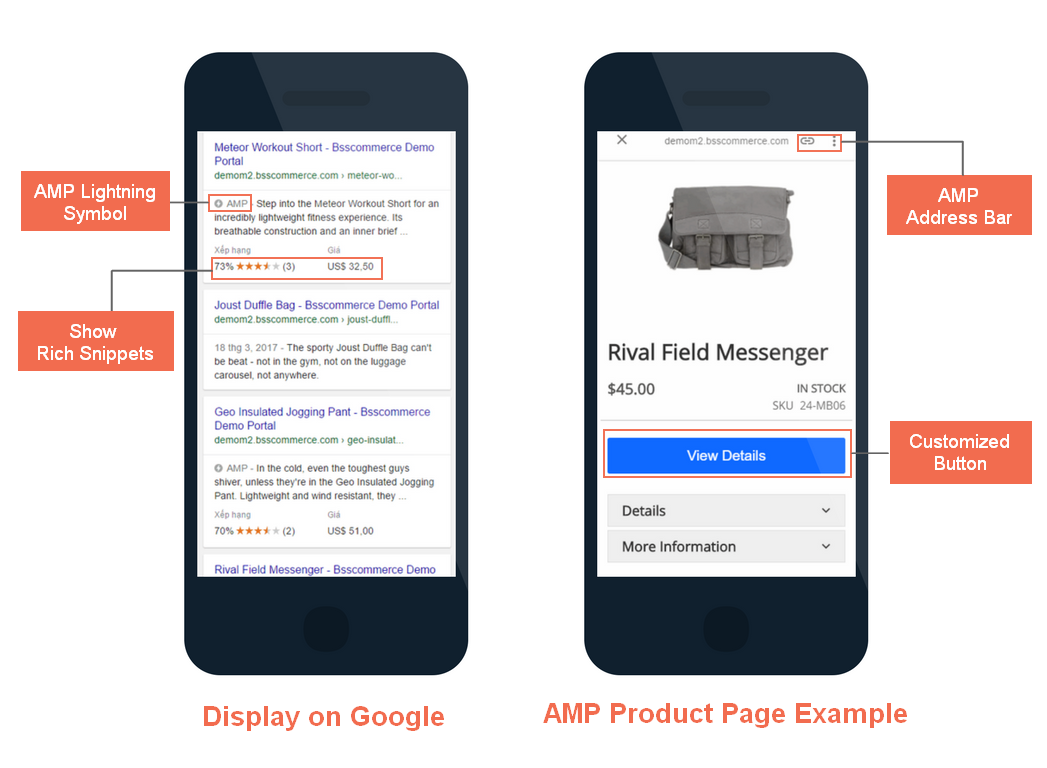 6 AMP-Standard Widgets: Product List, Banner, Iframe, Social Share, Image, Video for Customization
The extension does not force admins to follow the sample of AMP pages provided by the extension. Instead, it provides 6 AMP-standard widgets including product list, banner, iframe, social shares, images, and videos so that the pages can be highly-customized according to the store owner's wishes. Without spending much time on studying AMP standard, admins can easily create AMP pages from backend by themselves.
Allow Styling by Custom CSS for Each Page Type
Not only customizing the content, admins are also able to style the Magento 2 AMP pages. At the backend, admin can set custom CSS for each page type: Homepage, Category Page, and Product Pages, for example.
Connect with Google Analytics to Track Performance of AMP Pages
Accelerated Mobile Pages are a different standalone version of your website. Hence they require separate Analytics tracking. The extension helps integrate AMP pages with Google Analytics easily at the backend.
Provide Search and Subscribe to Newsletter Block in AMP Pages for Sites Using https
For https sites, the module also supports Search and Subscribe Newsletter block. These will trigger users to interact more with your store.
Configuration
On the product page of Google AMP Extension for Magento 2, you can find support through Live Chat or the detailed User Guide. The extension is easy to set up from the backend. You can also test it by accessing the BACKEND DEMO.
The configuration is divided into 2 main parts:
General Configuration
Customization Configuration
General Configuration
Go to Store => Configuration => BSS COMMERCE => Accelerated Mobile Pages and start configuration.

In the General tab, you can choose the AMP Home Page among the list of AMP pages you customize or AMP pages created by the extension. It is also easy to connect with Google Analytics by filling in the ID of your account. If your site is using https, choose Yes in the settings to enable search and subscribe block.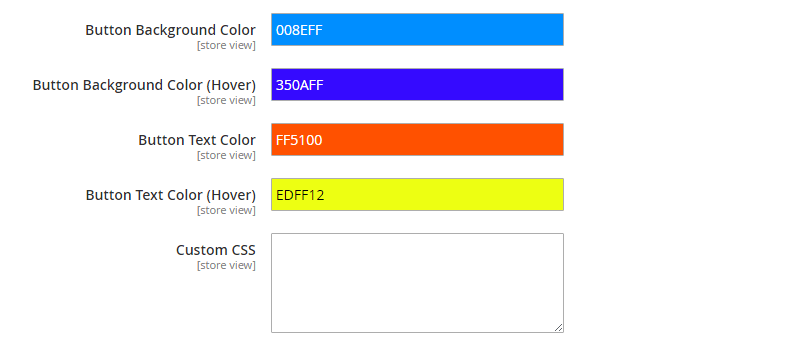 Admins can modify the color of the button on the pages as well as set up custom CSS for all AMP pages. Or CSS can also be customized for each page type.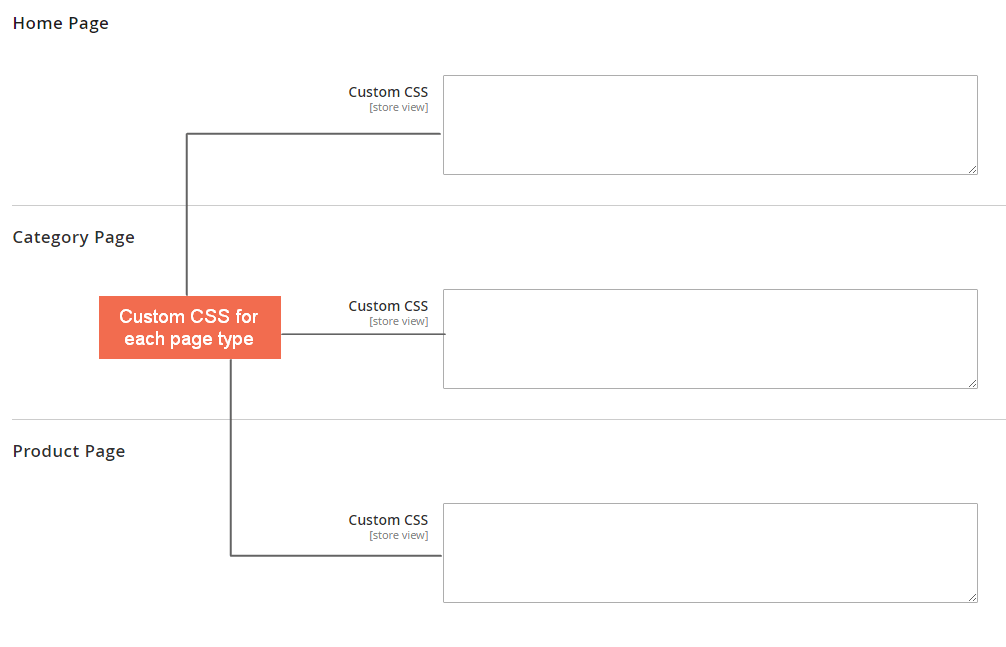 Customization Configuration
Please go to Admin => Content => Pages => Add New Page and start configuration.
In the Content section, admins can choose to insert AMP Widgets to customize AMP pages. The extension provides 6 widgets: product list, banner, iframe, social share, image, video.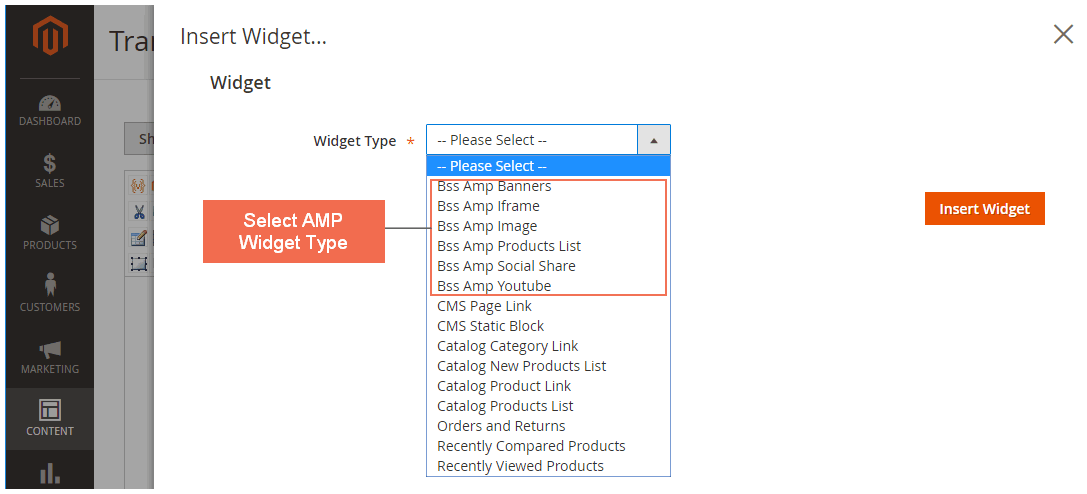 With these 6 widgets, the extension enables the admin to customize the AMP pages to suit the style of the products and the main website as much as possible.
Conclusion
In a time when people are spending more time on their phone than any other device or gadget, mobile-optimization should be the priority of any ecommerce website. And Accelerated Mobile Pages, which is still in the improvement process by developers worldwide, has already proven to be the hottest talk of the town. For Magento 2 store owners, Google AMP Extension for Magento 2 by BSSCommerce is an ideal tool to implement an AMP version of your store to boost the engagement and conversion through a mobile device.