Announcements
Black Friday Solutions That Every Magento Store Owner Should Opt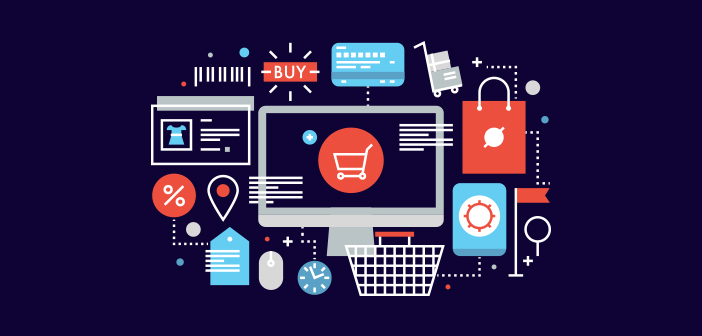 We can see that COVID-19 pandemic has affected every industry around the globe badly but ecommerce is amongst one of the few segments that not only survives the pandemic but has also shown a major rise in its growth too.
In the first six months of the year, consumers spent $347.26 billion online with U.S. retailers, up 30.1% from $266.84 billion for the same period in 2019, according to the latest Digital Commerce 360 analysis of U.S. Department of Commerce data. Comparatively, ecommerce sales during the first half of 2019 grew just 12.7% year over year.
Online spending represented 18.6% of total retail sales for the first two quarters of 2020.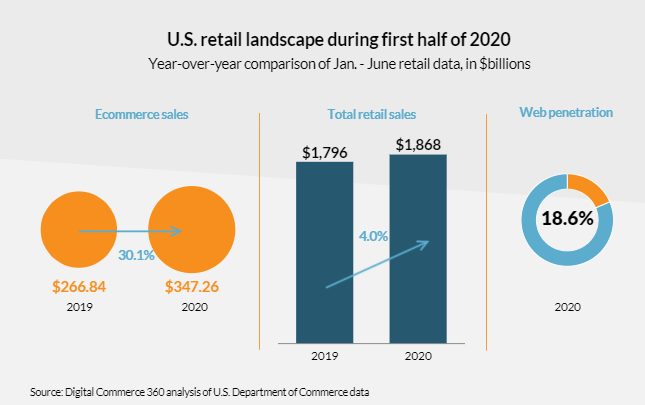 (Source: digitalcommerce360.com)
According to Statista, the average monthly traffic of ecommerce websites worldwide for June 2020 is 21.96 billion.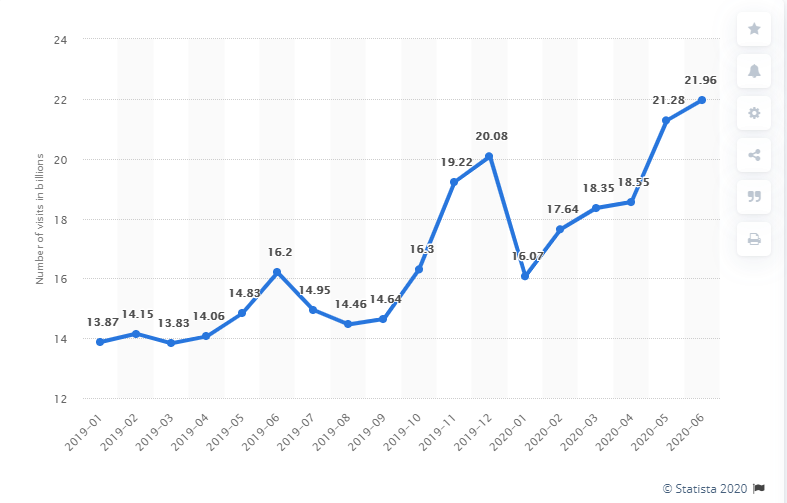 Which is greater than 2019 highest average monthly traffic of 20.08 billion during BFCM / Holiday Season.
Considering these figures in mind we can clearly say that this time BFCM / Holiday Season would be even bigger than the previous one. So we have compiled a list of best Magento solutions that every Magento store should have to make most out of this BFCM campaigns.
Suggested Solutions For Black Friday Campaign
These are some of the Black Friday solutions that may be the right fit for your Magento store
Build your store with our SMB solution in just 3 business weeks. Our solution manages to create your online presence, a live and working ecommerce store in just 5 simple steps. It comes with a straight and flawless process to offer everything you require on your online store. 
During the holiday season, it is difficult to get hold of a trustworthy and reliable outsourcing solution that offers an end-to-end solution along with interactive Magento responsive themes. MageDelight's SMB solution is all you need to take your brand to the next level.
Google One Tap Login extension by MageComp for Magento is capable of providing the best customer experience by allowing them to login/Signup in just one click without performing the compound tasks of filling the form. Users will just require to login to google account in that particular browser. It Eventually Helps the Magento merchants in increasing the Signup Rate of their store. Best for the stores that have disabled the guest checkout. The module helps your user's Login/Signup quickly and no need to enter your password every now and then. Intensified skin popup cookie for boosting the customer experience of your Magento 2 store. Improve the customer experience of your store and enhance the raise in overall store sales.
Modern shoppers tend to prefer online shopping, and while the deals should be grabbed without wasting time. Magento 2 Google One Tap Login helps the customers to Login/Signup quickly and drive more actual revenue for sellers.
"Black Friday is an event that no retailer should miss. Gear up your Magento 2 Store with Google One Tap Login to make quick Login/Signup and boost conversion rates."
With the holiday season just around the corner, it's time to work diligently towards creating the perfect strategy for your online business. Not forgetting the pandemic phase, it becomes all the more important to curate experiences that generate better engagement and improve conversions.
Marketing automation techniques could play a great role in seamless functioning of your business strategies this holiday season. CedCommerce makes available to merchants the HubSpot Magento 2 Integration Extension.
This solution enables syncing of business critical data from Magento store to Hubspot, an inbound marketing and sales software. Automation of various marketing processes can be achieved with the integration of both platforms and the analytics reports generated can help with better planning.
During the holiday season, this extension can merchants in multiple ways. Creating automated workflows for marketing processes, running email campaigns, targeted correspondence in the event of cart abandonment, keeping track of campaigns, analyzing ROI, and lots more.
So this holiday season, do not just hustle to achieve better traction and more sales but also work towards optimizing your processes for maximum results.
PayTrace Magento 2 Extension is a payment gateway extension that has been created with a developer-focused design and focuses on providing great customer support. The best part about PayTrace Payment Gateway Magento 2 is that it provides online transactions with user friendly experience. It is a sturdy system which can easily be customised according to one's needs. The payment gets automatically completed from the checkout page without a second of delay and hence Customers end up getting more than they expected and finally getting positive user experience from customers while shopping on your eCommerce store.
With Gift Wrapper for Magento 2, merchants can allow customers to purchase items as gifts for their beloved friends and family members with paper-wrapping and postcard options.
What you can do with the extension:
Create and manage wrappers and postcards in the back-end

Assign wrappers and postcards to products

Choose where customers can add their wrappers and postcards: at the product page or at the checkout step

Fixed or dynamic pricing available for wrapping papers based on customers' orders

Customers can wrap their items together or individually
The upcoming Christmas holiday is a special occasion when people start to visit eCommerce stores and buy wonderful presents for their friends and family. Therefore, store owners can help customers prepare carefully-wrapped gift boxes by offering them a complete and convenient gifting service with our extension. Customers are provided with various wrapping materials to design their own package to match the occasion or gift. What's more, they can also include a postcard to deliver heartfelt messages to the gift recipient.
"Gift Wrapper can be a useful extension for your eCommerce store, especially when Christmas is coming and customers want to buy Christmas gifts from your store to be carefully wrapped and attached with nice postcards. This extension has all you need to provide a convenient gifting service for shoppers, helping your brand stand out from the crowd in customers' eyes and boost your revenue."
Well, all the tips you can read here will help you bring more traffic to your store and get more visitors to add items to cart. Wouldn't that all go to waste if visitors then abandon their full baskets and don't end up placing their orders, don't end up becoming customers and don't end up generating sales for your business?
With cart abandonment averaging 70% across the board, it would. And you would have gone the extra mile, timewise and money wise for nothing.
What can you do to fix that and improve your checkout conversion? 
If you're on Magento 1 or 2, you have probably noticed that the default checkout provided with the platform doesn't address the reasons why online shoppers abandon their carts. Watch this short video for more details
 Key reasons for cart abandonment are around:
Too long a checkout process i.e. checkout not loading fast enough, checkout spreading over many page

Not seeing the order total upfront i.e. surprises with tax, shipping and other surcharge

Registration wall i.e. forcing the account creation as opposed to allowing a seamless and user friendly registration process
OneStepCheckout allows you to shape your Magento store's checkout the way your consumers want and would also reduce cart abandonment. Founded in 2010, the extension took the market by storm with over 22,000 customers trusting them, globally and across business models, such as Guinness, Nestlé, Maxi-Cosi, Everlast, Moonboot etc…
"Rumour has it the Holiday sales will start mid October and will last 2 months. Be prepared, start early with your installation and testing so as to make the most of your 2020 traffic peak. Our customers usually make their software purchase in November but given the situation, NOW is the perfect time to improve your checkout." 
Thien-Lan Weber, CMO at OneStepCheckout.
Many sellers face the problem of shopping cart abandonment, especially during the holiday season, when a lot of merchants offer discounts. The main reason is too long and complicated checkout process with the must-fill fields distributed between multiple pages. 
Before the holiday season arrives, it's essential to address the issue that can cost sellers thousands in lost sales. 
GoMage LightCheckout provides a fast and easy cart experience wrapped in one solution. This extension helps to refine the last step in the customer journey by putting the whole checkout process onto a single page.
Instead of using multiple pages with checkout fields, LightCheckout provides information on a single page. It is a fully customizable and mobile-shopping-ready extension, offering smooth customer experience.
Shopping cart abandonment is the bane of sellers' work, especially during the holiday season. All your efforts can go in vain because of a too long and complicated checkout process. 
Many merchants struggle with the problem, unaware that they can address the issue by implementing one-step checkout. That's why we created GoMage LightCheckout and saved businesses hours of development and testing. LightCheckout is a fully customizable solution for Magento stores with a plethora of built-in features",
Yuriy Kuzminov, Co-Founder & Managing Director at GoMage
GoMage LightCheckout Features Highlight:
Fully customizable design

– you can make the checkout page an integral part of your website's design by configuring CSS and HTML code.

Mobile-commerce-ready

– GoMage LightCheckout is optimized for mobile eCommerce and provides a great user experience across all devices.

Registered and guest customers

– customers can place orders as guests or registered users. They can sign up and sign in right on the checkout page with social login or email.

Newsletter subscription

– checkout is the last chance to ask customers to sign up for the newsletter. GoMage LightCheckout allows users to subscribe right on the checkout page.

GeoIP technology

– this feature allows you to autofill country, city, zip/postal codes for your customers based on their location so they don't need to waste time on typing in this information.

No shopping cart page

– reduce the number of steps needed to place an order by disabling the shopping cart page. Take your customers right to the checkout page.

30+ payment gateways

– LightCheckout supports over 30 payment gateways, so customers are not limited in options.
Hope that these solutions will help you improve your Magento store for the BlackFriday campaign. If you have any other suggestions then do feel free to share your thoughts in the comment section.