Articles
Metrilo Review – An Ecommerce Customer Retention Platform That Makes Your Magento Store More Profitable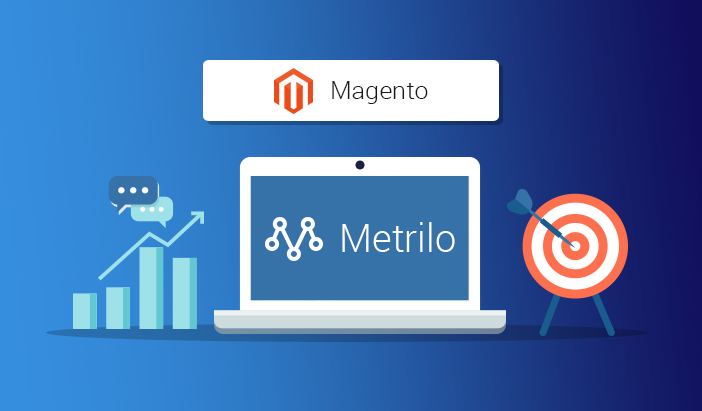 Ecommerce is becoming a more and more saturated industry, with competition popping up everywhere. Your Magento store competes with other from all over the world and everyone has access to free shipping and cheap manufacturers so differentiation is hard.
How do you grow your Magento store then? How do you actually make money out of it?
By working for profit and focusing your efforts to increase ROI. Simple.
If you follow what most merchants do – pay for ads to get new customers, make a sale, repeat – you won't get far. You'll always be limited to how much you can pay to make sales.
However, if you work on customer retention, you'll soon be earning more profit. Why is that?
Customer Retention Improves ROI
Marketing Costs
Whatever you pay for marketing to acquire new customers, it has to be deducted from the money you make on the first sale. That often means you actually lose money on that first sale.
To make up for the marketing investment to get that customer, you'd better sell to them again. Each additional order offsets the cost of acquisition until you're turning a profit. The more returning customers you have, the better for your budget.
Repeat Sales Are Free
Once you have a customer in your database, you can do lots of things to make them buy again.
Most importantly, you have their email and know a little bit more about their buying habits. You can use that info to keep the relationship going so they come again and buy more.
The best part is that these emails are virtually free to send, unlike ads. That means free reactivation of customers, anytime.
How Can You Start Doing That?
With a product or a service that is popular with your customers. Once you know what actually sells and has the potential to make more sales, pitch the same product but offer something more to the customer, like offering a discount or giving more value, reduced price for an old customer. Offers like these compel buyers to engage and buy more. You know, the more you sell, the more profits you make.
Customer Retention Platform for Magento Stores
This would be a tool that combines your sales and customer data and ways to use it for retention. Metrilo is one such customer retention platform.
Think of it as a smart CRM, built for ecommerce specifically with all the necessary client stats, details and customer actions recorded in neat customer profiles so you can really see the people behind the orders.
It then gives you a retention analysis by customer cohorts (no need to set up anything) which shows how you're doing in terms of retention and helps you identify points for impact. You see how loyal each cohort is and how its behavior changes over time.
This compilation of information lets you do segmentation, tailored marketing campaigns, automated emails based on behavior and so on to keep customers engaged and coming back to shop more.
What you'll learn with a retention platform like Metrilo:
Customer behavior – how people go about your Magento store, how and what they choose, how long it takes for them to check out, whether or not  they cancel or ask for refunds
How loyal customer are – how often they shop from you, for how much, how long they stay on your store, etc
What stimulated customer retention – what campaigns/ products/ months bring in the best clients
How to push for more orders – when to send emails, when to not send them,  what customer groups respond well to coupons, what products are a disappointment and which ones are popular, etc
A Better Way to Understand Your Customers & How They Interact with Your Store
Customer Behavior Tracking
Metrilo also shows you the complete session and action records of all customers, even as anonymous users, so you can track the whole decision-making process, pinpoint the moment of conversion and any behavior that follows.
This means you actually see how people interact with your store and buy, as in a brick-and-mortar store. When you see their whole behavior compiled, it is easy to get ready for their next need and visit.
You can tailor your communication and offers to match their shopping style and product preferences.
What Drives Loyalty for Your Store
Going even further, the retention reporting shows which customers are the most loyal – by first product bought, a month of first order or coupon used.
You see how those factors impact loyalty afterward so you can better adjust your marketing focus on the ones that drive loyalty and stop doing the rest.
What You Can Do with an Ecommerce Retention Platform
Continuous Engagement
To build a positive relationship with a customer, you cannot just spam them with sales offers. You have to give them some value for free.
Engagement via emails is a good base. They can read them whenever it's convenient and you have full control over the contents, format, etc. Something that's not true for all ads.
Automated series with content-rich emails help make perfect sense for keeping in touch without constant nagging to buy something.  Set them up once in Metrilo to send out on the 10th, 15th, 25th, etc. a day after purchase and brand communication will be there as a reminder instead of a hammer.
Reactivation Emails
In order to get more repeated sales, you'll need to give people a little nudge here and there. Reactivation emails only fire if a customer hasn't made a purchase in the average time between orders period for your store.
This makes sure you don't let a customer slip away to the competition and also works for you on autopilot if you chose a retention platform like Metrilo.
Perfectly-Timed Emails
If you want, you can speed up the buying cycle (this will bring you more orders for the same average customer lifecycle). Do it with auto emails that hit just at the right time when a customer will need your product again and is ready to buy.
How? Metrilo calculates the average time between orders so you know that buying cycle. Set the automated email to go out just a day before that mark and watch more people reorder. This also prevents you from emailing too often, which is great for the perception of your brand.
Save Your Marketing Budget
Apart from insights when to do marketing, a retention report like the one in Metrilo will tell you when it is or not necessary to spend marketing money because sales will come anyway.
When a customer buys every 2 months, it is clear you can save every other month and push only in the next when sales go low again.
Better Product Offerings
When you know what products work best to make customers loyal, feature them more and put the ones that attract one-timers further back.
It may seem insignificant, but the first experience with any store is a test and you should listen to the feedback: some products get fans and other just don't.
Which brings us to…
Using Both Negative and Positive Feedback
Metrilo has a feedback gathering feature as well. Feedback requests can be automated and you will receive important and relative analytics useful in your advertising ventures.
Negative feedback, of course, can be addressed directly from Metrilo so the issue is resolved and the customer is saved from churning.
Positive feedback points at what actually sets you apart (no matter what you think it is) – fast customer service, quality products, great tutorials provided – stress it more and use it in your marketing.
Reward Valuable Customers
It is all in the platform: who falls in that category and a direct way to reach out to them.
Metrilo identifies the most loyal cohorts by CLV and/ or AOV. There are detailed filtering options available as well to make the selection really precise by a number of orders, minimal spend, last activity, exact products bought, etc.
Benefits of a Customer Retention Platform
Stimulate more orders, more often
Increase customer lifetime value and order per customer
Create a better relationship with customers
Streamline retention marketing activities
Optimize marketing budget
Do better, more tailored marketing
Weed out products and activities that don't help retention
Increase marketing ROI and profit per customer
If your Magento store needs a boost in profits and client relationships, try Metrilo free for 14 days and what works out for you. You get a full retention analysis on day 1 and can start working on it right away. Ready integration is available with Magento 1 and 2.