Interviews
Hirokazu Nishi Shares His Passion For Magento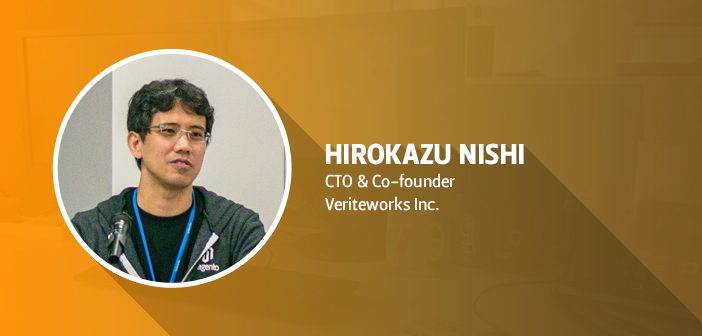 Today we have another famous personality of Magento with us. Hirokazu Nishi is the CTO & Co-founder of Veriteworks Inc. He has multiple Magento Certifications and has had a long relationship with Magento.
Muneeb: Hirokazu Nishi, thank you for joining us today. Please share some highlights of your career with our readers.
Hirokazu: My career started with a system development company in Japan. My team mainly used LAMP/LAPP stack for projects. It was natural for me to check latest the PHP based OSS solutions. In 2007, I met Magento. I think that is when my real career started. Three years later, I started my own business. If I hadn't met Magento, I don't know where I'd be doing right now.
Muneeb: What are your job responsibilities as the CTO of Veriteworks Inc.?
Hirokazu: My role covers all kinds of IT related work. I manage all developers' tasks and the requirements of customers. Also I have to maintain all servers and intranet facilities. The real meaning of CTO is "utility man."
Muneeb: What impact did the multiple Magento certifications have on your career?
Hirokazu: To be honest, nothing. When I got MCD and others, I had already started my own business. However, it made me proud.
Muneeb: Being a Certified Magento Developer, what's your advice to newbies who want to learn Magento development.
Hirokazu: Read core codes deeply. Launching projects by yourself is a good experience for understanding the entire process of a Magento based website.
Muneeb: How would you compare Magento 1 with Magento 2? What do you think about the termination of support for Magento 1 in 2018?
Hirokazu: Magento 1 is a great platform. It has a really great ecosystem, but it has also aged. Zen Framework 1 is already EOL. PHP5.6 will be EOL by the end of 2018. It's time for us to say goodbye to Magento 1 in 2018 as well.
Magento 2 is a young and more sophisticated platform, it takes over all of Magento 1's assets. Magento 1's essence is still living in Magento 2. Of course, Magento 2 has many new technical elements and we sometimes get confused with Magento 2's behavior. Still, Magento is still Magento. I strongly recommend Magento 2 for new projects and not Magento 1.
Muneeb: What was your reason for choosing Magento out of all the other ecommerce platforms?
Hirokazu: Just my intuition. I have worked with Magento for ten years. Magento is my first priority.
Muneeb: Do you attend Magento events? How important are those events for newbies?
Hirokazu: Of course. I wish to attend all the events, only if my schedule and budget allows. I strongly recommend my staff members to attend Magento events as well. At Magento events, you have the opportunity to meet with community members.
Newbies can get to know more about Magento's ecosystem through these events. Feel free to attend any event. And if there's no event around you, you can always raise your hand and launch your own event.
Muneeb: Being a man with a busy schedule, how do you manage your work-life balance?
Hirokazu: Nothing special. I live near my office. Getting a good sleep, eating well, and having a laugh with my wife.
Muneeb: Name some people who have inspired you in your personal as well as professional life?
Hirokazu: For my personal life, I got many inspirations from my parents and elder sister. They have made a huge impact in my life. For my professional life, all open source addicted people inspired me.
Muneeb: Now it's time for a fun Rapid Fire round!
Rule: You can't spend more than 15 seconds on this question ;)
| Muneeb | Hirokazu |
| --- | --- |
| Shopify or PrestaShop? | PrestaShop |
| Movies or Games? | Games |
| Travelling or Party? | Travelling |
| Tea or Coffee? | Coffee |
| PlayStation or Xbox? | PlayStation |
Muneeb: It was great talking to you and I hope you feel the same :) Lastly, who would you like to be interviewed next on Magenticians?
Hirokazu: How about Kuba Zwolinski.