Articles
Top 10 Reasons To Choose Magento For Ecommerce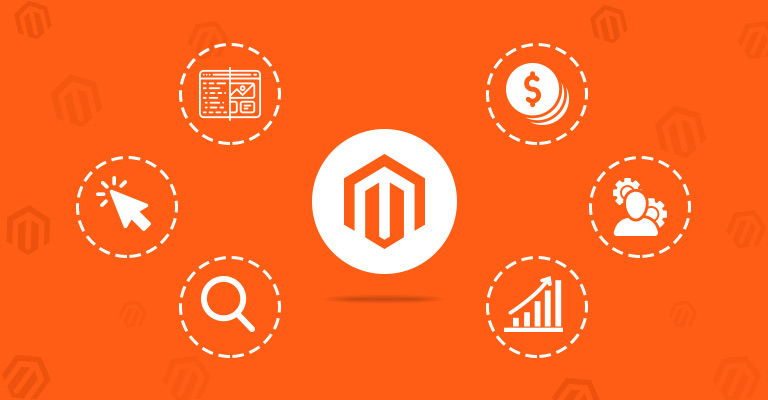 If success had a face, it would have looked like Magento.
Why I have made this analogical statement?
There is a reason behind this.
It's not that I love Magento for ecommerce, but it primarily comes down to excellent features, user-friendly navigation, commendable structure, and the workforce behind the premier ecommerce website hosting platform that stands out.  
There are many reasons that entice big companies to think hard about why choose Magento ecommerce in order to sustain their online businesses.
See: Magento vs. OpenCart: 2019 CMS Comparison
In this blog, we will elaborate on 10 reasons why having a Magento online store is the need of the hour for ecommerce enthusiasts.
Why Ecommerce for Magento Websites?
Electronic commerce, Ecommerce or E-commerce is an ever-evolving phenomenon. There are more than 86,000 active websites in the United States alone that use Magento platform. It is second only to WooCommerce when it comes to websites using a platform. We have taken all the statistics from BuiltWith, a famous website that showcases ecommerce website trends.  
More importantly, almost 60% of online buyers use mobile phones to place their orders via mobile. Therefore, you, as an online store owner can not deny the power of Magento for ecommerce websites. These are only a few of the glaring statistics about the usage of Magento for ecommerce stores to make you drool about the power of Magento ecosystem.
Brands like Samsung, Nike, Ford, Foxconnect, Lenovo, Olympus, Men's Health, Vizio, Nestle, and million others – from medium to small commercial enterprises – use Magento ecommerce CMS.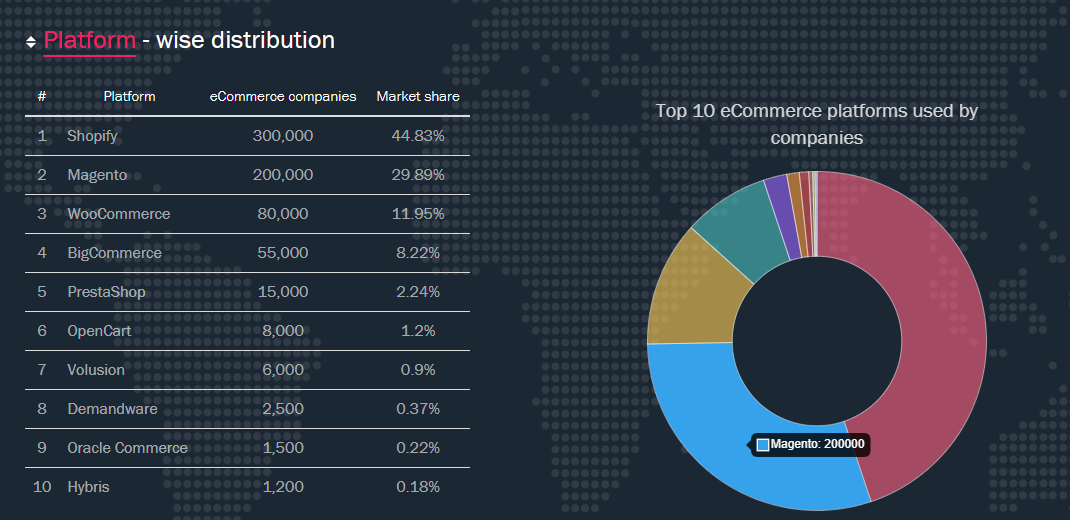 Magento's significant market share in the ecommerce industry
Source: PipeCandy 
Today Magento ecommerce platform powers 29.89% of all online stores. It is a significant statistic. With such a significant market share, the CMS has continued to maintain its lead amongst all other competitors for ecommerce stores.
The increasing number of Magento ecommerce stores reflects the fact that you, as an ecommerce web store owner must get ready for Magento-driven revolution in the ecommerce landscape.
Without much ado, let's check out the reasons why Magento for ecommerce is your go-to formula for success.
1. Open Source
One of the reasons why Magento for ecommerce is the top choice for developers relates to the fact that it is open source. It means anyone who knows about Magento website development can use it to his/her advantage.
The Magento Community Edition (CE) is completely free. You can easily install or use any version of Magento CE you want. If you are a Magento expert, you can accelerate the performance of your Magento online store and also promote your ecommerce website with new features and functionalities by developing or installing the Magento modules.
You can find a huge library of modules at the Magento Connect/Marketplace. These modules will help up your game as a Magento website developer while harnessing your progress at the same time.
2. Magento Community
One of the prime reasons why Magento for ecommerce enjoys a powerful position amongst its competitors is due to the selfless devotion of the Magento Community. This huge community comprises of dedicated developers, programmers, bloggers, project managers, product managers, CEOs, etc. around the world, who help and work with the beloved Magento Community every day.
The Magento Community always ensures that everyone is on the same page. If you, as a developer, are facing any issue with your Magento ecommerce website, you can always count on the ever trusted community to help you out by providing proper guidelines and fixes for that particular issue. It is a safe platform, as well as speedy, thanks to the regular updates fulfill the needs of end users. Kudos to the beloved Magento Community.
3. Born to Be an Ecommerce Platform
I will use another analogy here. Magento is to ecommerce as a body is to soul. It is a perfect match made in heaven. Magento is the default CMS for all online businesses.
Observe the connection.
Magento+ecommerce = Success.
Truly a lethal combination that guarantees success.    
A good reason why Magento is the most favorite CMS for ecommerce websites relates to the fact that developers have developed Magento specifically for ecommerce websites.
Magento is just like an umbrella that covers all the aspects and functions of a powerful and successful web store. It is the perfect CMS for web stores that offer complete ecommerce solution, with comprehensive features and designs.
4. Superior Support
For any business, the support operations are an integral part of its growth. Traditional or online, support plays a vital role in the growth and success of a business. Therefore, when it comes to Magento for ecommerce, the technical support team holds critical importance.
Magento as a platform just keeps getting valuable additions in terms of security, stability, and support all the year round. The active community and the developers help improve the platform for better user experience, bringing the best ecommerce standards for Magento. This trickles down into the platform that makes it easier, faster and seamless as an ecommerce platform with which, you are always covered.
5. High Performance
With regards to the page load time, query processing time and other dynamic or static operations, once again Magento ecommerce is the winner. It ensures optimum performance of your website while using minimal server resources.
According to the user requirements, only a few hundred milliseconds of latency processing can completely kill the chances of ecommerce websites with potential customers. Magento, coupled with modern technology such as Varnish, Memcached, Redis, FPC, and optimized database options, can fittingly cater to the requirements of ecommerce businesses and their clients.
6. Multitasking
We all love multitasking, so does Magento. The best thing about Magento for ecommerce is that it allows you to perform multiple tasks at the same time, which lets you work on other important tasks simultaneously while monitoring your Magento website's performance. It all comes down to the fact that Magento saves your precious time.  
Merchants and developers can also manage all of the items, billings, customer information with just a single and user-friendly admin panel that the CMS offers.
7. Flexibility
We all love authority. And Magento for ecommerce websites gives developers just that. You, as a developer can enjoy complete control over all the functions of your ecommerce website.
It is important to note that Magento developers can always develop a unique and stunning user experience/frontend based on multiple device access. Magento also offers you the opportunity to customize the back-end of the Magento web store to meet the specific requirements.
With Magento, you can also take control of interfaces and processing capabilities of the core solutions of ecommerce website.
8. Mobile Experience
The online world is a mobile-dominant one. In order to make your online business successful, you must concentrate your efforts in catering your mobile-savvy buyers. This is why Magento for ecommerce is compatible with smartphones.
The Magento platform supports HTML5 to maximize the shopping experience on mobile. Moreover, it has the ability to adjust the image size and supports video.
With Magento ecommerce website, you can customize anything you want. With a built-in drag and drop feature, all you can get is an exceptional mobile shopping experience.
9. Ease of Integration
Magento for ecommerce websites allows you to integrate quickly with a large number of third-party services including payment gateways, database applications, transportation, shipping, order tracking etc. Also, the Magento platform offers you with built-in Google tools such as Google Analytics, Google Checkout, and Google Base to help you monitor your website's performance while keeping a bird's eye view on the latest Magento ecommerce trends.
10. SEO friendly
SEO is not dead. This statement holds true for Magento CMS as well.  Magento is an SEO-friendly platform. It is a given.
It comes packed with features including, SEO friendly URL structure, sitemaps, positioning layer, URL rewrites, tags, descriptions, etc.  that help your ecommerce website rank higher in search engines and help your buyers find you online with complete ease. We advise you to use these SEO features to your advantage to the fullest. 
Get to know more about Magento 2
Summing it up
This brings us to the end of this blog. In this blog, I have elaborated about the top 10 reasons why Magento is the best solution for your ecommerce website. From community to superior support; from multitasking to flexibility, Magento ticks all the boxes that make up the list of prerequisites of an active, successful, and sustainable Magento ecommerce website.  
Magento gets a lot of attention from merchants and developers when it comes to advanced ecommerce platforms. Developers love it because of its flexibility, as they can do almost anything according to the client's needs. Merchants love it because of the vast number of functionalities and features, Magento provides out of the box.
Magento has so much more to offer, but besides all of these reasons, there is one reason that makes Magento different from other platforms, and that is:
Magento is Awesome!!! ;)