Articles
Magento vs. OpenCart: 2020 Comparison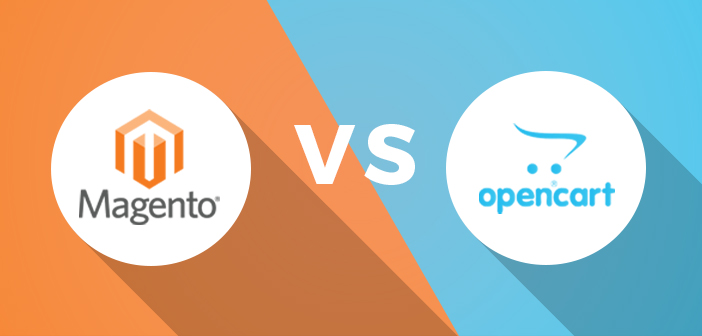 It's no secret that choosing an ecommerce platform is not easy. All the popular platforms available in the market have their different pros and cons, so it can be confusing to pick one for your online store. However, here at Magenticians, we're always working hard to solve your problems. And if Magento vs. OpenCart is what's bothering you, worry no more!
Going through this article will make the decision rather simple for you. And if you are stuck between Magento and other popular ecommerce platforms, we've got you covered for that as well!
Here's a list of other ecommerce platform showdown that you might be interested in:
Today's focus is on Magento vs. OpenCart, though, and we'll help you decide which platform is better for you. Not only are we going to delve in to the details of what makes both platforms stand out from each other, but we've got this amazing Infographic for you if you fancy a look:

Now let's dive into the details.
Both platforms have a lot in common. For example, Magento and OpenCart are both open sources, hence, free-to-download and both have been developed in PHP. Both platforms support multiple languages, and both have rather large communities. Also, both can support stores of any size.
However, if everything were same, there'd be no reason to have a showdown. But there is, and this is what we're here to tell you. We'll split the review between the following points so you can simply choose the ones that are more important to you and start your online store:
Features
Both Magento and OpenCart were designed with a large user base in mind. So while both platforms are great for small shop owners or big enterprises, it is important for you to know which one will be able to provide you a better service when it comes down to real business.
Here, you must understand that while OpenCart is a great platform, it doesn't come close to the features that magento has. Magento is a platform that was designed for large enterprises, and if you are even thinking of scaling your business later on, Magento should be your go-to platform since it has features that better caters to large online businesses. If your website is dealing with a large number of traffic, OpenCart might struggle since it does not have the features that Magento has.
This is mostly because there are plenty of superior features in Magento that offer superior customization and offers many others that allow users to whizz through the store with ease. With professional SEO settings and SEO optimization, Magento is a no-brainer when it comes to features.
Inventory Management
With a large number of features also come the ability to manage larger inventory. Akin to a brick and mortar store, online stores need an inventory as well. It is the large database of products and hundreds of pages that a website has to handle.
Here, both Magento and OpenCart are champions at managing inventory. Magento edges OpenCart slightly since it has far more extensions and features to allow better handling of inventory, but OpenCart is not a slacker either, hence, you're in good hands.
Extensions
Extensions enable your stores to get those extra features and tools that do not ship with the platform. They are a crucial part of your store, and if you want to provide those extra functionalities to your store, it's important to keep this in mind.
Magento takes the bigger share of the pie here since it has a far bigger library of extensions to offer. You can find any kind of extension that you require for your store on the Magento extensions gallery. OpenCart has a large number of extensions as well, but its numbers pale in comparison to Magento.
So if you're a store owner who likes to empower their customers with the best functionalities, Magento is a better choice.
Powerful SEO Resources
Magento and OpenCart both have useful SEO options, which is great since SEO is a crucial part of an online store. So while you can optimize your stores using both platforms, one of them stand out with a far superior SEO play.
Even though OpenCart touts itself as a SEO friendly platform, it has a long way to go. It is limited, and somewhat restricts users from performing some crucial SEO modifications.
Magento, on the other hand, let's users play around with SEO and allows them to optimize titles, URL's and even connect a store to a WordPress blog for better reach. All this means that when it comes down to SEO, Magento is the real winner.
Ease of Use
Let's talk about ease of use. This is something where Magento hardly wins since it's a robust and heavily feature laden platform and is not an amateur's playground.
In contrast, OpenCart is a much more user-friendly platform that is also fairly easy to install and setup. Installing Magento in itself is a task, and if you're not an experienced developer, chances are that you'll have to incur costs for hiring a developer to do the job for you. Hence, unless you are ready to learn Magento for months at the minimum, you cannot go through Magento easily.
Security
Security is a huge concern which is perhaps one of the most talked about topics and it is important to keep in mind that majority people are sensitive about security, and rightfully so.
As far as Magento is concerned, you as a store owner should know that Magento is prompt in releasing patches and new updates to its users. This ensures that your Magento store is always at the top of security and your customers feel secure about shopping from your store.
OpenCart is not a slacker in the security department as well, but if you're looking for the most robust security and up-to-date security patches, Magento is the better option.
Pricing
Both Magento and OpenCart are open-source platforms as discussed, and this means that they are free to download for all.
While the platforms are free, do keep in mind that you'll have to incur hosting costs. However, since Magento is a resource-demanding platform, you might have to splurge more on its hosting that you'd have to on OpenCart.
However, as far as the platforms are concerned, they are free and open-source, so you don't have to pay anything to acquire either (as long as you are not opting for Magento Enterprise Edition).
Popularity and Support
As far as popularity is concerned, Magento is hands down the winner. Magento is the choice of platform for nearly 3 times as many stores as OpenCart.
This also means that Magento has a huge community of supporters as well. Whenever you are in need of a solution to some problem, the Magento community is ever ready to help you out. This is not to say that OpenCart does not have a community, because it does, and you'll be in good hands there as well.
Just that if you compare the two platforms, you'll find that Magento is backed by a much bigger and robust community.
Conclusion
While looking for an ecommerce platform, it is important to know what is important for you and what will work better for your business. If you are a beginner, OpenCart is the platform for you to run a small online store. But if you want multi-store exposure with amazing SEO capabilities, custom features, and a lot more that helps you stay on top of your game, then Magento is downright the better choice.