Articles
Ecommerce or E-commerce. Which is it?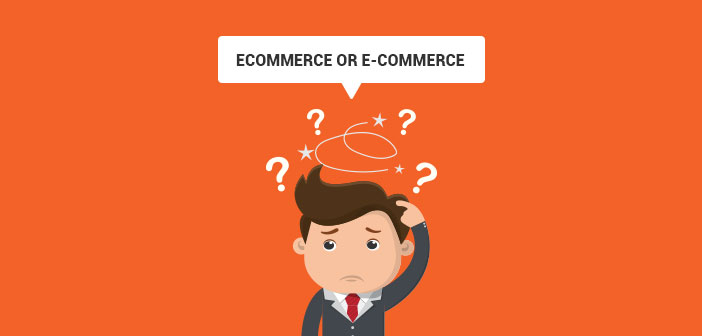 Pronunciation is a big part of perception. The way we pronounce a word gives it meaning. Take a simple word, love. There are many ways of expressing the idea without saying the actual three letter patent sentence. Today, we answer a very simple question; is it Ecommerce or E-commerce?
We've described our love for ecommerce in a different way; we show how easy it is to get about it. But the question is, what is the right way of pronouncing it? Is it E-commerce or E-commerce (with or without a hyphen)?
Get $25 Free Credit on Managed Magento Hosting!
Use Coupon: MGT25
Is it really that important to know about ecommerce spellings? Our love for ecommerce or e-commerce demands we dwell deep into this question and find out just how it is to be pronounced.
With a large number of marketers, developers, and newbies venturing into the world of e-commerce, it isn't that important that they'd know the exact way of writing this term. However, what is crucial is understanding the elements that contribute to a successful online store – from choosing the right e-commerce platform to optimizing the user experience. Seeking guidance through e-commerce hosting reviews can be a valuable step in this journey, helping you make informed decisions that lead to e-commerce success.
To answer the question of Ecommerce or E-commerce, we decided to ask the guru itself; Google. But, unlike others, we used two separate methods. To properly understand ecommerce spelling, we simply wrote and hit the search button.
In the other instance, we asked Google by saying out loud; Okay Google, what is the correct way of writing Ecommerce. For both instances we took to Google: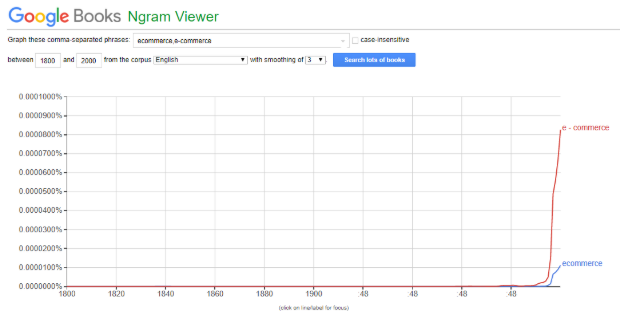 The image above gives us an insight into which term was used the most for literature and publishing.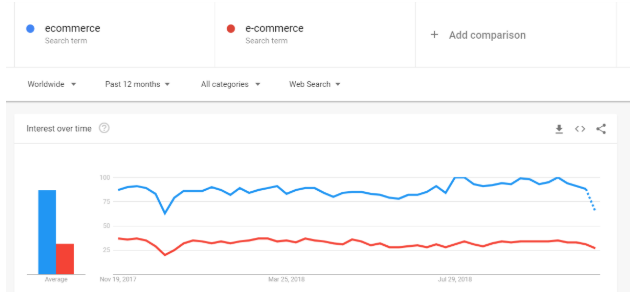 The image above, claims ecommerce, and not e-commerce was used the most as a search term on Google.
Looking To Build Your Own Ecommerce Store?
Then, why not Magento? It offers everything that an online store requires to perform 10X better.
Research
According to Google's trends, the term ecommerce, as a spelling is used more. We have a much better perspective of what we're doing for making Ecommerce or E-commerce a bit more clear. Do notice that it would have been the easier way of writing ecommerce, like the way we are used to.
Of course, it is clear that the right way of writing is e-commerce with a hyphen but even if we don't, the results are a bit different.
Even though we have been using ecommerce since its inception, we might be a bit lazy trying to find the hyphen key on our keyboards. The correct way to write ecommerce spelling is e-commerce with a hyphen.
But the story gets more interesting. Ecommerce or E-commerce needs attention to some extent. Some document editors like Microsoft Word and Google itself, correct it by adding space between e and commerce. We noticed this but it doesn't need that much attention.
Another classic case in point similar to Ecommerce or E-commerce is Email. Most people write Email with a hyphen and some prefer it without one. Now though, since it is one of the most common words in use today, it's written or pronounced as Email, without a hyphen.
The story is ecommerce spelling is quite similar because it shares the same story on many grounds. When E-commerce was new, it stirred a lot of buzz around the world and people started putting extra emphasis on this word with a hyphen to indicate something new and profound. Now though, online shopping or what is now known as E-commerce is the most preferred way of shopping for anything.
If you search the internet today for examples similar to Ecommerce or E-commerce, you can find many such examples of ecommerce spellings. Another example of ecommerce spelling is e Business or ebusiness. It is a fairly new marketing concept, focused on online or offline sales, usually through social media or multiple online platforms. Nowadays, it's written as E Business or ebusiness or even e-business. All the versions are in use. The same case stands true for Ecommerce or E-commerce.
Final Words
So what is the right way to spell ecommerce? Google gives us the results of what is being used more as a search term and for literature.
The bottom line is, it can vary depending on the requirements. Both terms are correct in their own perspective and it is up to the user whichever term is used.
However, the correct way to spell ecommerce is with a hyphen, not without or with space. Ecommerce or E-commerce might seem something extremely important but in reality, it is a very small thing. Being e-commerce enthusiasts, we decided to look into such small things since they do make a difference overall.
How do you spell the word, Ecommerce or E-commerce? Let us know in the comments below.
SEE: Ecommerce Trends That Will Dominate the Second Half of 2018