Uncategorized
Write Quality E-Commerce Product Descriptions: A Beginner's Guide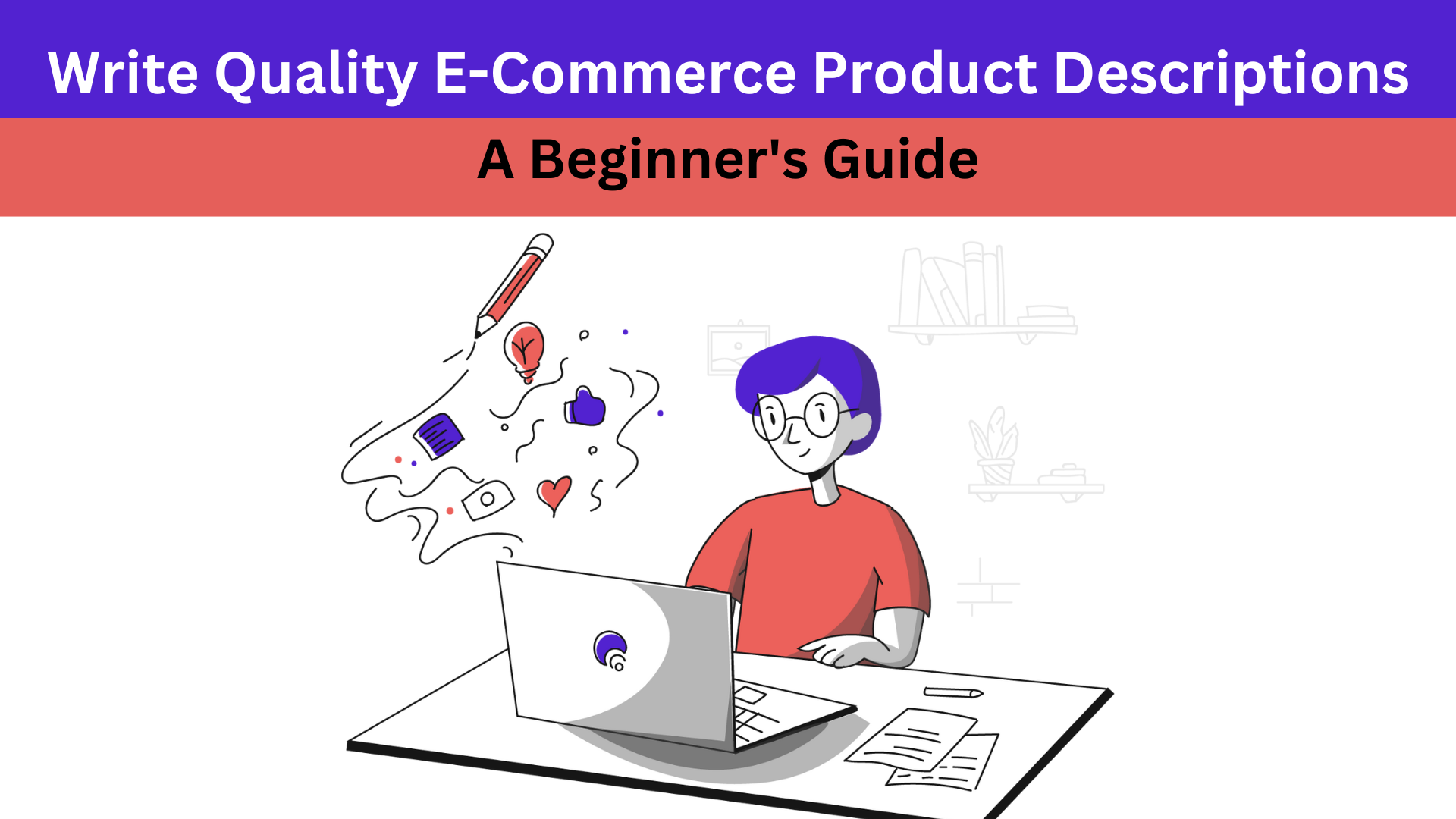 A top-quality product description attracts your eCommerce site visitors, educates them, and persuades them to buy your product.
Most writers successfully educate site visitors but fail to stimulate readers to buy. Your target readers should understand the product thoroughly so that nothing is left to hinder them from making a purchase.
Are you struggling to write quality product descriptions for your eCommerce store?
No worries!
In this beginner's guide, we will walk you through nine magical steps to writing compelling product descriptions that attract customers and boost your sales.
Let's get started!
How to Write Quality E-Commerce Product Descriptions
1. Build the buyer personas
First, you need to know your target customers.
In simple words, you should document your ideal clients.
What type of customer data should you need?
You need to keep the below-mentioned information in your documents:
Buyers' names
Age & gender
Location
Educational level
Average yearly income
Challenges they are facing
Where do they spend most of their time?
After collecting the aforementioned information, you should share it with your management and marketing staff.
2.  Determine the transactional keywords
You cannot excel in your business if you do not focus on Search Engine Optimization (SEO).
Focusing solely on product page SEO helps you drive more conversions and leads to your business.
So, your product description should be SEO-centric.
With this in mind, you should use a keyword research tool like Semrush or Ahref to determine the search intent of keywords.
Knowing the search intent of keywords assists you in figuring out the best-fit keywords for your content.
3. Start writing product's features and benefits
After creating buyer persons and identifying transactional keywords, now is the time to dive into the writing phase.
The above-mentioned information will help you determine customers' needs. Now you have to write the features and benefits of your product.
While writing the product's features and benefits, keep the following points in mind:
Avoid listing the benefits of every single feature. Instead, write the top 3-4 features.
Describe how the product's features are helpful for users
Explain how your product will help customers fix their pain points
Stick around buyer personas while writing product benefits. Plus, write the features that appeal to your target customers.
4.    What if you are writing the features and benefits of two similar products?
What if you're getting plagiarism while writing features and benefits?
·       How to remove plagiarism?
In this situation, many writers struggle to write the unique features and benefits. They end up writing plagiarized content. The best way is to check your content in a plagiarism checker and check if there are traces of duplicate features and benefits present.
If there is plagiarism occurring, they can us an online rephraser to paraphrase similar content and make it unique, more readable, and rich.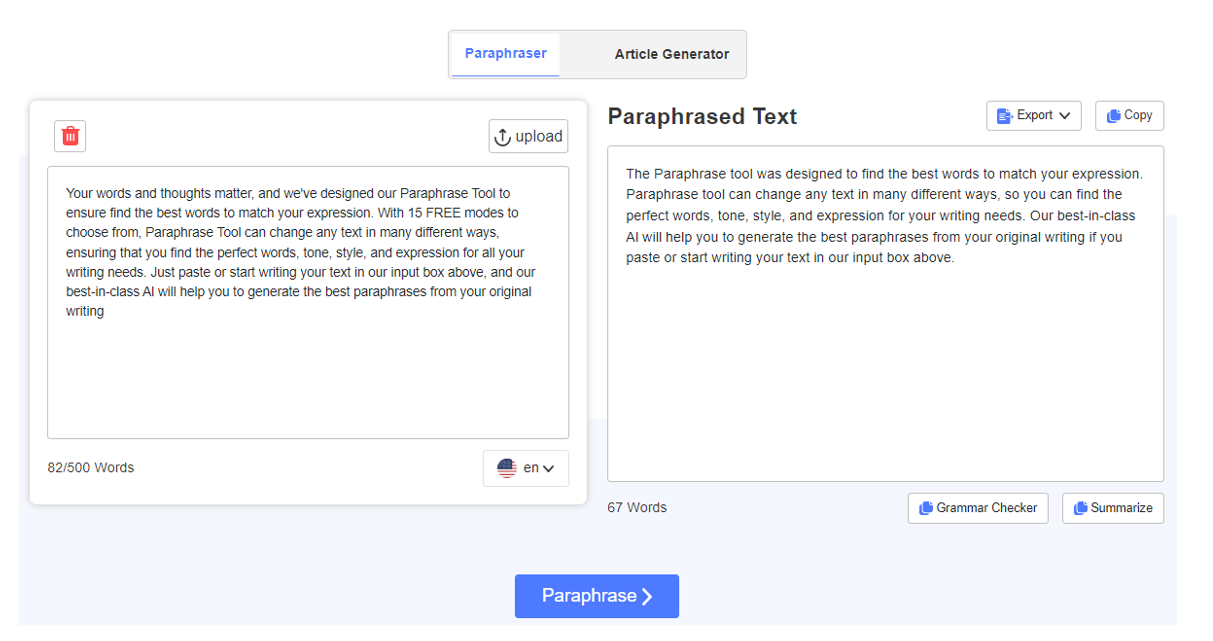 Powered by AI, an online rephraser creates different versions of the same text with absolute clarity. It does not change the original meaning of the text. Instead, it paraphrases content on the human level. A standard paraphrasing tool eliminates the plagiarism of the given text and makes it 100% unique and engaging. Another option is to use professional ghostwriters for their writing services to get a fresh and new perspective.
4.  Stick to your brand's tone
Your brand voice and tone help your target audience to get to know your brand.
It gives you the best chance to build relationships with clients. While writing product descriptions, choosing the brand voice is quite important. A well-crafted product description should depict your brand's tone.
Ask yourself:
"Do you want to keep everything straightforward or like to use humor?"
It will help you determine the tone of your brand.
5.  Appeal to your audience's imagination
A piece of research has found that if people touch a specific product, it maximizes their desire to buy that product. But the problem here is that your target audience cannot touch your product, as they are landing on your site.
So what to do?
In this case, you should appeal to their imagination through magical words so that they can imagine how its touch would feel.
6. Keep it easy to read and scan
Research uncovered that 79% of people scan every single page they come across. It means that the majority of people do not read your description word by word. So, you should keep it simple and sweet. Avoid using flowery and complex language in your eCommerce product description.
Instead, use simple and easy-to-understand language.
In order to make the description scannable, follow these steps:
Use as many headings and subheadings as you can
Include pictures of the product to increase its desirability
Make use of bullet points to write down features and benefits
7.  Add product review
Remember, people want to see multiple pieces of reference before purchasing something. Accordingly, you should add product reviews to your site.
When you visit Amazon to buy something, you come to know how impressive product reviews can be while considering which item to purchase or not.
Obviously, you want to buy the product having five stars as compared to a similar product having four stars.
8.   Optimize the description
You know people are using the internet to find your specific product.
These days, optimizing the product description for search engines is more important than ever.
As mentioned in the second step, keywords will help people reach your brand.
Include keywords in your headings, subheadings, and images. Keep in mind that the keywords should flow naturally.
Avoid including industry jargon and duplicate content.
9. Edit and proofread it
After writing the product description, it's time to give it a final look.
Read the content from top to bottom and figure out mistakes.
Remove all the grammatical mistakes and make the description flawless.
Final Verdict
There you have it: "Beginner's guide to writing an eCommerce product description that actually sells."
Your product description should be concise and to the point.
Add SEO-friendly keywords in your description's title, headings, and subheadings.
Give all the necessary details to your readers about your product.
Bear in mind that it should be easy to read and skimmable.
Follow these nine tips and write a powerful eCommerce product description that increases your sales.
Once you have flawless product descriptions, also check eCommerce competitor analysis tools to know how you can surpass your competition.