Reviews
Shipping Suite Ultimate Extension for Magento 2 — A Features Overview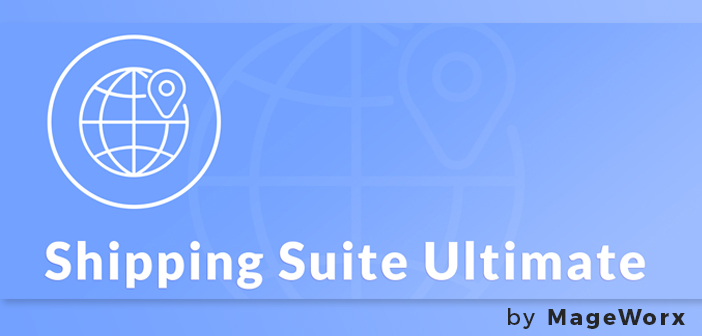 Shipping is one of the most important factors that affects a customer's purchasing decision. Hence, whether you just built a brand-new Magento 2 store or moved it from an older version of the platform, shipping is one of the first things you should optimize.
You may have noticed that Magento 2 has a decent set of shipping features. However, when your business expands, you may get to a point that it outgrows the default shipping functionality of the platform.
Generally, Magento 2 merchants run into the following limitations. They cannot:
   set custom shipping rules and restrictions,
   quickly add custom shipping carriers/ methods (without messing up the code),
   modify any existing shipping methods according to their personal requirements and,
   flexibly adjust rates for a chosen shipping method.
Unfortunately, all that is beyond the standard built-in Magento 2 shipping feature set, and one has to extend it only with some 3rd party solution.
One of the most popular and well-reputed shipping extensions for Magento 2 is Shipping Suite by MageWorx.
Read on to learn what makes the extension stand out.
Shipping Rules and Restrictions
Say you want to offer shipping with a 20% discount during happy hours at the weekends, or let customers select only specific shipping methods when ordering products that weigh 50+ pounds. Or, say, surcharge 5% extra, when the number of cart items gets more than or equal to 5.
In all these and other cases, you need to set custom shipping rules and restrictions.
With Shipping Suite extension for Magento 2, that can be done in a couple of mouse clicks.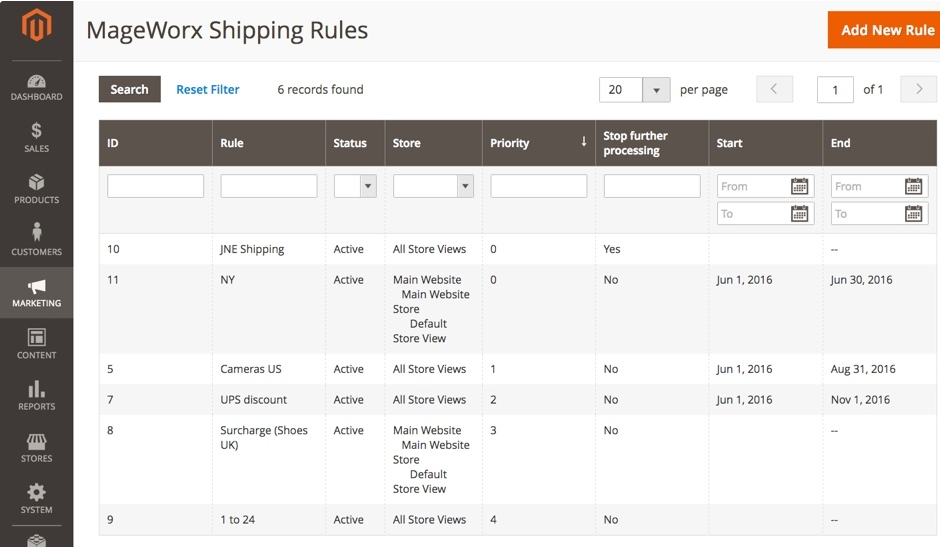 Go to the extension's main setting and create a new shipping rule in there. Note that with the software you can also:
individually create rules for specific customer groups/store views,
specify a priority for every shipping rule, and
assign a shipping rule to any day of the week or set its duration, etc.
The extension's custom shipping rules let you create scenarios where you can block a certain shipping method, limit shipping for any selected attribute, and even forbid shipping for certain countries or regions.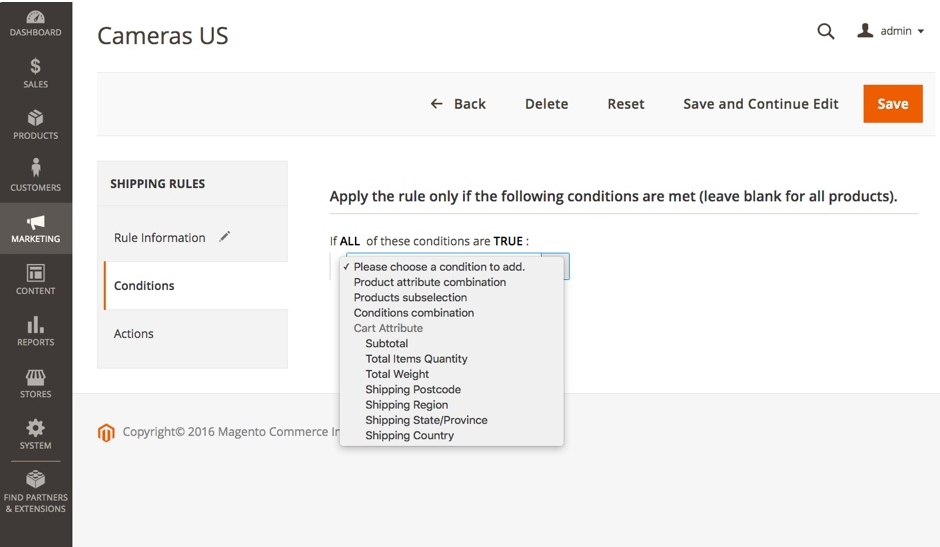 Shipping Carriers
Logistics is one of the make-or-break factors for any ecommerce store. It can either make customers leave your site without a purchase or help you expand your business to new territories.
Having a commercial account with a couple of popular shipping carriers (for e.g., UPS or FedEx), enables you to offer shoppers a selection of shipping options at the checkout.
Note that different shipping carriers often have different rates. Also, each provider has pros and cons, which can make its service good for one group of customers, but not so good for the other. So it is better to learn the ins and outs of several shipping carriers in order to make the right choice.
Shipping Suite extension for Magento 2 enables you to adjust these conditions for your business model. With the software, you can:
    easily add new shipping carriers,
    add a custom shipping carrier (for e.g., a carrier popular in your region/country),
    assign any shipping method (including the ones you've created on your own) to any shipping carrier on the list,
    modify a shipping cost of any supported shipping method: DHL, FedEx, UPS, and USPS, etc.,
Shipping Methods
By default, Magento 2 supports some basic shipping methods. These are: Free Shipping, Flat Rate, and Tables Rates.
To learn more about the default Magento 2 shipping methods, follow this link.
In case you want to create more advanced methods, say, set up a method that has a fixed shipping price, define method's logic based on an item's weight, or the quality of items, etc., you may use Shipping Suite Ultimate extension.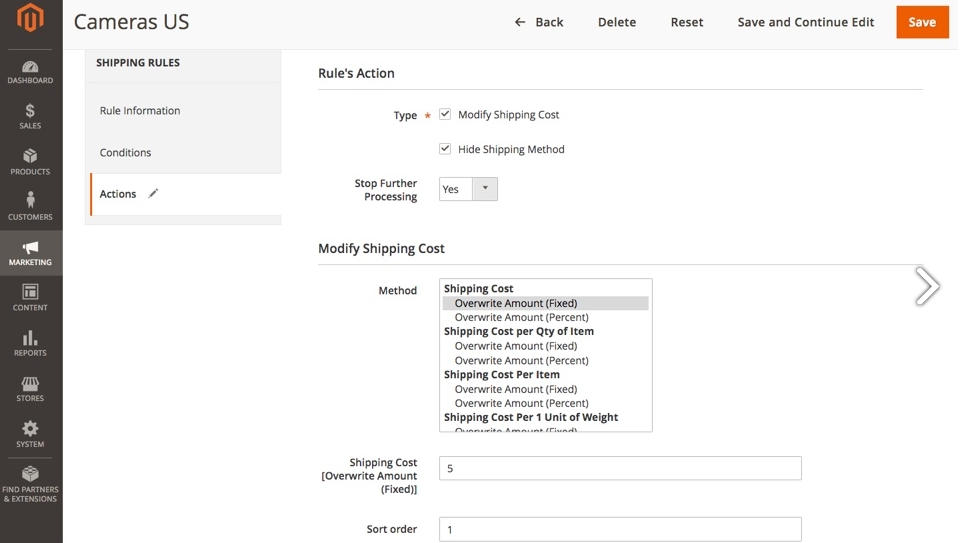 With the extension you can:
quickly modify the default shipping methods,
add new shipping methods with custom settings that correspond to your business model and shipping policy,
assign custom shipping methods to custom carriers.
Thus, you can offer a variety of highly individualized shipping options.
Shipping Rates
And last, but not the least, this shipping extension enables you to add custom shipping rates for any chosen shipping method.
Shipping Suite allows you, for example, to overwrite a shipping cost, discount a shipping cost per Qty of Item, surcharge a cost per Item or per 1 Unit of Weight, etc.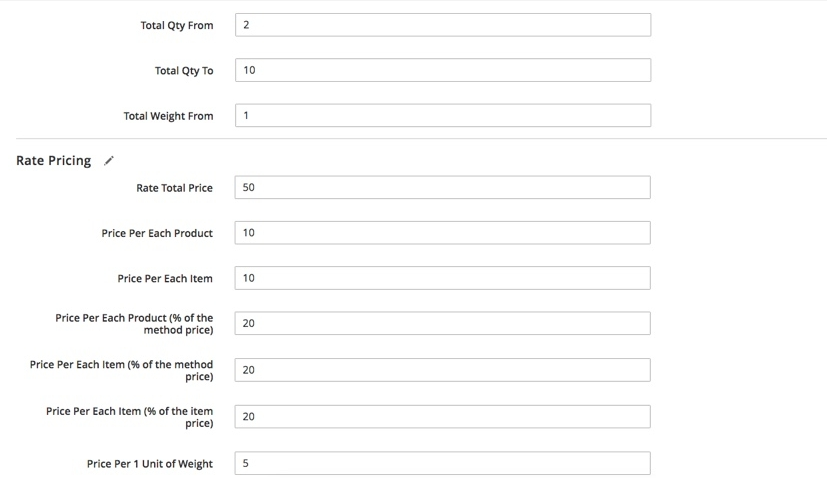 Using the extension, you can set flexible pricing rates based on practically any pre-configured conditions.
Also, you can conveniently manage all shipping rates for any created shipping method at the backend.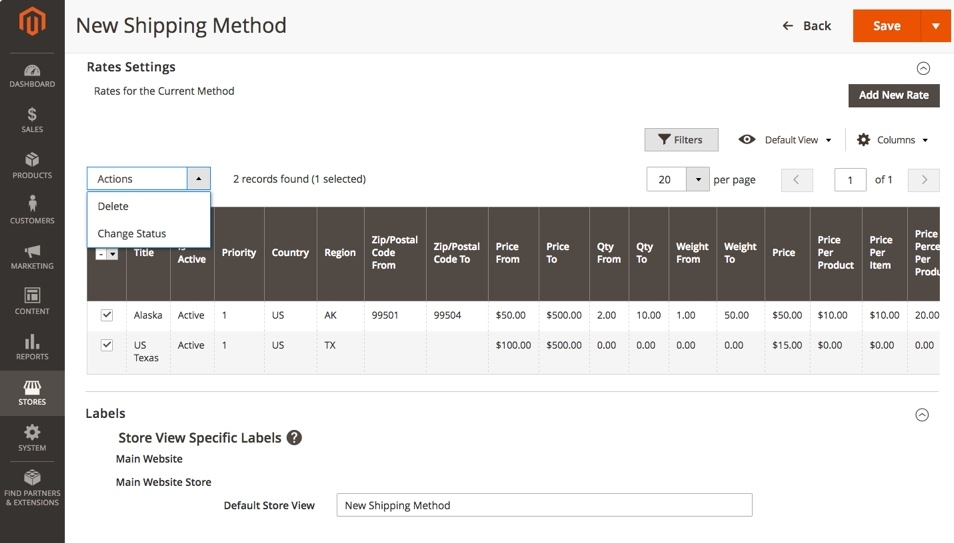 Bottom Line
As you can see, the extension can significantly expand the default Magento 2 shipping functionality, thus, giving you and your customers advanced flexible shipping options.
To test and download this Magento 2 shipping extension, please follow this link.
Also, your feedback on the software is greatly appreciated!
Subscribe Newsletter
Subscribe to get latest Magento news