Interviews
"I Didn't Choose Magento. Magento Chose Me," Confesses Marius Strajeru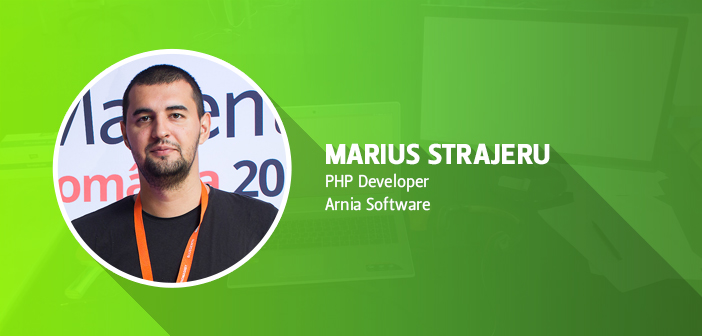 Another interesting Magento influencer joins us today in our weekly round of interviews. Magenticians is honored to interview the two-time Magento Master award winner Marius Strajeru. He is currently working as a PHP Developer at Arnia Software. He has a vast experience in the field of development.
Let's get started!
Muneeb: Thank you for joining us today, Marius. Can you please tell us a bit about yourself and your career?
Marius: Thank you for virtually having me in your show. Hello everyone. I'm Marius Strajeru (good luck pronouncing my name). I'm 34. I'm a PHP developer for Arnia Software, and I live in Bucharest, Romania. I'm married and have two sons. I started my career in development 11 years ago, right after finishing college. I ended up working with PHP "by mistake" at a small agency in Bucharest. I learned a few things there, not that much but enough to get me started. After about eight months I moved on to another small agency where I learned a bit more. One year later, I went to the big league where I started working on Magento.
Muneeb: How did you start your career in Magento? What was your reason for choosing this platform?
Marius: Me and Magento *record scratch*. You're probably wondering how I got myself in this situation. Around mid-June 2008, I went for an interview at a software company where a good friend of mine worked. There we discussed a cool project involving an ad-server based on OpenX. The project sounded awesome; something way different to what I was used to. I accepted to join them without flinching. Fast forward a few weeks, July 14th, 2008, on the first day of my job, the team leader tells me: "Yeah, you're not going to work on that project. Do you know Magento?". Me: "Huh? What's that?". Team Lead: "We don't know much either, but it seems to be the ecommerce platform that fits our needs for a project. Good luck.".
So, I guess I can say I didn't choose Magento. Magento chose me. After a few frustrating months, I delivered my first Magento 1.0 project, with an edited core. I ended up working on that project for 2.5 years. During this time I got the chance to learn a lot, especially how not to screw up the core.
Muneeb: How would you differentiate Magento from other ecommerce platforms? What is the special thing that Magento has and others don't?
Marius: "When you only have a hammer, everything is a nail". I cannot say I have much experience with other e-commerce platforms. I used to custom make shops before Magento. I guess the difference for me is that I know it, I understand it and I know how to go around most of its limitations.
Muneeb: You have been honored twice with Magento Master: Mentor award. How do you feel about this achievement?
Marius: Who doesn't like their 15 minutes of fame? The fact that I had 30 minutes each time to make me feel wonderful. It feels good because I see that the time I invested in the community wasn't for nothing.
Muneeb: Please share some of your memories of Magento events with our readers. How useful are these events for beginners as well as experienced Magento influencers?
Marius: I didn't attend that many conferences. I usually go to the local MeetMagento event and for the past 4 years, I've attended the "big league," Imagine. The best memories are always the people at these events. You get to see old friends that you haven't seen in awhile, you get to see people that you consider friends because you've talked with them online for ages but never met, and you get to make new friends with common interests.
The fact that everyone there is so friendly means a lot for newcomers. As a "new guy" you get the chance to talk to the gurus and you see that they are also people, just like you. My best and most frightening memory was at MeetMagentoRomania 2014 when I got dragged onto the stage with just 30 minutes notice. It was not supposed to be on stage and I was terrified of public speaking. But Ben Marks took me aside for a few minutes and talked to me in a fatherly tone, making things way easier.
Muneeb: What is your advice for newbies who want to learn Magento Development? Could you please name some useful resources?
Marius: Reverse engineering is the best way to learn Magento. Try to do actual tasks, do them wrong and fix them later with what you learn in the meantime. Right now, there are a lot of resources out there. Blogs, tutorials, screencasts. I guess all of them bring value to a developer, but the most important thing, in my opinion, don't just follow them blindly. Always ask yourself, "why does this work?" and try to find the answer.
Muneeb: Can you please share a picture of your workplace with our readers?
Marius: Nothing fancy, just a regular desk with one laptop, one monitor, a ping-pong paddle and a tennis ball that says 'Magento", Just like every developer has.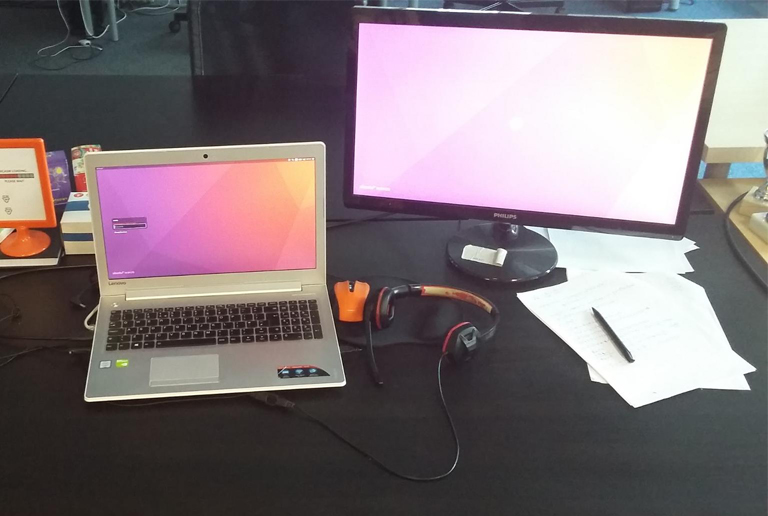 Muneeb: Let's talk a little about your personal life. How do you spend your free time and what are your hobbies?
Marius:  I really love spending the spare time I have with my family. It is the best feeling ever. I play a lot of board and card games with my oldest (4 years old). I get great satisfaction by teaching him rules and strategies of the game and to see him win with what I taught him.
Other than that, since I have a really sedentary job, I try to get out and do some sports for at least two hours per week. I play tennis with some friends once a week and from time to time I play football/soccer. I suck at both of them, but I still like to play.
Muneeb: Name some people who have inspired you in your personal and professional life.  
Marius: This is a tough one. I know there was a question where I have to name names. Ok, let me try to find a general answer so I can elegantly avoid naming names out of fear of forgetting someone.
I think I got it.
I try to find a little bit of inspiration in most of the people I meet on a professional level.
Muneeb: Now it's time for a fun Rapid Fire round!
Rule: You can't spend more than 15 seconds on this question ;)
Muneeb
Marius
Shopify or PrestaShop?
PrestaShop
Movies or Games?
Mostly movies, but I enjoy a game from time to time.
Travelling or Party?
If I have to choose, then traveling, but honestly,
I would like a beer with friends somewhere
close to home in a quiet environment.
Tea or Coffee?
Coffee
PlayStation or Xbox?
They are both the same to me.
Muneeb: Who would you like to nominate to be interviewed next on Magenticians?
Marius: Please interview Amit Bera. He's #3 on magento.stackexchange, so a really important part of the community. Not a lot of people get to see him at the events (I haven't till now), so we don't get a chance to socialize.