Interviews
Vikrant Shukla Walks Us Through His Magento Journey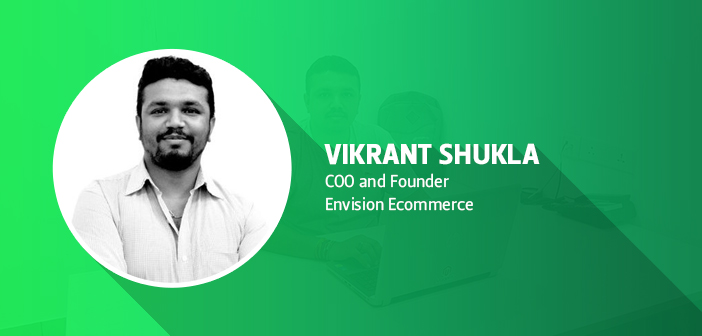 Vikrant Shukla hails from India and is the COO and founder of Envision Ecommerce. He has Magento Solution Specialist certification to his name and there is no doubt that he can inspire a lot of newbies and other people that want to start a career in Magento.
So without wasting any more time, let's get talking with Vikrant :)
Muneeb: Vikrant, thanks for being with us today. Could you please share some highlights of your career?
Vikrant: Thanks for having me here. It's a great moment for a person like me who comes from a non-computer educational background (yes, I'm an Electronics and Communication Engineer). Being listed amongst the "Who is Who" of Magento validates that all the hard work I've done so far in my career of 10+ years has been in the right direction.
I started my career back in 2007 after completing my Bachelors in Technology with Electronics as my major. I have always been fascinated with Computers and Programming so I learned the basics of Dot Net in parallel during my Bachelors along with the important logics of C++.
Interestingly, I always wanted to be in the army, but started my career as a Networking Engineer. My love for computers and after getting an inspiration from my room mates who enjoyed a glamorous life in an MNC IT Company, I decided to join their company. Although the company doesn't usually hire people without any experience in coding, with my perseverance and self-learning I was somehow hired as a Quality Analyst. Magento was an unborn baby at that time.
Back then, the company had an ecommerce project to build. I got hold of Magento, which was still in its beta version (this was December 2007). I did all the possible research (with limited resources back then) and recommended it for the ecommerce project. When Magento finally launched on March 31st, 2008, we had already built a website that was ready to go live. Since then, I have never looked anywhere else. Right then I could sense the power of Magento in its beta version. I have been working on Magento and Magento development only since then.
I got my Magento Solution Specialist Certification in December 2014 and was the 7th person from India to do so; surprisingly there are only 32 people from India so far. My love for Magento led me to start my own company in April 2015 with a focus to provide Full Digital ecommerce solutions focused on Magento. I feel proud of working as a Solution Architect for a major electronics company's Indian website, which is in the top 5 of the Fortune 500 companies.
Muneeb: Being the COO and Founder of Envision Ecommerce, what challenges did you face during your career to achieve all the success and how did you tackle them?
Vikrant: Well, starting the company in 2015 was not an easy decision. I was at a six-figure monthly salary when I decided to start Envision Ecommerce. The major challenges that I faced during this journey was the lack of literate Magento developers. When I say literate, I mean someone who really knows Magento rather than just claiming to know it. My experience in establishing teams at different places of my association before that gave me the confidence to initiate this venture which is now doing well with around 20 Magento Developers who range in experience from 2 to 10 years.
Last year, the person I consider as my mentor in professional life, Sunil Thakral, joined this initiative. The company now consists of 40 people with experts in Laravel, Zend, Ionic Framework, Digital Marketing (Google and HubSpot Certified professionals), UI/UX experts and IT infrastructure manager.
We also try to help the community in our region and across the globe with regular "How To" blogs on Magento 2. We also run the Official Magento Meetup Group in our region which now has over 150+ member. With all this hard work, we have been Recognized Among the Top 20 Most Promising Ecommerce Consultants 2017 of India.
Muneeb: What was your reason behind doing the Magento Solution Specialist Certification? What change did it bring to your career?
Vikrant: I came to this alien world of computer programming from electronics and got hold of Magento at an early stage. I always knew that this open source solution has enormous power to bring the world of ecommerce to its knees. I have been focusing on Magento only since then. In our part of the world, most of the companies and developers believe (this trend is changing though) that one must know lots of CMS, MVC and programming stuff to have a decent career growth path. I have rebelled to this idea. I have always practiced and believed that you need to be excellent in just one technology and you don't need to be a jack of all trades. Pursuing the same idea, I went on to do the certification. Certification is important as it proves your dedication towards what you are doing.
Muneeb: What advice would you give to merchants who want to move to Magento and also to the newbies who want to achieve this certification?
Vikrant: I have always vouched for Magento. To all those people who have any doubt on selecting this ecommerce platform, well, don't think twice. You will not find anything better than Magento. We at Envision work on Shopify, WooCommerce, BigCommerce, Custom Laravel based ecommerce solution apart from Magento but I always recommend Magento when a merchant asks. For the aspirants of the certification, go ahead and get the certification. We at Envision Ecommerce help our developers get certified as well. We are always helping the developers with all the study materials that we have. I always personally ask my team to spend 30 minutes of their day to learn new things and get certified. My way of motivating my team is to keep learning myself. Recently, I got Hubspot Inbound Certification just to motivate my team- "Learning is a never ending journey."
Muneeb: Why did you give preference to Magento over other ecommerce platforms? What is unique about Magento that makes it stand apart from others?
Vikrant: Everything in Magento is unique and excellent compared to other ecommerce platforms. Magento 1 has been super stable. I have high hopes for Magento 2.2. The ease of handling things in the admin is one of the greatest uniqueness of Magento. From a developer's perspective, Magento is a highly scalable and robust platform. I have seen Magento community site handling traffic of 400 visitors per second. I have seen sites with over 62 stores with 20k+ products, all on one single Magento installation. Which other platform do you think can handle such scalability and robustness? Shopify is the closest competitor that I see at times, but not because of its features, only because of its popularity. Trust me, with Magento 2.2 and other things that the Magento team has planned, there won't be any competitors left. The enterprise applications like Hybris are still way behind on catching up with Magento Enterprise.
Muneeb: Did you ever get a chance to attend Magneto Events? How important are such events in your opinion?
Vikrant: Yes, this year I have had the opportunity to be a part of the first ever Magento events in India. The event was excellent and we also did a blog around it. It was great to meet the likes of Mark Lavelle (CEO of Magento), Ben Marks (Magento's Chief Evangelist), Anupam Pahuja (MD of PayPal), Vijay Golani (Wagento), Talesh Seeparsan (a great Magento security expert), Sherrie (Community Manager at Magento) and many other like-minded people. These events must be attended. They help you learn more about the community and help you grow professionally. I wish we had more of these events in India.
Muneeb: Could you please share a picture of your workplace?
Vikrant: My workplace is quite clean (you just need a laptop, internet and my office is ready). This is my workplace: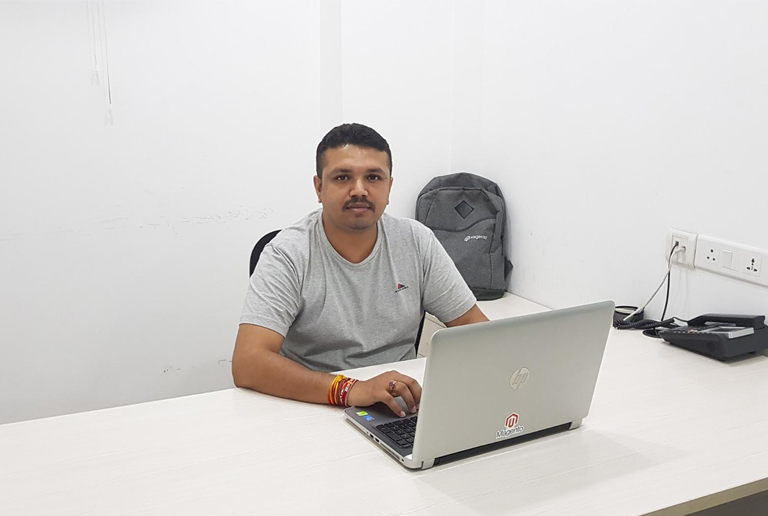 Muneeb: How do you manage your work-life balance? What do you do in your free time?
Vikrant: Starting a company or being an entrepreneur is not an easy job. It takes a significant toll on your work and life balance. I am a workaholic. I love to work and be around technology. But when I'm not working, I love to spend time with my wife and my kid (who is 6-month-old now). Apart from this, I have three dogs (yes, three) and I love spending time with them. They have taught me a lot in their own way. Music is another important part of my life (my wife is a great singer and I am a good listener). I also love to network with like minded people. Let's connect on Linkedin
Muneeb: Now it's time for a fun Rapid Fire round!
Rule: You can't spend more than 15 seconds on this question ;)
Vikrant: Excited, Ready!!!
| Muneeb | Vikrant |
| --- | --- |
| Shopify or PrestaShop? | Magento ? |
| Movies or Games? | Movies |
| Travelling or Party? | Driving, I love to have a long drive with my family |
| Tea or Coffee? | Coffee |
| PlayStation or Xbox? | Pets ? |

Muneeb: Lastly, who would you like us to interview next on Magenticians?
Vikrant: I have many names in my mind like Talesh, Vijay, Maruis (already interviewed I assume) …and lots more! Please interview all the great people doing great work on Magento and help share their great work with the community. Magento is a community-driven platform. We need to hear more from them. I wish Magenticians all the best and congratulations to you all for doing a great work towards the community. All the best.