Articles
How to Start an Ecommerce Store Using Magento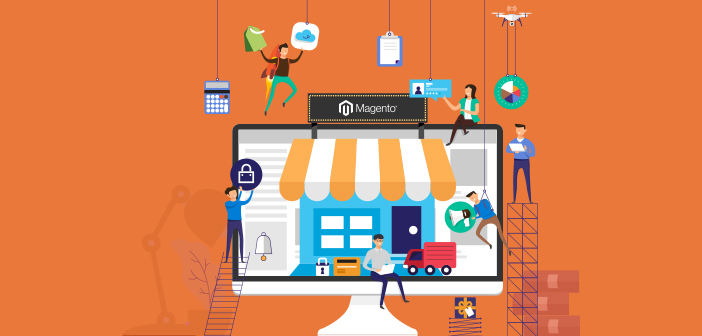 In 2018, 1.8 billion people worldwide bought products online that led to $2.8 trillion in sales. This figure is likely to soar up to  $4.8 trillion by 2021. These are staggering statistics that can trigger anyone for starting an ecommerce business.
Magento is the best online platform that has helped popular brands in their ecommerce journey including, Nike, Liverpool, Ford, and many others.
Now the point is what does it take to start your ecommerce store with Magento?
So this blog is all about, the operations and strategy that are required in order to start an ecommerce store with Magento. But before going into that, let's know why Magento is a better solution for building an ecommerce store.
Why Choose Magento to Build Your Ecommerce Store?
When you decide to build your own ecommerce store, a number of ecommerce platform choices are available for you. Each platform offers different benefits, but the most important factor that will convince you to start your ecommerce store is the great user-experience, design, and customer support. Besides, the ecommerce platform that you choose, should be popular and reliable, helping you achieve your business goals in the long run. 
Let's talk about Magento 
Magento offers a great opportunity to mold your store as per business niche. That's the reason which makes Magento an exceptional platform rather than a typical piece of software. Here are some important reasons that you should consider for starting your first ecommerce store with Magento.
Reliability 
Magento was acquired by Adobe in 2018, further enhancing the brand's reputation and image in the ecommerce community. It offers a bunch of rich features that ensure to make an online store professional and attractive with strong 24/7 support.  
High Performance
Magento has wiped out the worries of page loading, slow searching and other essentials operations of a web with modern technology. It includes Varnish, Memcached, FPC, Redis, and other optimized database options. With that, it ensures the performance of the website with high user engagement while utilizing minimal server resources.
Security
Magento developers are keen to protect every single ecommerce website from vulnerabilities and brute force attacks. They try their level best to ensure the ironclad security on every new update and deliver the security patches. 
Mobile Experience 
A statistic shows that 79% of the shoppers made a purchase through mobile phones.
So, it's necessary to have a responsive ecommerce website. In order to sustain the shopping experience and meet the demands of your customers, Magento offers HTML5 that allows adjusting the image size and support the product's videos.
Ease of Integration 
Magento easily integrates a large number of third-party services including payment gateways, database applications, shipping, order tracking, etc. You can also add Google services like Analytics, Checkout, and many more services. These allow you to track the performance of your Magento online store.
SEO Friendly
There is no doubt that Magento is an SEO-friendly platform. It comes with a complete package including sitemap, positioning layer, SEO friendly URL structure, URL rewrites, tags, description, etc. This feature makes the maximum possibilities to rank higher your Magento online store in search engines. So buyers can find your store with complete ease.
Well, that's not enough reasoning to support Magento. Because there are tons of benefits that Magento offers for the developers and merchants. And, I have to make it concise to put on the better connection between Why and How to start an ecommerce website with Magento. 
Here are some more reasons that you should consider for starting your first ecommerce store with Magento.
Now, let's talk about the prerequisite for starting an ecommerce website with Magento:
Pick a Striking Domain Name
It's obvious to have an appealing and easy-to-remember domain name for your Magento ecommerce store. Because buyers will remember your store with the domain name. Therefore, you as a merchant have to dedicate a lot of time to come up with the unique name that also reflects the nature of your business.
Magento Edition, Installation & Hosting
Mainly, Magento has two popular editions one is "Community Edition" and another one is "Enterprise Edition" which is also known as "Commerce Edition". Community Edition supports a great number of startups and new ideas, as it's free of cost. And, well-capable enough to deals within a large number of products as well. It is compatible with 1.x – 2.3.x. Meanwhile, Enterprise Edition is a paid version which unlocks more exciting features and technical support. 
With each Magento version, you have to meet some requirements. For example, If you have chosen version 2.3 for Magento store development, then, it's mandatory to install these requirements to have a flawless performance: 
MySQL 5.6, 5.7

MariaDB 10.0, 10.1, 10.2

Percona 5.7

MySQL NDB Cluster 7.4.*

PHP versions: 7.1.3, 7.2.0

Apache 2.2 or 2.4

Varnish version 4.x or 5.2

Redis version 3.2, 4.0, 5.0

RabbitMQ version 3.7.x
However, the installation of the above requirements isn't a piece of cake. You will have to put in a lot of effort, time and energy in this time consuming installation process. 
But, if you don't want to get into it, then managed Magento hosting is one reliable solution that meets all requirements that Magento supports and it will enable to install Magento easily. Now it's your call! 
Waste your entire day and money on installing things or be smart and choose a smart hosting platform.

I will recommend you to go for a managed Magento hosting solution which offers dedicated server and complete security. Besides, you can avail on-demand server scalability that is quite helpful during sales season. When Magento ecommerce website experience more-than average load in terms of traffic.
Are Server Issues Affecting Your Magento Ecommerce Store?
With managed cloud hosting, you don't have to worry about server and store optimization issues anymore.
Secure your Store by SSL Certificate
SSL – Secure Socket Layer is a standard security technology that is responsible for establishing an encrypted link between a web server and browser (It is suggested to use comodo ev ssl to increase customer trust). The major benefit of having SSL certificate is that it activates the HTTPS protocol. It ensures the brand authenticity, reliability and confirms that entire exchange of data between the website and customer. 
Generally, it's the responsibility of hosting provider to accommodate an online store with SSL certificate. However, there are some exceptional Magento hosting provider that imparts SSL certificate in single click.
Themes & Extension for Magento Store
You must have a great functional ecommerce website with Magento themes and extensions. You can get hundreds of stunning themes from Magento Marketplace. Within the marketplace, you can find paid and unpaid themes and extensions for Magento ecommerce store.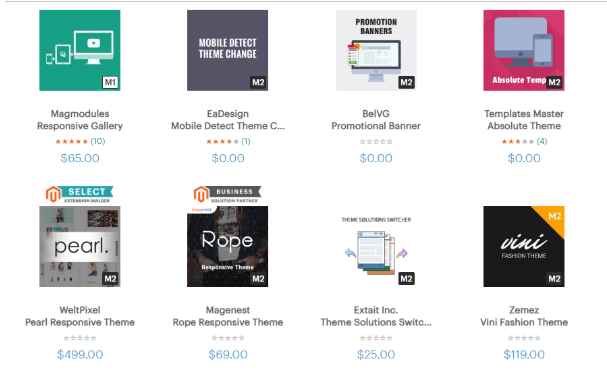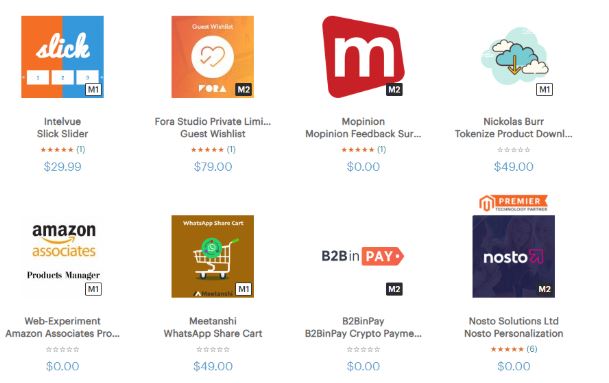 Make sure the design, font, and color combination you pick should resonate with your business niche. Additionally, save the customers' shopping time with detailed product description, smooth link navigation, clear map, single checkout process, and multiple payment methods. This will allow the customers to visit your Magento online store again and again.
Products Migration
Once you are done with the design and development of ecommerce website, you must add the products that you want to sell. Product migration is normally considered as an easy task to do. However, warehouse management should be effective and you must execute it with utmost care. 
The product name, type, characteristics, quantity, and price must be accurate and detailed. This technique helps the buyers in product searching and improve sales process. 
Development Cost for Magento Store
As an ecommerce store owner, you may be curious to know about the Magento pricing. Here's a table which breaks down estimated cost for Magento website development.
| | |
| --- | --- |
| Development Phases | Cost |
| Development by an Agency | From $25/hr |
| Development by a Freelancer | From $10/hr |
| Development by the In-house Team | From $60,000/yr |
| Magento Themes | $0 – $200 |
| Magento Extension | $50 – $500 |
| Graphics | $10,000 – $18,000 |
| Domain | $10 – $500 |
| Hosting | From $10/month |
| SEO | $60,000 – $80,000/yr |
| Maintenance | $80 – $125/hr |
| Support | $30,000 – $40,000/yr |

Best Tips to Manage Your Magento Ecommerce Store
Your job doesn't end here, as website development is just a starting phase of an ecommerce store. The next step is more crucial and requires a dedicated time to do it. Any guesses? Yes, you are guessing it right.
Now, it's time to manage your ecommerce store. You, as an owner, have to pay attention to your ecommerce store. So, how and what areas to look for? Here are some cool tips by following them you can easily manage your Magento online store:
Properly Manage Inventory & Order
Being an online merchant means you have to deal with receiving hundreds of orders and delivering them on a daily basis. If you are not agile enough, you might lose the trust of your customers. But do not worry a bit. With Magento, you have all the things under control. The Magento CMS  provides great extensions that manage store order and inventory in an efficient manner.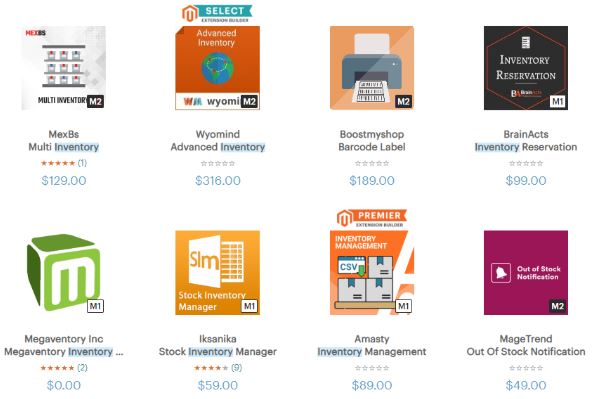 Inventory extensions by Mageworx, Fooman etc. allows you to synchronize inventory with high volume, high SKU count and multi-supplier environments. You can access real-time reporting of orders and inventory. Get the notifications on product variations such as changes on prices, quantity, product title, etc. Besides, you can also track return and refund operations of the store's products.
Collect Payment From Leading Providers
Magento has introduced a new payment mechanism that is more convenient for the ecommerce store. The organization has collaborated with tech-leading companies such as Braintree and PayPal to collect payments in different modes. The good fact is that Magento now supports other payment options such as Apple Pay, Pay with Amazon, Google Wallet, Debit/Credit options.
Thus, it will be a plus for your business and you will have a better opportunity to excel the conversion rate and sales bar. Enabling multiple payment options is a smart move that delights customers and enhance their shopping experience.
Shipping options play a vital role for your ecommerce store. They offer you an opportunity to attract the customers and at the same time with poor shipping options it can also push customers away. 
If you are looking forward to improve your shipping methods for local and international market. Then you have to keep in mind about these tips before doing any online shipment:
Check Out the Competition:

Look around for your relevant competitors because you can get some good ideas from them. Or you would come to a point where you can decide what you suppose to do so that you can attract and sustain your customers.

Clear Policies:

Try your best to have a clear policy and write sensible rules and regulations that should benefit your customers. Such as: "Customers can refund or exchange any item within respective time duration for NO ADDITIONAL COST".

Free Shipping:

It is a good practice to offer your customers with free shipping facility. This offer will help you attract more customers. Apart from that, you can also offer free shipping after certain amount of purchase. That can also be a good strategy for customer's engagement at your store.
You can also take advantage from shipping extensions for your Magento online store.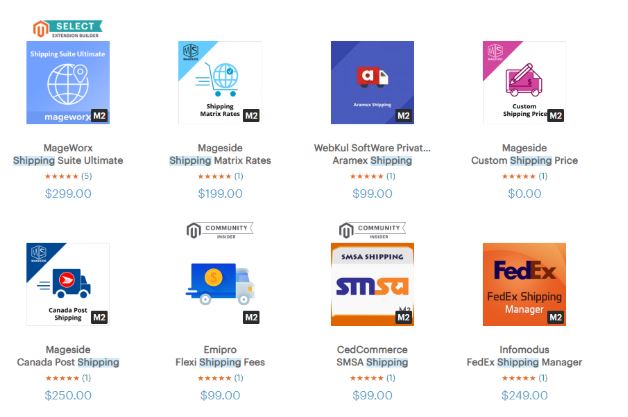 Properly Lookup for Taxes 
A large number of online merchants don't pay attention on this specific part before starting an ecommerce store. Taxes for your business is crucial section to take care of, and for that you should consult with a tax expert. Because they have the complete knowledge of how to cater all the tax's operations from tax ID to it's classes, rates and structure.  
Measure Your Store Success
Well, it is important to know about the current status and success of your store. By using Magento, you can know about the basic parameters like number of visitors, conversion rates, most popular products and average revenue per customer. However, I would recommend you to use Google Analytics because it will let you understand about the search ranking of your store. 
Google Analytics facilities with other benefits as well that help you in taking major decisions related to your business. For example, it will let you know about your target audience so you can particularly target that segment for selling your products or services. Furthermore, it will let you track the shoppers where they come from, when they leave and their engagement at your store.
Now the next part is more interesting as it resonates with the sales part of an online store. So as a store owner you have to be aware about these great tips that will assist you in increasing sales.
After all, you are here for starting an ecommerce store to earn handsome amount of money, so stick with me and keep on reading.
Tips to Increase your Store Sales
Provide Easy Checkout Process
It is on the record that 28% buyers left the shopping cart due to long and complicated checkout process. It has been a problem for online merchants to integrate a fast and simple checkout process. Magento gives you support with "One Step Checkout Extensions". By using it, you allow the customers to complete shopping process and enjoy the entire experience. Further, it removes all the repeated field and prevents customer's annoyance.  
Here's a list of some great one step checkout extensions:
OneStepCheckout for Magento 1

Magento One Page & Step Checkout Extension by FireCheckout

Magento One Step Checkout by FME

One Step Checkout by Aheadworks

One Step Checkout by Plumrocket

OneStepCheckout for Magento 2

Magento 2 One Step Checkout by Cooder

One Step Checkout for Magento 2 by Amasty

Magento 2 One Step Checkout by Mageplaza

One Step Checkout for Magento 2 by WEBKUL
Make full use of Social Media 
Social media is one of the smart choice to promote your product or brand. The reason is that it will cost you less and easier way to reach out to the maximum number of people. In order to make full use of it follow these useful techniques to promote your online store on social media:
Run contest to gain attention, for example create a poll by asking people, "what sort of color they like to wear in summer?" or anything that resonates with your business

Build the trust of your brand by providing testimonials 

Run paid adds

Offer deals and promotions on different social media platforms

Promote your brand within various social media communities and groups

Share interesting visual content and videos for better engagement
Retain your Old Customers
You can keep on rolling your sales figure(s) by offering old, loyal customers with gift cards, coupon codes, store points etc. Discount offers create engagement opportunities and increase traffic related stats. The best way to do that is by sending them emails or SMS that will make them surprise and you will have an opportunity to see their presence at your store. 
Moreover, try to run an SMS campaigns at the time of seasonal sales or Black Friday. This technique will also generate a traffic at your webstore and a vital chance to increase sales bar. 
Offer a Money Back Guarantee
It happens quite often that customers won't like the product at the time it delivers. Sometimes, it doesn't meet the expectation of the buyers or they won't find it useful anymore. 
Offering a money-back guarantee to your customers goes a long way in developing the trust amongst your customers. This exercise will definitely create a value of your brand among customers and you will have an opportunity to increase your sales figures.
Provide Multiple Payment Option
You never know what specific payment option your customer would like to use at your Magento ecommerce website. It's okay to have a credit/debit card option but, what about other options? What about Google Wallet, Apple Pay, WePay or Stripe etc. By offering as many payment options – including newer services that are becoming popular on mobile – will make it easier for prospects to pay you their money. No doubt, It will consume a lot of time, and a great hassle for you but doing so is a great way to increase your online sales.
Wrapping Up
As this blog comes to an end, I assume that you are ready for starting an ecommerce business with Magento. It is a fact that starting an ecommerce store with Magento shouldn't be overwhelming especially after this blog. Magento is the best option to get started your small-scale business and scale it to the new horizons of success. 
Above all, Magento has great community and support which is always ready to assist developers and online merchants. 
Don't miss out on this amazing opportunity and get down to Magento ecommerce website development. Apart from that, if you think I've missed out on anything important, do let me know in the comment section below. I will highly appreciate your feedback.