Interviews
Rebecca Troth Wants Magento to Work on Virtual Reality and Conversational Commerce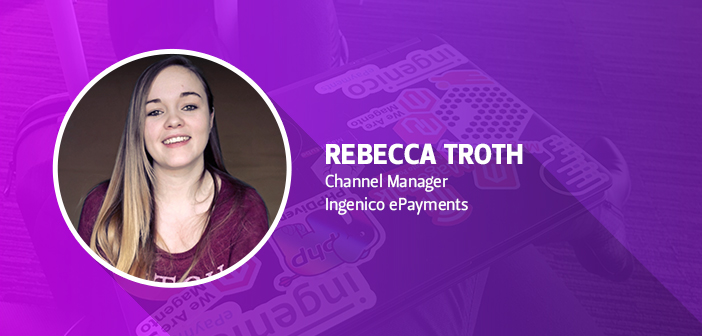 Rebecca Troth wants Magento to work on virtual reality and conversational commerce. Many of you might know Rebecca Troth. Why? She is pretty and funny, I mean pretty funny.
She is smart too. With a Magento Certified Solution Specialist certificate under her belt, Rebbeca is a Channel Manager at Ingenico ePayments.
This interview is for whoever wants to know Rebecca more closely.
Muneeb: Rebecca, first of all thank you for giving us your precious time. You are currently a Channel Manager at Ingenico ePayments. Please shine light on your career for our readers.
Rebecca: Yes, that's right! I started work when I was 15 at a local fish and chip shop and haven't stopped working since! I honestly don't feel like I'm that far into my career and I am learning new things everyday. I got into ecommerce as a designer, then my role progressed into development, then project management, and now into a role managing partnerships at Ingenico ePayments which I am absolutely loving. I have always loved being social and helping others and this job gives me the opportunity to do both everyday in a field that I am passionate about, i.e. online retail!
Muneeb: Since you have also worked as a Magento developer, could you please share your development experience with our readers?
Rebecca: Funnily enough, it feels like a lifetime ago that I was in the development world but it has only been 2 years. The first Magento version I think I worked with was 1.7 and I remember falling in love with it like it was yesterday. I thought it was fantastic. Yes! I thought it was complicated too, but having come from a background of basic WordPress I couldn't get over its power.
Muneeb: As a Magento Certified Solution Specialist, what is the importance of this certification and what's your advice to newbies who want to get certified in Magento?
Rebecca: I guess having moved away from development, I wanted to prove to myself that I was still relevant to the Magento world. So, I set myself the task of becoming certified. My advice would be to study, practice and play with Magento but don't forget to rely on your instincts as well. Being a Solution Specialist is about having the knowledge, but it's also about being able to react and apply that knowledge in the best way for the merchant.
Muneeb: With so many other ecommerce platforms available, what was your reason for going with Magento? What makes Magento more special than other platforms?
Rebecca: To be honest, I didn't really choose Magento. I went for a developer role at an agency that happened to focus on Magento and so that was what I worked with. Would I change it now I have more knowledge on the others? Nope! Magento has had its pitfalls, both technically and politically, but it is a solid platform with an amazing community and a passionate team behind it.
Muneeb: What do you love the most about your job? Could you please share a picture of your workspace?
Rebecca: I love the people, both internal and external. I get to steal the time of some awesome humans from all over the world! I also love how varying it is. I don't actually have a permanent workspace. I am in a different place everyday: Meeting someone new, discussing something new, and planning something new. It's so exciting. Like right now I'm relaxing at the airport after visiting our headquarters in Brussels!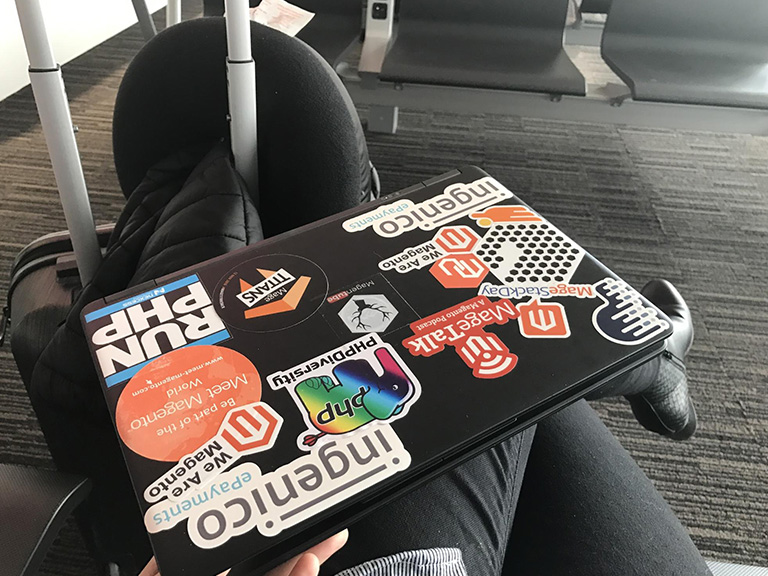 Muneeb: How would you differentiate Magento 1 and Magento 2? And which new features you would like to see in Magento 2 in the future?
Rebecca: There are huge differences between them but they are also very similar. After all, both apps have the same purpose in life. Once the base is solid and stable, I would really like to see Magento achieve some innovative and exciting things with the platform involving virtual reality, conversational commerce, and whatever the next fad is. I would also like to see more advancements in the admin functionality for merchants using the system.
Muneeb: Do you attend Magento Events? And did you get the chance to attend Magento Imagine 2017? How are important are these events for people who want to get associated with Magento?
Rebecca: YES! And no… :(
I will definitely not miss Imagine next year though. For the community to continue to grow and thrive, events are so important. But they are also important for personal growth. I have been an introvert my entire life, I swear some of my teachers thought I was mute but I doubt many would believe that about me now. I remember the first Magento event I went to was Magento Live UK in 2015, I only spoke to the people I went with and any time I was on my own I quickly pulled out my phone or laptop or anything I could use to hide my face from strangers. I still struggle with gathering the courage to mingle, but I am working so hard to change that. If you ever see me at an event, rocking and whispering to myself, don't be alarmed! I'm not having a breakdown. I'm just trying to convince myself to go talk to people.
Muneeb: How do you spend your free time?
Rebecca: Doing anything but staying home! Events, parties, surfing, hiking, traveling, sightseeing, drawing, filming, editing, adventuring, eating, socialising, writing, reading, pretty much anything! Cramming as much as I can into any and all available time. My mom jokes that she has to book my time 3 months in advance but seeing as the next weekend I have free is sometime in July. Maybe, she wasn't joking!
Muneeb: Now, it's time for a fun Rapid Fire round!
Rule: You can't spend more than 15 seconds on this question ;)
| Muneeb | Rebecca |
| --- | --- |
| Shopify or PrestaShop? | This question offends me ? |
| Movies or Games? | Games |
| Travelling or Party? | Travelling |
| Tea or Coffee? | Tea |
| PlayStation or Xbox? | Xbox |

Muneeb: Name some people who have inspired you in professional as well as personal life.
Rebecca: The cornerstone of my life that is my fiancé. Oh, and Thor. I like to think I was meant to be a Norse God.
Muneeb: Magenticians is running an interview series. Who would you like to be interviewed next?
Rebecca: Ooooo, this is a tough one! There are so many amazing people in the community that I would like to hear more from, off the top of my head I would say the guys behind the scenes of Mage Titans Italy that I am working with: Andra Lungu and Alessandro Ronchi.
Tune in next week for an interview with another Magento maverick!