Articles
Top 5 Emerging Magento Ecommerce Web Design Trends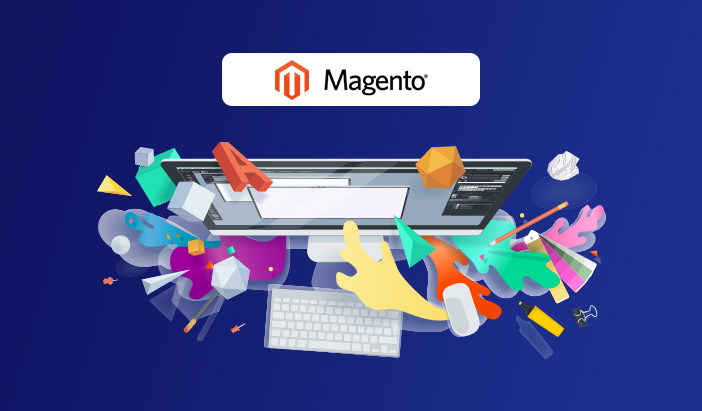 Disclaimer: Magenticians does not necessarily agree with the views expressed in this guest post. They are presented to bring to light all diverse views in the Magento and general ecommerce community.
There are different kinds of businesses all around us – small and big, online and offline. In today's era, every company needs to have a website. A website is one of the key ways of reaching target audiences, creating an impression and converting visitors into customers.
Gone are the days when people used to rely on social media platforms only. But building a website isn't just everyone's cup of tea, is it?
Building websites require people with expertise. Not everyone can build and maintain all kinds of sites. Magento is there to help these business owners with their open source technology-based ecommerce platform to help build websites easily. They can now control the look, content, and even add functionality like developing an individual shopping cart system with the help of Magento.  But as things grow more prominent and complicated, one might need professionals to manage those.
Magento also offers powerful marketing, search engine optimization, and catalog management tools. Magento has influenced some web design trends in ecommerce since its arrival. Shedding light on the latest web design trends for Magento, we have listed the top five for you here:
Latest Web Design Trends For Magento
1. Sliders and Call-To-Actions
Call-To-Action (CTA) is not new in web design.  Following the latest web design trends, you need to follow some styles that are necessary for creating a great user experience. CTAs help you do just that. They guide the customers throughout the website so that the customers don't get lost.
The most common CTAs you will come across is "Buy Now," "Shop Now", "Call Now," and "Subscribe" etc. Magento uses CTA as well. But what's the difference between the CTAs used by others and the ones used by Magento?
In Magento, you can particularly use CTAs that come sliding on a page. These sliding CTAs are not only beautiful but also serve the same purpose as the usual traditional CTAs. They grab more attention.
Besides these, you can have large background images that slide into the homepage. Multiple photos keep coming one after another. Through this, you can put extra emphasis on some of the products you would like the visitors to see. Now imagine this sliding backgrounds with sliding CTAs. Surely something beautiful.
When you are in a competitive market like ecommerce, you must try to keep things attractive, comfortable and as straightforward as possible. Customers don't like complexity and competitors who offer comfortable user experiences are likely to snatch customers from you. So this is a tool that is the need of time used by Magento to serve all the purposes at the same time.
2. Parallax Scrolling Replacing Clicking
Parallax is just pure illusion wherein the background pictures move with the mouse, but slower than the foreground images. This creates an illusion of depth, thus catching the attention of users immediately. It is a show stealer.
Use of Parallax Scrolling has got more relaxed with the increased use of smartphones and tablets. These users need scrolling to browse rather than clicking.
Scrolling reduces page loading time over clicking. As users receive all the required data without clicking through multiple pages, scrolling creates dynamic interactions. This makes scrolling more convenient for mobile users while accessing Magento based websites.
3. Grid Layout
The grid layout is one of the latest web design trends and is also included in Magento ecommerce design. It emerged from Pinterest, and then made its way to Facebook, Twitter, and other social media sites. As ecommerce sites have plenty of categories and products, card or grid view is a trending design method Magento didn't ignore.
The grid layout gives the website a minimalistic look quite neatly and correctly. This kind of design works well with mobile devices.
Grids make navigation more natural and intuitive.  Grids are necessary to give customers a neat, visually pleasing and comfortable surfing experience at the same time. And Magento undoubtedly doesn't want to lag behind.
4. Hovering Effect
One of the latest web design trends also included within Magento is the hovering effect, bringing a more intuitive feel to the site.
When users hover over an image, button or any other area on the site, they get to see the extra features or contents embedded in there. Hover or animated effects come into action when a user hovers a cursor over a specific area.
These micro-interactions between sites and the customers encourage them to take a step forward than the traditional static sites.
Interactive mouse pointers can also add to the user experience. As the users control their mouse pointer, some portions of the websites are customized.
5. Ghost Buttons
Ghost buttons are often referred to as hollow or empty buttons. They are transparent. They are not something like the standard buttons; the name says it all. If placed correctly and strategically, they are strong enough to draw users' attention.
These buttons should be used in sites where design is minimal. They let you subtly catch users' attention. They are attractive and classy. They are not call-to-actions, but you may, however, use them as call-to-actions; if you want to. It is a famous and influential Magento web design trend.
Conclusion
Magento is a life saver for ecommerce platforms. It not only incorporates the latest web design trends to grace the web, the solutions it provides are designed to cater to both the user experience and designers is amazing. So, if you are an ecommerce business owner and want a website designed for you without going through any hassle, get Magento.
Author Bio
This is a guest post by WebAlive, an Australian-based Ecommerce agency.
Subscribe Newsletter
Subscribe to get latest Magento news