Magento 2 Tutorials
Introduction to Magento 2 Store Information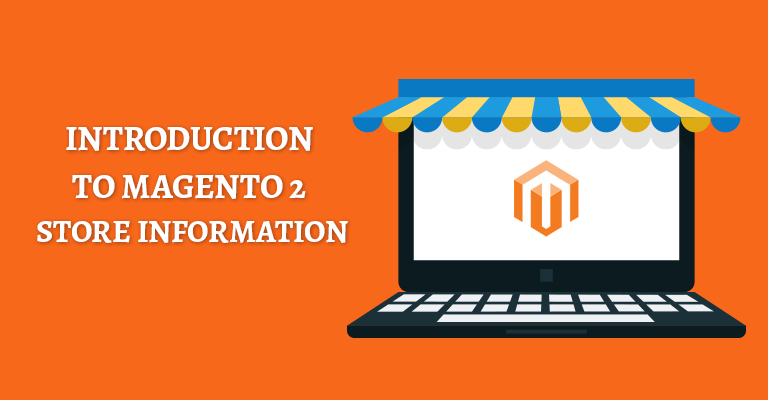 Disclaimer: Magenticians does not necessarily agree with the views expressed in this guest post. They are presented to bring to light all diverse views in the Magento and general ecommerce community.
In the first part of this series, Introduction to Magento 2 Store Branding, we discussed how to customize Magento 2 store branding and copyright material. Your store has been launched and the store branding has been done according to your business needs.
Now, it is time to configure your Store Information. The following items make up the essential checklist of things to configure in your store:
Configure Magento 2 Store Information
Magento 2 Localization Information
Magento 2 State Option
Magento 2 Country Option
Configure Magento 2 Store Information
Magento is a complex open source e-commerce platform and many people often lose their way when trying to edit store information. So in this part, I will talk about how to edit the Magento 2 Store Information such as Store Name, Phone Number, Hours of Operation, Country, Region/State, ZIP/Postal Code, City, Street Address and VAT Number in few easy steps.
Below is the complete guide to how to edit specific data field(s) in Magento 2 Store Information tab.
Step 1: Login to your Magento 2 Admin Panel.

Step 2: In the left sidebar of Magento 2 admin panel, click "Store" and go to "Configuration".

Step 3: In the right panel, expand "Store Information" and edit the following options:
Store Name
Fill in your Magento 2 Store Name in the given space.

Remember to use the real name of the store because it will appear in all invoices, emails and footer of your store.
Store Phone Number
The store's phone number helps the store visitors contact you easily.

You just have to enter your Store Phone Number (formatting is not necessary). You can enter multiple phone numbers for your store.
Store Hours of Operation
It is important that the visitors know the hours of operation of your store.

In the Store Hours of Operation field, enter the hours of your store. For example Mon – Fri, 9-5, Sat 9-Noon GMT.
Store Address
Magento 2 lets you enter your store address directly from the Admin Panel.

If you have a physical store, it is a good practice to mention the address on your Magento 2 store. You can easily set your Country, Region/State, ZIP/Postal Code, City, and Street Address by filling in the appropriate details in the right fields.
VAT Number
The last thing I wish to discuss in the Magento 2 Store Information part is the VAT Number.

A Value Added Tax (VAT) Number is a state-issued identifier used for Value Added Tax purposes. You can also validate your VAT Number via Magento 2 Admin Panel.
Step 4: When done, click "Save Config" at the top.
Magento 2 Localization
Magento is perhaps the most popular e-commerce platform today. It is developed and maintained in English, thus the need for customization for other languages and countries. That is why there is an entire set of Locale Options for your Magento 2 store.
In this part, I will highlight the Magento 2 localization options. Magento 2 Localization is essential for every store that is in a language other than English and/or has special requirements. From the Admin Panel, you can set the Time zone, Locale, Weight Unit, First day of the week and Weekend days. To set all these options, follow these steps:
Step 1: Go to your store "Configuration" in the left sidebar of Magento 2 Admin.
Step 2: Next, in the "General" section, scroll down and expand "Locale Options" as shown in the image below:

Step 3: Now you can set the following options to localize your store:
Time zone:
You can pick your Magento 2 store Time zone from the drop-down list. If you are not sure about your time zone, Google it first, and then select the appropriate option.
Locale:
Select the appropriate language for your store.
Weight Unit:
There are just two options under this heading, pounds and kilograms. The option is used throughout the store for all shipping related details.
First Day of the Week:
This is the start of the business week in your country. This option will set the first day of the week for your Magento 2 system.
Weekend Days:
It is easy to set the days of the weekend of the business week. You can also select multiple days as well. To do so, hold down the Ctrl Key for Windows and Command Key for Mac.
Step 4: When done, click "Save Config" to permanently save the changes.
Magento 2 State Option
In many countries, particularly the United States, an online store must use the state, province, or region field of the postal address. The information is used for shipping and billing to customers. In countries where state is not required or applicable, the field can be safely ignored or treated as an optional field.
In Magento 2, if you need to keep or remove the State option for specific countries, you can do it easily within a few steps.
Step 1: Go to the "Configuration" panel.
Step 2: Expand the "State Options" section in the "General" tab.

Step 3: In the "State is Required For" list, select each country for which the option is required.
Step 4: Set the "Allow to Choose State if It is Optional for Country" field to "Yes" if you want to include the State field as an optional entry. Alternatively, set it to "No" to omit the State field altogether.
Step 5: When complete, click "Save Config".
Magento 2 Country Options
A Magento store offers its services to customers all over the world. The Magento 2 Country Options identify the country where your business is located and the countries from where you can accept payments.
To set the Country Options for the store, log in to the Magento 2 Admin Panel and carry out the following steps:
Step 1: From the sidebar, click "Stores" and choose "Configuration".
Step 2: Under "General", expand the "Country Options", as shown below.

Step 3: Select the "Default Country" where you or your store is located.
Step 4: Select every country from where you can accept orders in "Allow Countries" field.
Step 5: In the "Zip/Postal Code is Optional for" list, select each country that does not require a ZIP or postal code as part of the street address.
Step 6: Select the "European Union Countries" where you manage your business.
Step 7: Finally in the "Top destinations" list, select the countries that you want to target for sales.
Step 8: When you're done, click "Save Config".