Articles
8 Benefits of Migrating from Magento 1 to Magento 2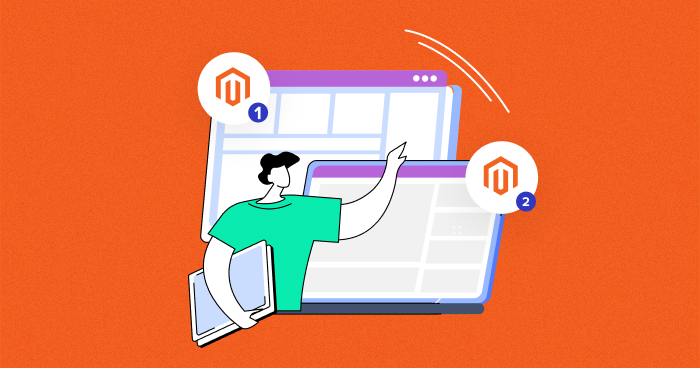 Did you know that a quarter of eCommerce businesses are now using Magento? In recent years, Magento has become one of the most popular e-commerce platforms, with over 250,000 e-commerce stores worldwide. Also, most of these e-commerce sites are based on Magento or plan to migrate from Magento 1 to 2.
While Magento 1 was already a great platform with all kinds of amazing features, Magento 2 can bring even more. If you disagree about migrating to Magento 2, this blog post will help make your decision easier by showing what you will get after implementing the migration from Magento 1 to 2. After that, you can consider whether Magento 2 upgrade is worth it. let's start!
Benefits of Migrating from Magento 1 to Magento 2
1. Significant Performance Improvement
Magento 2 has superior performance compared to Magento 1. Specifically, most Magento 2 sites load pages 50% faster than Magento 1 across different pages. Additionally, websites developed on Magento 2 can offer faster checkouts, process more orders and page views simultaneously, and more. To achieve this, Magento 2 combines the following features:
Allows full page caching:  Thanks to full page caching, all pages in a Magento 2 website can load quickly within 1-2 seconds and 10 seconds without caching. Additionally, full-page caching provides the ability to process multiple catalog pages simultaneously at optimal speed.
Include Varnish cache:  Varnish cache is another valuable built-in web application accelerator that plays an important role in reducing response time and network bandwidth utilization of related requests.
Supports latest versions of PHP:  Magento 2 supports the latest versions of PHP (5.x – 7.x), which provides many features to increase web page speed.
Reduced JavaScript:  In Magento 2, the amount of JavaScript is minimized to reject redundant browser operations.
Optimizing Images: Magento 2 allows us to easily compress and optimize all images directly on the server using built-in tools.
Apply the latest version of MySql: Magento 2 uses the latest version of MySql, which is designed to enhance query, reindexing, and caching processes.
2. Convenient Management Interface
After migrating Magento from 1 to 2, you will get an advanced, clean, and user-friendly admin interface. Here are some of the benefits of managing your store on the Magento 2 admin interface:
Ease of use: Compared to Magento 1 admin panel, this new interface looks more modern and easier to use even if you don't have a technical background. Everything from the new color palette to the smart structure makes it easy to navigate and manage the store intuitively.
Customizable: A special feature of the Magento 2 admin interface is that it allows us to choose which type of information will/not be displayed for quick access to the desired information. For example, on the Product Management page, you can select different product data (ID, Type, Price, Status, Thumbnail, SKU, etc.) to display by marking the Columns checkbox.
Responsive: Another useful feature of this admin panel is that it is optimized for various screen sizes. Thanks to this, store owners can easily manage their stores using any device, from desktops and laptops to smartphones. In particular, they can still easily monitor store operations on a tablet while traveling.
Faster: In the Magento 2 backend, we can easily and quickly create, import, and edit product or customer information in batches.
Overall, the Magento 2 admin panel is optimized for developers and merchants to manage websites efficiently.
3. Responsive Website Design
Today, people use various devices to shop online, especially on their mobile phones. Therefore, it is crucial to optimize your website design so that it renders well on various devices. Fortunately, Magento 2 storefronts are responsive and mobile-friendly. Thus, mobile and desktop users can enjoy a user-friendly and attractive store look and fast page loading speed.
4. Good User Experience
Bringing a better experience to shoppers will greatly boost sales and increase your Magento store's conversion rates. Since Magento migrated from 1 to 2, your user experience will improve significantly:
Fast and User-Friendly Checkout: Checkout is one of the best features of Magento 2. It is a smooth and simple two-step process that helps customers complete their orders as quickly as possible. As a result, the time for checkout in Magento 2 stores is minimized, leading to a significant decrease in cart abandonment rates while increasing sales conversion rates.
Additionally, Magento 2 provides a "Guest Checkout" feature, so non-registered buyers can easily place an order and create a new account after checkout (if desired). Also, registered users only need to enter their email addresses on the checkout page, and their saved information (name, shipping and billing address, and phone number) will be auto-filled.
Personalize content: In migrating to Magento 2 website, you will be able to track user behavior, their favorite items, and search history. Based on this valuable information, store owners can offer more appropriate products and services and hold appropriate promotions for their different customer segments. As a result, buyers may feel more respected and loyal to the store.
Persistent Shopping Cart: This is an interesting Magento 2 eCommerce store. Once a buyer logs into their account, all information related to the products they viewed, product comparisons, wish lists, and especially the shopping cart will be retained for the next visit. This way, shoppers don't need to search for their favorite items again on their last visit but continue shopping immediately.
Easy Search and Hierarchical Navigation: For any ecommerce store, a search and navigation menu is essential as it opens a door for customers to discover a wide variety of products. In Magento 2, the useful search feature allows users to find their favorite items quickly and efficiently. Additionally, hierarchical navigation lets buyers filter products easily and get relevant results.
Informative Product Pages: Magento 2's product pages are very informative, including videos, images with zooms and swatches, ratings, and reviews.
5. Best SEO Solutions
What should you bear in mind when maintaining a Magento store? First, prioritize smartphone users.
Сreating well-developed sites that are convenient to use from a phone is no longer optional but necessary. You know that Google stated mobile-friendliness as part of its ranking algorithm, don't you?
Another key point is website loading. A page shouldn't "jump" up and down, open fast, and display the elements where they should be when a visitor launches the store. That's why you can't ignore Magento time to first-byte optimization and other solutions to improve website performance.
With Magento 2 responsive web design, shopping can become seamless from mobile to desktop. Magento 2 has become more consistent and Google-friendly with features such as:
Extended snippets on catalog pages
SEO-optimized URLs
Custom Title & Description of every page
Image optimization
Canonical tags for categories and products, etc.
6. PWA Compatibility & Mobile Friendliness
M-commerce is developing quickly as a flash, reaching 72.9%, up from 52.4% in 2016. So the official Magento team developers optimized Magento 2 for mobile devices to encourage mobile sales. They equipped the M2 platform with new, responsive themes, integrated video, and easier checkout.
Magento 2 offers an easy experience and properly sized landing pages for all mobile users. All these criteria improve the look and functionality of Magento 2 stores equally, ideally on all phones and tablets.
Speaking of mobile shopping, you can't ignore progressive web apps. Magento 2 migration allows for building a PWA for your eCommerce store.
This solution is a website that looks and acts like a native app but works within a mobile browser. PWAs are considered to be essential for eCommerce retailers' fruitful future. And there is a reason for it.
7. Stronger Immunity to Cyber Attacks
Magento 1 no longer receives security patches from the official Magento team since June 2020. Simply put, an M1 store is likelier to compromise your business information and customer data.
What does it mean if the store continues running on Magento 1 without proper security? You need to handle security on your own. If not, hackers can steal credit card details and any personal information for their use.
Another tricky reason is heavy fines for revealing their customers' personal data. Just imagine: in 2021, cybercrime comprises $6 trillion in damages annually, according to the CyberSecurity Ventures report. And this figure is expected to rise by 15% and transform into $10.5 trillion annually by 2025. It's like slightly more than three of California's GDP.
Migrate from Magento 1 to Magento 2 to ensure strong data encryption in contrast to M1. You don't need costly litigation from your loyal customers, so the sooner you upgrade, the safer your store will be.
8. Multiple Payment Gateways
It is true to say that the Magento 2 platform has one of the best payment systems with multiple popular payment gateways:
PayPal
Braintree
Amazon Pay
With this variety of options, customers can complete payments quickly and securely. In addition, Magento 2 Enterprise is also integrated with CyberSource and WorldPay to ensure that all transactions are carried out with the highest level of security.
Conclusion
While Magento migration from 1 to 2 may take time and money, it is worth your effort. After implementing the upgrade, you will get the highest website performance, a modern and convenient admin interface, responsive and mobile-friendly design, improved customer experience, and various secure payment methods.
By the way, if you are looking for a reliable Magento development company to migrate your website to Magento 2, MagentoBrain is one of the best options. With rich experience in Magento eCommerce development, we are confident to help you with a smooth Magento migration from 1 to 2 at an affordable cost.