Magento 2 Tutorials
10+ Interesting Magento Facts You Never Knew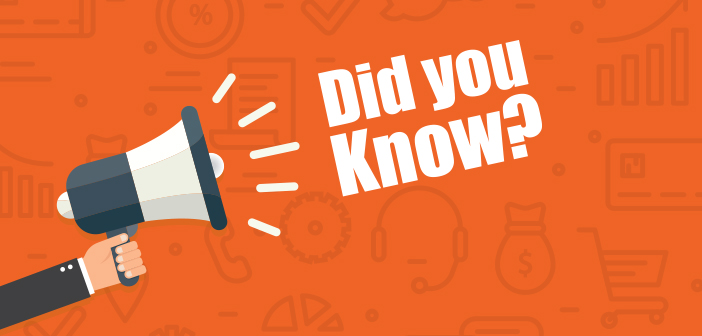 Magento is a leading eCommerce platform as it gained traction soon after it was launched back in 2008. Different platforms were already surfacing the industry, but its open source code, free availability, and advanced features made the online store makers adopt it soon. 
The ecommerce industry lacked the availability of an enticing platform that can help merchants to display their products and services on the virtual shelves. Magento answered the problem with a much-anticipated platform that offers full features with the basic needs of an online store. This ecommerce has proved to be among those ecommerce platform which is  having genuine Magento facts.
Thus, this pioneering platform has opened a horizon of opportunities not only for the online merchants of the globe, but the developers and web development agencies as well. Just like the good and bad days every business faces, Magento has also gone through its highs and lows. There had been issues with the code in the initial days. People were not as active as they had to be, the ownership changed several times, and many other shifts were made. 
Standing firmly against the odds, today makes Magento an unstaggering ecommerce platform and is used by thousands of online stores globally. Ecommerce store owners and developers look for the existing reality and figures. In this case Magento is really rich when it comes to Magento facts.    
In this article, I am going to discuss some amazing Magento facts. Keep reading to find more about how the giant platform was developed, sustained, and maintained to date. 
Magento is powering 1.2% of the Internet 
Kicking off with the very first Magento facts which states that the Magento powers up about 1.2% of these websites. The platform is specifically designed for setting up online stores, thus, it takes 12% market share in setting up ecommerce websites. 
Magento is a feature-rich application for building online stores that sets it aside from comparisons with other CMS platforms such as WordPress or Drupal. Magento still holds a significant market share in the category of CMS applications despite its standalone eCommerce platform.
250,000 Online Stores prefer to use Magento 
Another Magento facts which states that it is the second most popular ecommerce platform. Due to this Magento fact, it has become a priority for most of the merchants, executives, and entrepreneurs around the globe. This is the reason that Magento is powering more than 250,000 online stores. The way merchants are inclined towards this platform has further improved its growth and popularity. The number of sites using Magento has doubled in number during March 2017 and August 2018. 
Magento statistics are authenticate which we can see by analyzing the  success for the Magento online stores. The reason it is preferred the most lies in its standalone application that does not require installation of another application, just like the way people do with WordPress and WooCommerce. The purpose-built application gives it a much needed competitive advantage like advanced features for the online store, extensive customization options, improved security, and user experience, etc.
Thousands of Themes and Extensions 
It's a fact that Magento holds a collection of 9,000+ extensions. About half of them are for the previous versions while the rest are for Magento 2. Web development of an online store becomes easier with the quick installation of extensions. This specific Magento fact mostly attracts the developers whether they are beginners or experts.
Adding a feature or functionality with the help of an extension saves a lot of time and budget. It is a commendable practice to find a solution, which is quick, effective, and affordable at the same time. 
Additionally, there is a massive collection of themes and templates made available at the official marketplace. It is a favorable option for the users to find and get a theme that is tested and approved by the officials of the platform and made available for instant use. 
200,000 Magento Developers at your Service
The platform amasses a huge community of professionals and developers who are busy serving their clients or working on projects of their own. They are assisting merchants in ecommerce web development from scratch, adding a specific feature or functionality, or improving the user experience of their existing webshop. Hence, this Magento fact is quite convincing for any new ecommerce store owners.
The open-source code and presence of such a massive community of professionals simply mean you always have a handful of skilled resources available to modify the code for you. They are well versed with the technology you have based your business on.
Thus, top-notch technical support is readily available to merchants, sellers, and service providers. Unlike Shopify comes packed with technical constraints on the code. It lacks the developer's support, which makes finding and hiring a Shopify developer a nightmare. 
Big Brands Use Magento 
The scalability of Magento makes it a suitable match for not only small to medium sized businesses, but also the large size enterprises and corporate concerns. This is the reason why multinational companies have powered their online presence with this amazing platform.
The beauty of Magento lies in the creation of an online store as small as a local toy shop and as big as a global brand. This includes Ford, Land Rover, Nike, Pepe Jeans, Samsung, FoxConnect, Olympus, Omega Watches, Bulgari, North Face, Christian Louboutin, and lots of more. Among those big names, every store owner would like to become a part of this Magento fact.
To manage the web presence of such big brands, an ecommerce platform has to be sustainable enough when there is a huge influx of web users on events and shopping spree. Hence, this is the major reason to use Magento for B2B.
1300+ Magento Official Global Partners
If you are looking forward to have a collaboration with Magento in future then this Magento fact is for you. 
In continuation of serving the world at large with the innovative and powerful application, Magento has created a partnership network of 1300+ companies and agencies. These partners take the legacy of providing the services to all the users. It may include drafting a site design, implementing a business solution, extending store functionality, and continued professional support. 
The selection criterion for a global partner is not lenient. Magento handpicks a company or a web design agency to let them be the ambassadors of their platform. Once selected, the partners are provided with training and professional development tools to help them excel in their business. 
Downloads per day are more than 5000
The year when Magento was released, it managed to achieve 500,000 downloads. However, it was a huge success at that time and that increased day by day. According to the Magento statistics, the platform is serving its user base with 5000 downloads per day. That is like 150,000 for the whole month. The figure they crossed in the first year can now be achieved in 3 months only. 
These are just the number of downloads from the official website, let alone the downloads of pirated copies from software directories. A pirate copy may not help you as it may include viruses and malware that may adversely affect the business you are just starting out. It is always advisable to download Magento from its official website, as the community edition is free. 
Adobe Acquired Magento for $1.68 Billion 
It is one of the most fascinated Magento facts for me. Adobe, a software company well known for its creative and multimedia application, has acquired Magento for a gigantic amount of $1.68 billion back in 2018. Before the Magento acquisition, a private firm owned, whereas Adobe now plans to merge it with its cloud experience to take the platform to the next level. So, Magento acquisition was one of the Magento facts which was trending in last year and everyone was talking about it.
Every Year, Magento Supports $155 billion worth of Transactions 
Do you guys want a read a WOW – Magento fact?
Imagine a platform that is powering up 1.2% of the internet. The collective sales of ecommerce websites, stores, and service providers on Magento amounts of $155 billion every year. Magento is proudly managing each transaction with its safe and secure platform. 
For any online store, managing sales and finances is a major issue. Integrating the popular payment gateways and then accounting for the sales receipts are the bigger challenges. A store with a global or multiregional outreach is always on the lookout for platforms that assure maintenance of clear records. 
Magento User base to double in number by 2020
The Magento usage statistics speculate that the number of online users who are shopping for their favorite items, from Magento stores is about to increase by 200% by 2020. The growth estimates are carried out in line with the increasing trust among the buyer's community on stores that are based on this powerful application. This can be the reason that Magento is growing three times faster than an average ecommerce platform.
Run Multiple Online Stores from one Magento Backend 
Magento is one-of-its-kind of ecommerce platform that facilitates merchants to manage their multiple stores from a centralized dashboard. The multiple store setup functionality helps them get rid of maintaining multiple applications over different domains. Additionally, merchants can have the distinction to show multiple store views that display relevant products to a region in a language or currency they are familiar with. The software supports multi-regional and multilingual store setup as well. 
Bonus Fact:
Magento is much more popular than you think 
In Google Search Engine, the term 'Magento' is searched more times than the actual term 'ecommerce.' This shows the popularity, curiosity, and demand of the platform among its target users. 
It is not popular in a country or state as it has extended to the world at large. It has users and developers in different parts of the globe. This may also be due to the certification program for developers that have helped 73 different countries produce 3800+ Magento Certified Developers. 
Final Thoughts
Magento statistics and trendings are attracting maximum number of store owners around the world. The one who have get started with Magento are having great success.
I hope that you have extracted some valuable Magento facts from this article. With the help of these Magento facts, you can make a firm decision for having an online store with Magento.
Magento, being an open source ecommerce application, helps you unleash boundless opportunities in ecommerce domain. All an online store may need is a secure platform, easy to scale operations, simple user interface, and clear user experience. These all can be found in Magento, as it's a software dedicated to the creation of ecommerce websites alone.