Articles
Ecommerce Trends That Will Dominate the Second Half of 2023
Disclaimer: Magenticians does not necessarily agree with the views expressed in this guest post. They are presented to bring to light all diverse views in the Magento and general ecommerce community.
One of the most fascinating things about the digital world is that there is nothing constant here. Whether they are trends, strategies or policies, they keep evolving, challenging marketers and businesses to come up with something new.
Take an example of both ecommerce mobile app development and the whole e-commerce industry; there are always surprises and highly innovative trends that marketers adapt to offer a superior online shopping experience to users.
Mary Meeker, a  renowned name in the world of internet and ecommerce, just revealed her report on internet trends and in the report, she claims that e-commerce sales grew 16% in 2017 compared to 14% in 2016.
Nowadays, there are many discussions about the introduction of technologies such as Artificial Intelligence, Virtual Reality, Drones, Voice Assistants and Google's Home Delivering. The one thing that still makes a significant impact is how your customers feel about your offerings.
Here, we have discussed major e-commerce trends that will dominate the second half of 2022.
Superior Customer Experience Matters
Popularly known as CX, customer experience is what makes a difference in whatever you do for your business. If your customers are not happy with you or your offerings, everything is meaningless. You are not going to have a good time.  If you want to outperform your competitors, you must ensure your customers are happy.
As per the report, more than 84% of companies are continually trying to improve their customer experience to gain a  competitive edge over the others.
Customer experience is a broad term, and it should not be limited to how you serve them. Ensure that customers' expectations are fulfilled to a great extent.
Unparalleled customer experience will not just improve your sales and revenues; your customers will become your brand advocates and offer you more customer referrals. Also, service costs will reduce, and your customers will be loyal to you for an extended period.
Keep your customers updated on the latest discounts and special offers. Ensure that they get products or services at the most competitive prices. If possible, offer free shipping services.
In 2022, if you end up keeping your customers happy, you are going to rule.
Social Commerce
There was a time when ecommerce reports suggested that social commerce will not make such a significant impact on users. Even some data indicated it as well.
However, Mary Meeker's report depicts something else. A survey of 1,000 US customers, 78% of 18-34-year-olds revealed that they used Facebook to discover things they wanted to shop. Even 59% said that they used Instagram and Pinterest to find what they were looking for.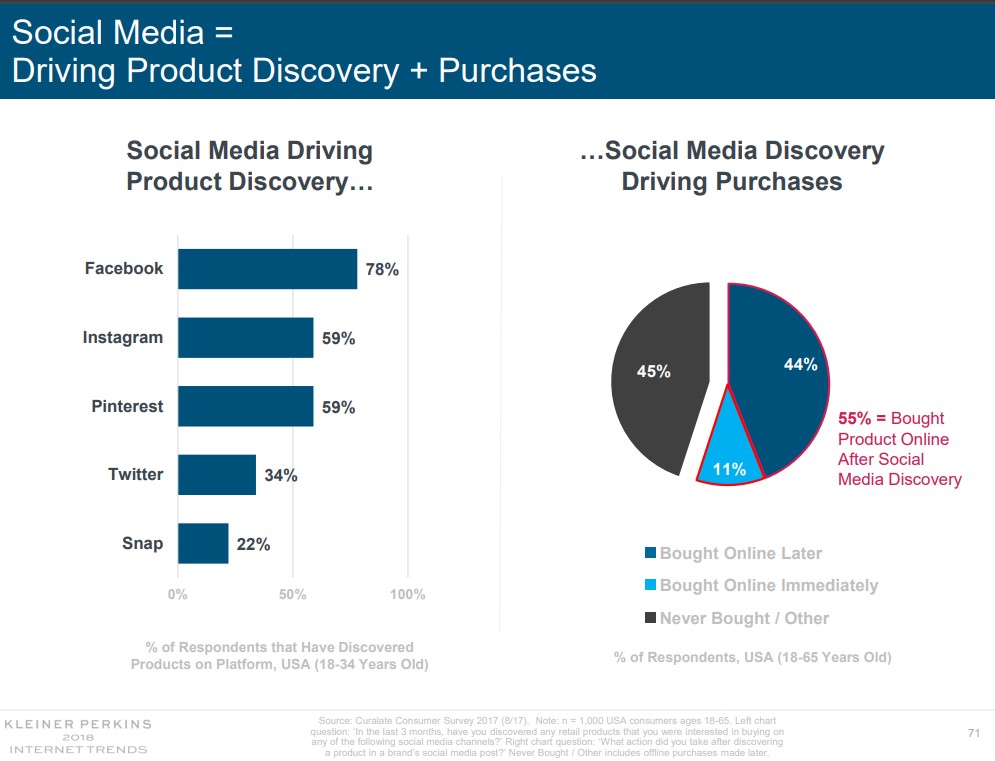 Also, the report revealed that 55% of people of all age groups said that they bought products after discovering them on social media. It does make sense.
Not just that, you cannot miss social referrals either. E-commerce referrals from social media platforms have also risen from 2% in 2015 to 186% in 2018.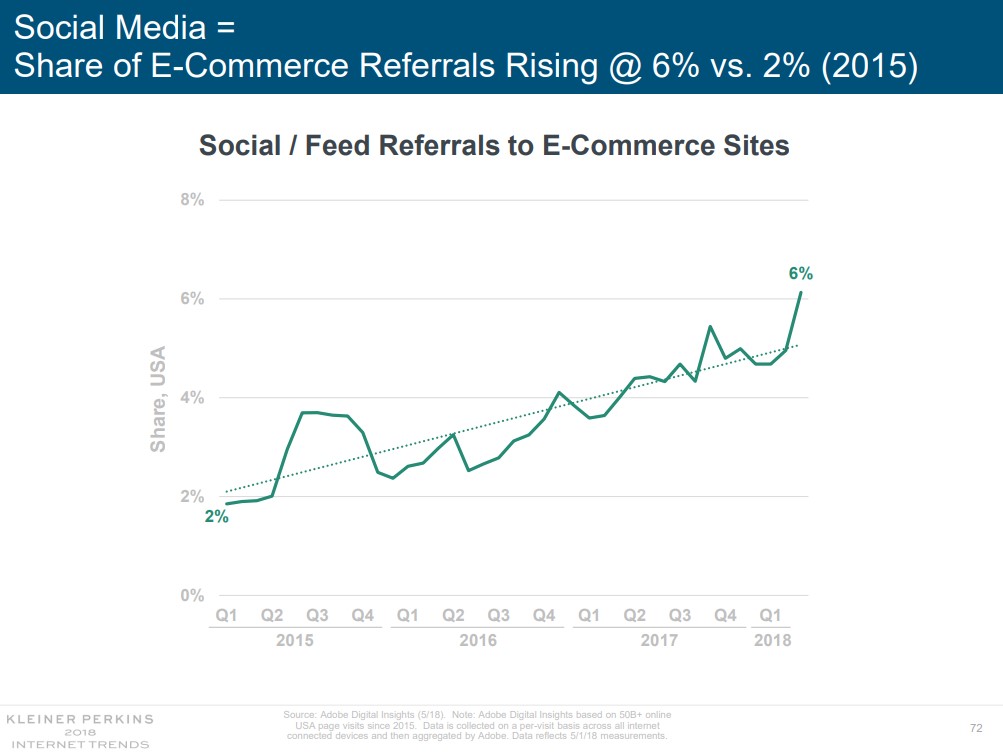 What do these figures mean to you? You need to focus more on social media marketing. It is an opportunity you cannot miss. If you don't have a specified social media strategy for your e-commerce business, design one and start implementation.
After the introduction of smartphones, people are spending more time on their phones, and it is the perfect time to press their doorbell.
Social media platforms will play a significant role in the e-commerce industry in the latter part of 2022. And to extract more benefits, brands are actively using social media widget that enables them to showcase social media feeds on website. It not only helps them to improve their online presence but also helps them strengthen their social media followings.
Voice Search Will Dominate
All giant tech companies have their very own voice assistants such as Google Assistant(Google), Siri (Apple), Alexa (Amazon) and Cortana (Microsoft).
As per the report by Christi Olson, 50% of all searches will be voice search by 2020.
Also, a report by Technavio, the voice search market will cross $601 million by 2019.
People are using voice assistants to find locations, to purchase items, to research about anything and even to make payments. Statistics do support the claim that voice search will dominate the e-commerce industry to a great extent.
At the introductory stage, people used to make fun of voice search, but it is not a joke anymore. You need to incorporate voice search into your e-commerce marketing strategy if you have not already.
Grab Those Micro Moments
Micro-moments are nothing, but those intimate moments when people search for, whatever they are looking for are what really matter. These micro-moments might be about anything from, I am looking for, I want to, I would like to, I want to know, I want to go, I want to buy and many more.
Being an e-commerce retailer and marketer, you need to grab these opportunities to encash those moments. Believe it or not, these micro-moments will rule in this year.
High-Quality, Engaging and Relevant Content
Unique, original, engaging and relevant content helps customers to make the right decisions. Content marketing offers superior fruits at the best competitive price. 78% of content managers believe that content is the future of marketing.
Hubspot suggests that marketers who emphasize blogging get 13x more likely to get good ROI.
Generally, people want relevant information about products or services while buying. Create a product catalog or a product guide or a video. Blog about your products, services, and superior features your products offer. Write product descriptions, make tutorial videos about your products and services and design infographics.
Be strategic while designing your content marketing strategy. Use it as a weapon, and it will create mayhem in your competitor's tents.
Wrapping Up
E-commerce trends evolve, and you need to make the right amendments to your digital marketing strategy with such trends. If you fail to do so, you might witness a setback. It is all about making your customers feel better about your brand and giving them a highly-satisfying experience every time they interact with your brand. Adapt these trends, evolve with them and see the difference.
Author Bio
Patel Nasrullah is a co-founder at one of the top mobile app development company in the USA, Peerbits. He devotes his time to inspiring young leaders to take the leap of faith. With an experience spanning  10 years in Web and App development, he now gives full attention to the enterprise by offering mobility solutions about the strategic planning and execution.