Articles
15 Amazing Ecommerce Business Ideas That Will Make You Money in 2019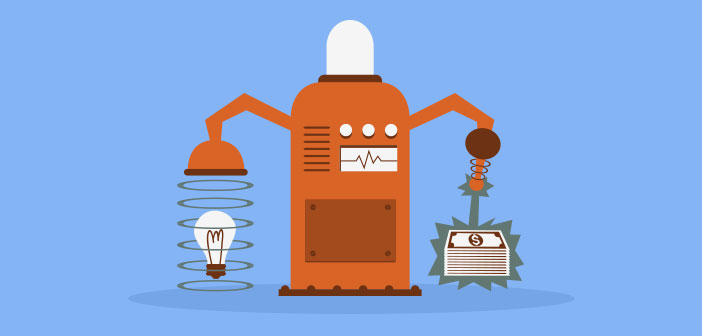 You might be very passionate about your ecommerce business. You might have a hefty investment to jazz up your store with all the optimizations an army of developers could deliver, but if your ecommerce business idea is weak, none of that will matter. And you will still FAIL.
There is a famous saying that if you have to hard sell it, your idea is not good enough. But a "good enough" idea won't give you the success you are looking for.
In today's competitive landscape, your ecommerce business ideas will not cut through the noise if they aren't of the highest standards.
See: Inspiring Ecommerce Conferences You Need to Attend in 2018 to 2019
If you're just starting off with your online store, this article will help you come up with some interesting ecommerce ideas that will make you rich. (If you execute them perfectly).
1. Mirrorless Camera
One of the most popular ecommerce business ideas of 2019 is the Mirror Camera. It is a trendy product for the last five years. According to research, in 2015, mirrorless camera sales grew by 16.5% in the US. Cannon experienced a drop of 21% in their sales during this period. Photographers were more inclined towards mirrorless cameras rather than DSLRs.
The growth in the sales of mirrorless cameras is confusing to some, as more people are using their mobile phones and not cameras to take photographs. According to user reviews, mirrorless cameras are lighter in weight as compared to DSLRs. This makes it more attractive to photographers who don't want to carry heavy equipment around.
If you decide on opening your mirrorless camera store, I will suggest you use the product and explore every feature in depth. You will have to include what exactly are the benefits of mirrorless cameras and emphasize it in your ad copies and descriptions. This is important because people still find it difficult to differentiate between a regular DSLR and a mirrorless camera. Once you have made them see the difference between the two, you will have a good chance of making a lot of sales with this ecommerce idea.
2. Phone Case
The mobile phone industry has been growing since the last decade. Selling phone cases is among the most lucrative ecommerce business ideas that you can opt for. It is likely that the industry for mobile phone accessories will worth $121.72 billion by 2025. Phone cases are one of the major contributors to this mammoth amount, and if you're just starting off with your online store, this can be your money making ecommerce idea.
I know you must be thinking that the industry is already saturated. This is true, but there is still a lot of room where you can do things differently than others. You can start a dropshipping business where you can dropship phone cases from AliExpress. You can also target female mobile phone users by selling feminine phone cases with flower patterns, animals and more. Or you can sell phone cases with a little more utility for people who are frequent travelers or adventure seekers.
3. Dash Cams
There are two broad categories of ecommerce business ideas: one category includes products that are already established, and the other category includes products that are continuously growing. Dash Cams belong to the later one.
In 2014, Dash Cam sales took a boost and increased by 918% in the United Kingdom. A big factor behind this huge sales were the viral dash cam videos from Russia. Dash Cams were so quickly adapted that insurance companies started to accept dash cam videos for insurance claims. The industry is likely to worth $4.03 billion by the year 2020.
This is one of those ecommerce business ideas of 2019 where dropshipping can play a vital role. You can dropship dash cams from AliExpress and earn a decent amount of money on a monthly basis. An interesting way of increasing sales is to show dash cam videos from around the world that go viral. You can post those videos on your social media to attract more people and convince them to buy dash cams from your store.
4. Niche Fashion
Describing the fashion industry as HUGE is an understatement. The industry is growing at a steady rate of 5.5% annually and is now worth $2.4 trillion according to McKinsey.
Niche Fashion communities are one of those ecommerce business ideas that young entrepreneurs often tend to avoid, because of how thin and specific the target market gets. But that's what makes it fun and challenging.
Niche Fashion is basically for hard – to find communities or hard-to-fit needs. This fashion is for those who consider themselves as outcasts that don't follow the norms of the society.
A great example of a store operating in such a niche is ONYCHEK.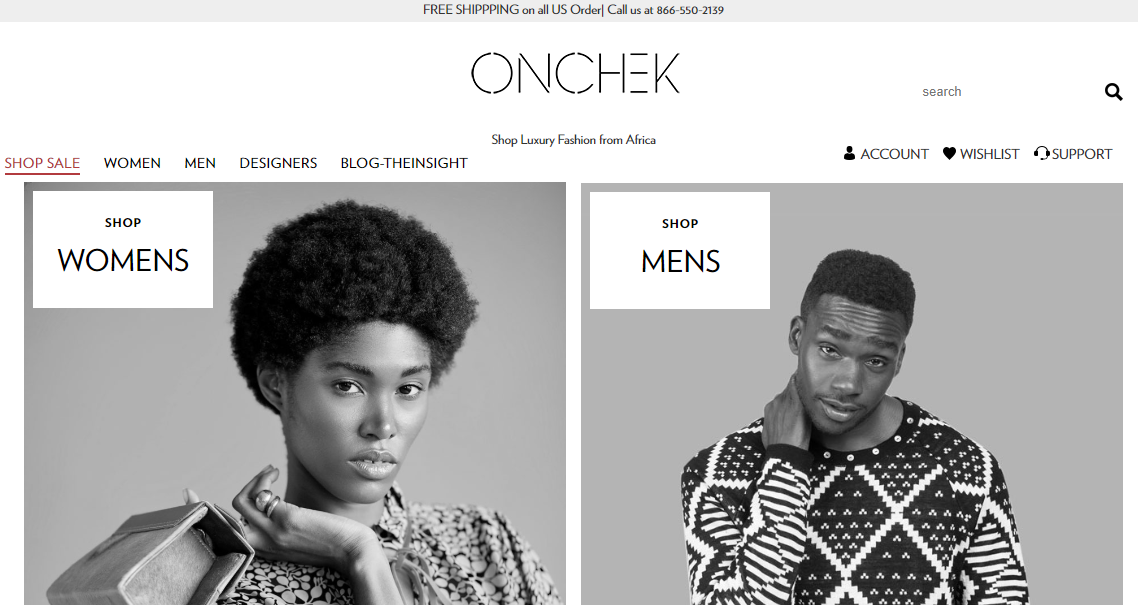 The clothing brand serves a very specific niche of luxury fashion from Africa. Opting for such ecommerce business ide requires a lot of research because you will want to know everything about a hard-to-find community before serving them. You might also want to spend time with them and conduct surveys regarding such people.
5. Enamel Pin
Continuing with the fashion industry, enamel pin is one of the most trending product for the last five years. It is an ever growing ecommerce business idea which has gained popularity within a short span of time. A great thing about enamel pins is that you can have them customized to fit a diverse set of needs. From emojis to sports cars, you can find enamel pins that are suitable for everyone.
With enamel pins, you have the room to show your creativity. The trick to be successful in this business is to have a quirky and a relatable selection of pins. This business idea also lets you explore niches such as gaming, sports, movies, TV shows and more.
If you've decided to opt for enamel pins, you must know that this business is highly dependant on eye-catching visuals. Learning some basic photography will come in handy in this business. Since it is all about visuals and photographs, one must not underestimate the importance of Instagram marketing. You can use influencer marketing on Instagram by making them wear your enamel pins and sharing their pictures on the platform.
6. Wireless Headphones
The world is going cordless. Wireless mouse, wireless keyboards and now wireless headphones are taking the tech industry by storm. The wireless headphone industry is likely to grow at a rate of 7%. Headphones is a huge industry with its worth likely to touch $15.8 million mark by the year 2025. The industry includes various types of users like casual headphones users, sports headphones users, DJ headphone users and much more.
Wireless headphones are one of the new and growing ecommerce business ideas of 2019 that can give you good returns if you execute it properly. To build a well-known wireless headphone brand, you will need a blog that will publish articles on the benefits of wireless headphones. You can use that blog to target audiences who use headphones to listen to different types of music in various settings. For example, a fitness enthusiast will listen to music while working out or a professional DJ will need a DJ headphone that caters to his unique needs.
7. Baby Rompers
Selling baby rompers is another ecommerce business idea that is showing an upward graph in the Google search trends. If you're interested in this idea, then you shouldn't limit yourself to just baby rompers. There are a lot of baby products that you can add to your ecommerce portfolios, such as toys, clothing and day-to-day baby products. It is obvious that your target market will be mothers. However, mothers usually buy clothes, food, and toys for their babies. To sell rompers, you must target the relatives of the babies, such as sisters, neighbors, aunts, etc.
It is a great idea to sell add a gift registry app that will increase the average order value of your store. You can market your product by creating ads for women who are expecting a child so that they can create a gift registry on your store.
8. Workwear
When you think about workwear, two types of clothing might come to your mind. The one is for the physical labor that includes protective gloves, helmets, safety shoes, eye protectors, jumpsuits and more. The other type is clothing for executives that includes suits, shoes, ties, cufflinks and more.
You can also branch out to women's professional wear. This will include blazers, conservative dresses and more. While both of these niches sound attractive, you must choose only one for your store. Picking just one niche will also make it easier for you to market your store as you will channel all your focus and energy on that one niche.
Marketing of your online store will highly depend on the audience you are targeting. If you decide to go for specialized work wear, you will target construction workers, nurses, and other skilled labor. However, if you are picking the professional work wear niche, you must target men and women between the 25-40 age bracket.
9. Industrial B2B Products
The B2B industry is tough. You won't be dealing with regular customers but instead, you will be dealing with representatives of huge corporations. These customers have a completely different mindset and will require a different marketing strategy on your part.
It is one of those ecommerce business ideas that have high barriers to entry. Mainly because of the monopoly of established players within the market. However, if you do decide to enter this niche and somehow make it work, you can expect a good return on investment.
There are some who have managed to taste a lot of success in this industry. AP Electric Generators nearly owns the market of electric generators.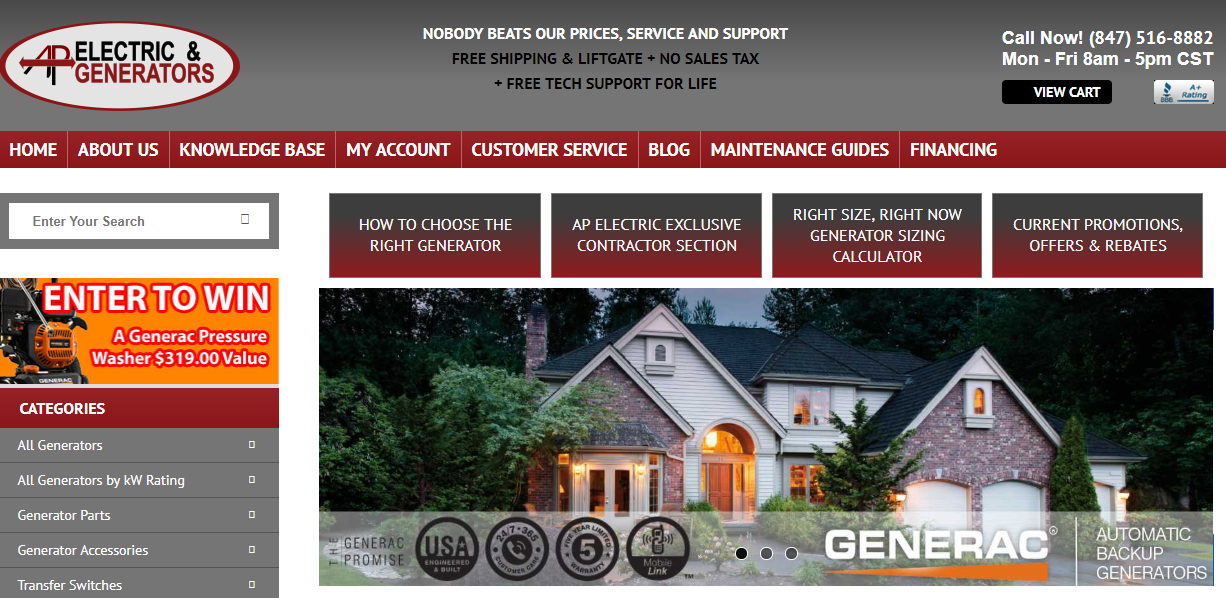 This particular niche requires a lot of investment and courage but these guys are killing it with their excellent products, delivery, and services.
Another great B2B brand, selling industrial products is 1-800-Stencil.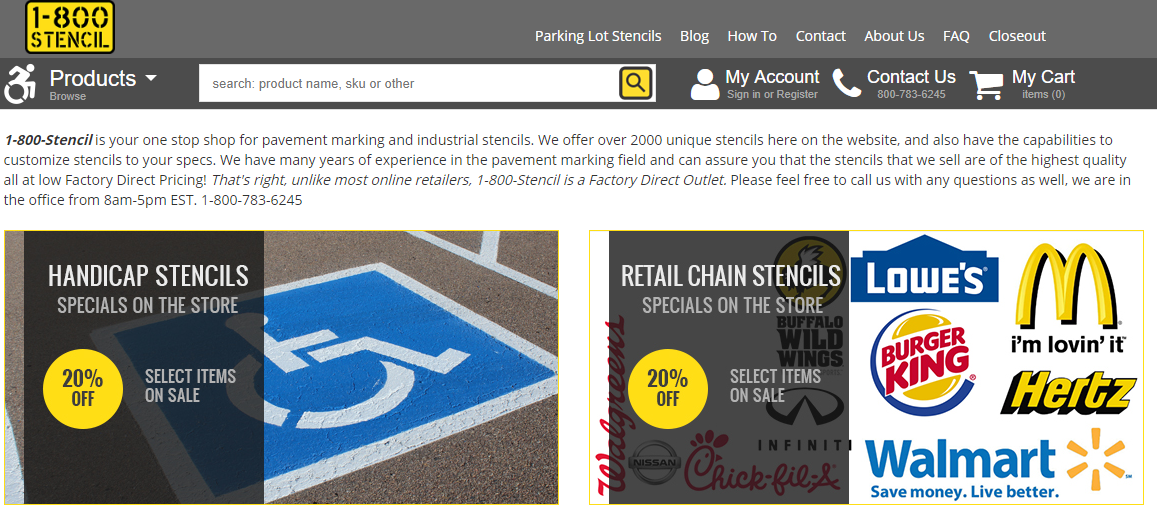 This brand is particularly fantastic in its Facebook marketing. This is a rare sight in the B2B industry but 1-800-Stencil is using a lot of B2C marketing techniques to create a lot of noise.
10. Online Education
The online education industry is at a boom in almost every part of the world. Be it a developing country from the subcontinent or a highly developed nation like Germany, the education industry is blossoming. Online courses, boot camps, tutorials are widely accepted by students because they are easier to understand and absorb. Students prefer taking up online courses because it rids them of sitting in a classroom for hours.
It is one of those ecommerce business ideas that are very difficult to pull off. Here is an example to inspire you to become successful in this niche.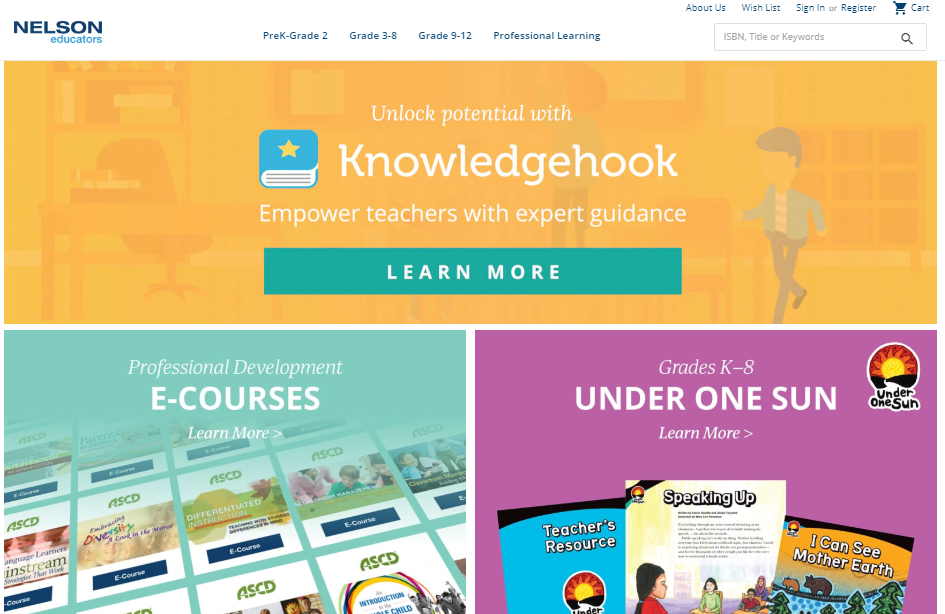 Nelson Educators offers e-courses, guidance for teachers and other learning material for students till the 12th grade.  You must know that if you want to pursue this ecommerce idea, you must have the right marketing mix that is specifically for students. You must know all the marketing channels, both online and offline to market your online education website.
11. Products for Retirees
Retirees today live longer and healthier lives, making them more tech savvy. These people know how to shop online and often do so as well. So why not target them and sell products online?
Soundwall is one such product that attracts such a niche.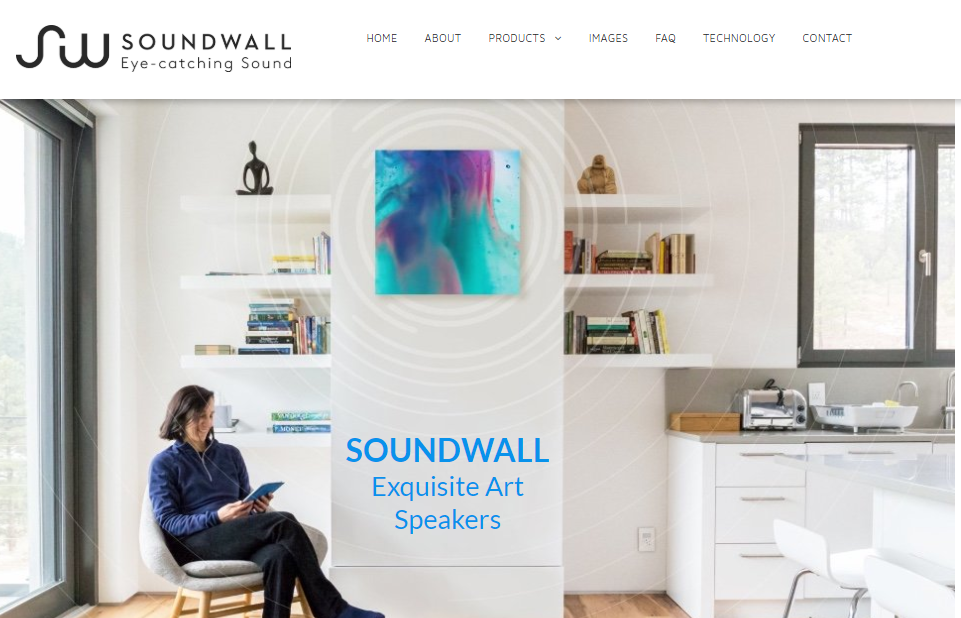 It is basically a speaker that lights up and plays music when someone in the room moves. If an elderly person gets up in the night, this illuminating product will prevent them from jamming their foot on some furniture. This product was not exactly made for these customers but it has such utility that it has now found use in a number of nursing homes
12. Night Vision Cameras
Night vision camera is another great addition to our list of ecommerce business ideas. This product is often used by security companies. It allows them to capture footages in the dark and help prevent crimes. These cameras have a heavy price tag, but that doesn't mean you can't get a higher profit margin. Night vision cameras have a higher product cost but if you can sell it at market price, you will be able to win a handsome margin.
For this product, you will need an end-to-end SEO strategy in place, because it is a search-based product. The key is to try to rank for long-tail keywords that relate to the night vision cameras. This will give you a higher chance of showing up on the first page of search engine.  Another important aspect is the product copy and description. You must have detailed product descriptions that clearly highlight the benefits of this product.
13. Matcha Tea
As a tea enthusiast, I can safely say that it is one of the most popular drinks around the world. In fact, tea is the second most widely consumed drink after water. According to a survey, about 80% of American households consume tea.
Since there is a rise in awareness for health and good nutrition, Matcha Tea has seen an upward trend. For those who don't know, Matcha Tea is a form of green tea that contains antioxidants called catechins. According to some researches, Matcha Tea has cancer-healing properties. If you want to take up this ecommerce idea, you will be better off with dropshipping Matcha Tea from AliExpress. The store has a wide range of Matcha Tea and tea accessories. While you are selling this tea, you can also sell cups and kettles.
This is one of those ecommerce business ideas that require blogging for marketing. You can publish content that covers all the benefits of Matcha Tea to lure more people to your store. Also, to rank your content on a search engine(s), you will need to target long-tail keywords.
14. Online Grocery
While everything is going online, why not groceries. There is a sudden emergence of online grocery stores that deliver groceries directly to your doorstep. All you have to do is select the items you want, the payment method, and you will get your grocery right at your home. This is a highly convenient option for people who do groceries every week. They just want to run away from the hassle of driving up to the grocery store. These type of ecommerce business ideas are great time savers. For your online grocery store to work, you will have to run ads on social media. Images will be key in your marketing strategy.
15. Beard Oil
Men's fashion and grooming is a booming industry, with trendy facial hair products now available to almost everyone. The grooming industry makes around $6 billion in annual sales with many successful stores selling beard oils. A survey reports that around 39% of Americans have beards and the number is increasing every year. The market is fairly saturated with some big players dominating the market. However, if you're completely focused on your e-store, you might be able to achieve decent success with this ecommerce idea.
Get Your Ecommerce Business Started
This concludes our list of amazing ecommerce business ideas. They are not only lucrative, but are also sustainable with respect to ecommerce future trends, and will provide you with long-term profits. If you have some more ecommerce ideas you want to share, feel free to join the fun.
Subscribe Newsletter
Subscribe to get latest Magento news