Reviews
Magento's Need For Speed: "Cloudways + Full Page Cache" Review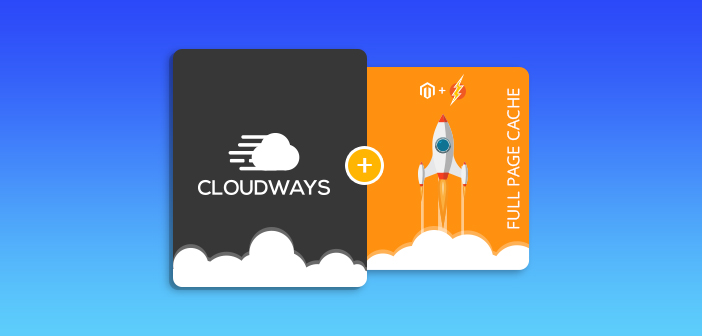 Cloudways is a renowned Managed Cloud Hosting service that powers some of the fastest and high-performing websites on the internet. However, Magento store owners have, until recently, been deprived of the supercharged and robust environment to thrive in.
With the introduction of Full Page Cache in collaboration with Amasty, though, Cloudways has ensured that even Magento websites can enjoy the thrilling ride of speed and power.
Full Page Cache normally costs $350, but Cloudways integrated the extension in the platform and it now comes built-in for all it's Magento 1 users. Apart from being the default extension, users don't have to go through the hassle of setting and configuring the extension themselves because Cloudways does all that behind the screen for free and provides 24/7 support to ensure users do not face any issues.
So what is Full Page Cache?
No user likes a slow loading website. If an online store takes mere five seconds to load, your customer is as good as gone. Ideally, you don't want your Magento 1 store to take more than two seconds to load, so what is the solution?
Full Page Cache!
Speed and performance are the most crucial aspects of an ecommerce store's success, and Full Page Cache (FPC) makes sure that your store is on the top of its game. But for the uninitiated, it's important to understand what FPC really is and how it helps websites perform at optimum levels.
FPC is a Magento extension that stores the dynamic contents of an online store so that the web pages utilize minimum server resources to deliver a quick response.
Under normal circumstances, web pages take a lot of time to load because a separate page is generated for each user.
But when FPC is installed, your Magento 1 store displays a saved version of the page from the cache which decreases the page load time dramatically and improves the user experience.
Full Page Cache, therefore, should be a crucial part of your ecommerce store.
Cloudways + Full Page Cache
Full Page Cache and Cloudways Managed Magento Hosting are brilliant at what they do, but it's the unmatched combination of the two that turns your Magento 1 store into a powerhouse performer.
Magento 1 users on Cloudways who installed the extension experienced dramatic improvements in the performance of their stores, and needless to say, it resulted in better conversions and happier customers for them!
While Cloudways provided us metrics to show how Magento stores were experiencing a surge in website performances, we decided to take the combo for a spin ourselves. The results blew all prior tests on other servers out of the water. We were surprised with the effect installing a single plugin had had on website performance and the page load times.
Here are the tests we ran on several different websites:
Contains approx. 337,000 pages.
With a page size of 2.4 MB, Cloudways Full Page Cache delivers a respectable load time of 1.30 seconds. This is indeed the ideal time to impress visitors and help convert them into regular customers.
Have a look at the rest of the test results and judge for yourself.
Contains approx. 3,810,000 pages
Contains approx. 282,000 pages
Contains approx. 134,000 pages
However, while these stats seem wonderful, the following tests conducted by Cloudways themselves show the staggering improvements with more clarity with before and after results.
The average response time for this website, as shown in the image below, was 6.37 seconds.
Cloudways engineers installed the Full Page Cache extension and here's the result:
This is an incredible 595% improvement in the Average Response Time.
Here's another example:
From an Average Response Time of 6.44 seconds…
… to an incredible 1.57 seconds.
While your store may not register the same levels of improvements, one thing is sure: your ecommerce store will not suffer from page load times of more than 2 seconds.
How to get started with Cloudways
If you're planning to move your store to Cloudways and take full advantage of the robust environment + Full Page Cache's super fast web page delivery, here's how to do it:
Go to Cloudways.com and sign up for free. Cloudways offers a free 3-day trial, so you can take the platform for a spin and get familiar with the interface before paying up.
Once you've signed up, add the server and select Magento 1 with FPC as your application, fill out the information, and launch your server.
When you launch a Magento 1 app on Cloudways initially, FPC is installed by default and all configuration is already taken care of. However, if you migrate your store from other hosting services, you can manually install Full Page Cache after downloading the module from performance tools under Application Management.
However, you don't have to worry about any server and FPC installing hassles and instead you can focus on your store and enhancing the customer experience and getting maximum ROI!
Conclusion
It is essential to leave a good first impression on your visitors because that is the best way to ensure they return for business with you. A sluggish website, in contrast, is the surest way to get your visitors to abandon your after their first visit. Since no one is ever enthusiastic about probable customers who don't come back, Full Page Cache is an obvious choice for all Magento 1 users.
Subscribe Newsletter
Subscribe to get latest Magento news