Articles
10 Best Email Templates For Ecommerce Stores
Email Marketing's considered one of the most cost-effective strategies for generating business for an ecommerce store. The most important decision relates to selecting the best email templates that will get the attention of your existing and potential customers.
See: Starting an Ecommerce Store – Look No Further Than Magento!
Since so many people have started checking their emails on smartphones, it is important that your ecommerce email templates are mobile friendly. Secondly, to ensure that your email gets noticed and is not spammed, the ecommerce email templates and ecommerce newsletters that you send to people are now personalized with their name.
Thirdly, remember that the ecommerce email templates that get the maximum response are the ones that have clear Call to Action Buttons (CTAs) like "Shop Now" or "View Cart." This increases the likelihood of generating the desired response from your customers.
1. Welcome Ecommerce Newsletters and Email Templates
The best welcome email templates and ecommerce newsletter templates are then programmed and sent immediately as soon as people have signed up to your store. Since this is the first time you are interacting with new customers, it is essential to get their attention and make them browse your ecommerce store.
This is why the best email templates to welcome people highlight a special offer such as a 10% discount or free shipping on the first order above $100. The best email templates have a simple design, without using too many colors to distract your customers from the main message.
Another strategy that works fine, is to make people feel that they are now a part of an exclusive club and they will receive ecommerce newsletters with special promotions, tips and exclusive information that non-subscribers will not have access to.
One brand that has mastered the art of designing the best email templates to communicate with their newest customers is Nike. Not only does the ecommerce email template feature photos of other members in Nike gear, but people are also told of all the extra benefits they will receive about new products or flash sales in the coming months.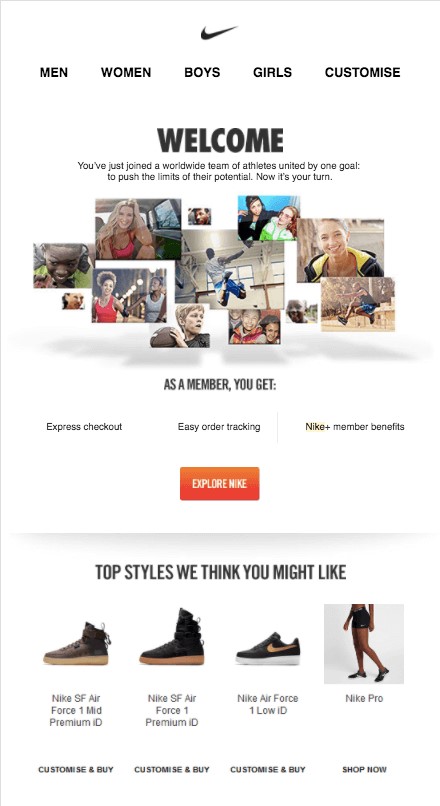 Lush cosmetics is another example of a brand that is doing great by welcoming new customers. From an eye-catching layout and copy to embedding various social media channels of the brand, Lush is also doing a fabulous job with their ecommerce newsletters.

The benefit of embedding your twitter handle, Facebook page, and the Instagram account is that they provide multiple channels of communication with the customers. If people miss the ecommerce newsletters you send, you have alternative options of delivering your message by getting help from any expert write my essay online or copywriter and reach them through different platforms.
2. Promotional Ecommerce Newsletters and Email Templates
The single most important objective of sending out promotional ecommerce newsletters is to boost the sales of a specific product range or SKU. The best email templates that are effective in increasing the sales of an ecommerce business include a specific discount coupon for one product.
For instance, when The Body Shop sent out ecommerce newsletters announcing a 20% discount on its Tea Tree range for all early birds, it was a huge success. The best email templates used for promoting particular products often carry messages about upcoming Flash Sales and reminding people how much time they have to buy the product as well as seasonal offers.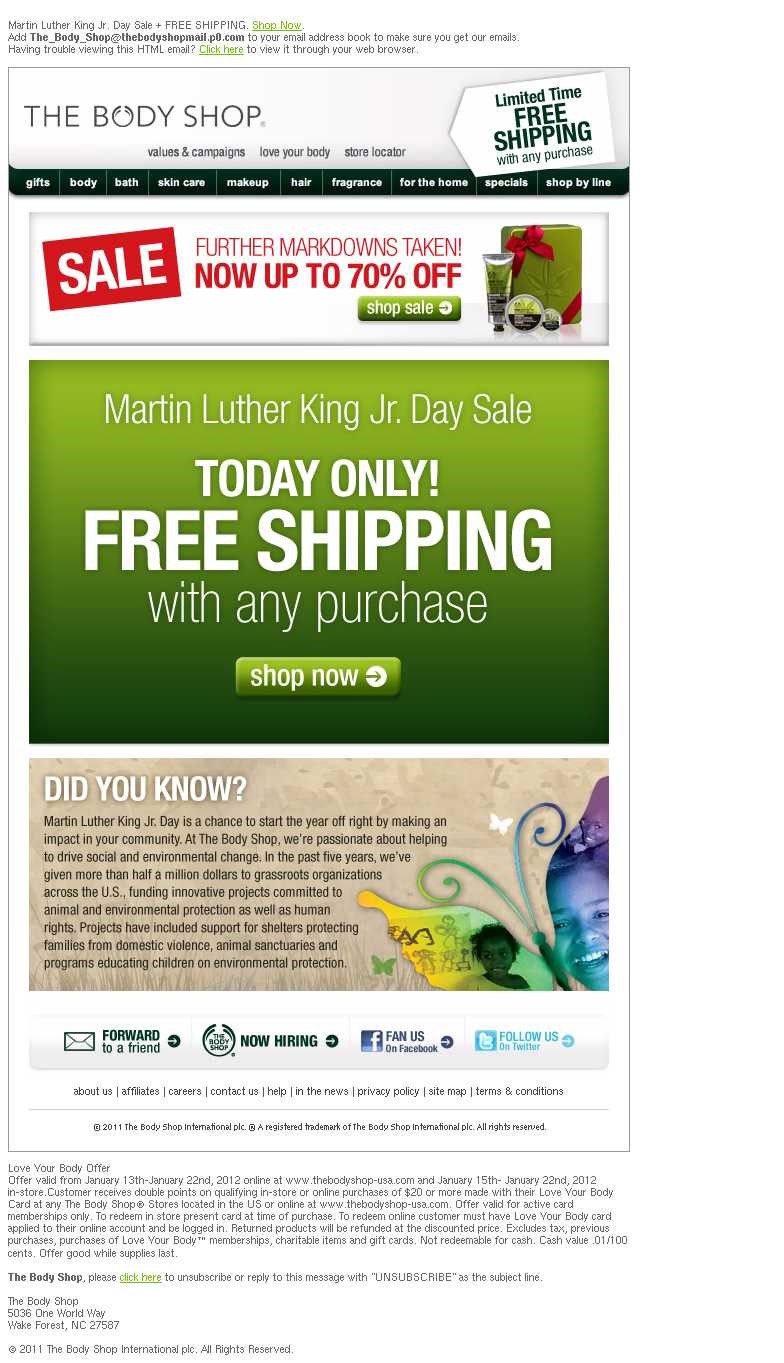 The best email templates and ecommerce newsletters that brands such as Sephora have created focus on special products for special occasions like gift baskets for Mother's Day and Valentine's Day.
Ecommerce newsletters that help customers solve specific problems or prepare for special occasions are also very well-received such as "How to Get Ready For Prom in under $200."
3. Engagement Ecommerce Newsletters and Email Templates
With so many activities keeping your customers preoccupied, from time to time, it is important to remind people to come back to your store and enjoy some of the best products available. These ecommerce newsletters fall in the category of "Engagement Emails and Newsletters."
The best email templates to engage with your audiences must focus on how their brand loyalty helps them with saving more bucks on their next purchase. For instance, online book stores tend to offer a Rewards Program where, after accumulating certain points, customers will receive a free book. The best email templates for engaging customers are a soft reminder to people who are subscribers but haven't visited your ecommerce store in a while.
Below is an example of Great Reads, an online book store that offers reward programs and discounts on the most popular and sought after books online.

4. Best Email Templates for Cart Abandonment
There a lot of times when customers add different items to their cart but leave without actually confirming the order. The best email templates to remind people to return to the ecommerce store and checkout usually contain a "Free Shipping" or discount coupons for orders above a certain amount so that people have more of an incentive to return and complete their order purchasing process.
Also, find out if there is some other reason why people didn't complete their purchase other than "forgetfulness." The best email templates should include a checklist of possible reasons that made customers abandon their cart.
Here is an example of TopShop, a clothing brand offering Free Shipping to minimize cart abandonment;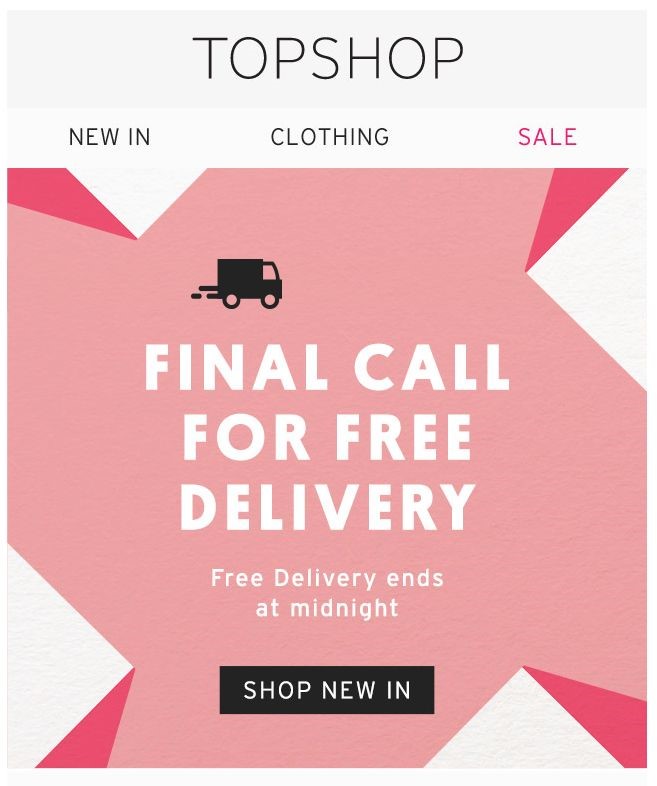 These reasons can include asking to create an account to make the purchase, limitations in the modes of payment used, extra shipping expenses, lengthy shipment times or a no returns and refunds policy.
5. Best Email Templates for Ecommerce Transactions
Transactional emails are usually sent to customers after they have interacted with an online store in some way. The most common types of interactions include placing an order, shipment details, invoices, and receipts. The greatest advantage of transactional emails is that they typically have a very high open rate, which means that customers are more likely to open and read the email.
An obvious reason is that these emails contain information that people are actively interested in receiving such as the "date on which the order is dispatched" and the "expected delivery dates." The most common type of transactional emails tends to order confirmation emails.
Since every email sent to your customers actually offers a chance to build a relationship with them, the best email templates focus on providing customers with all relevant details about their order. This includes the number and description of the items ordered (ideally along with the image), the price, shipping details, mode of payment and the date of delivery.

The best email templates must also contain a "Call To Action" (CTA) button that allows people to reply to the email with queries and/or complaints.
Transactional ecommerce newsletters can also serve a specific purpose. Provide a list of the "Bestseller Products" on their ecommerce stores as well as customer reviews of these items. Research shows that positive customer reviews are one of the best ways to increase and encourage repeated sales opportunities.
6. Best Email Templates for Providing Shipping Details
It is no secret that the most complicated part of online product ordering is to determine when your customers will actually be able to use the products. Most ecommerce stores do provide a tentative delivery timeline such as "Product will be delivered within the next 7 to 10 days." It is far more helpful to provide customers with real-time information about their order status.
This is why the best email templates usually carry a link for "Track your order here" page, to keep customers updated about where their order is, and how long will it take before they will be able to receive it. Providing this information helps keep people's anxiety at bay about how long they will have to wait.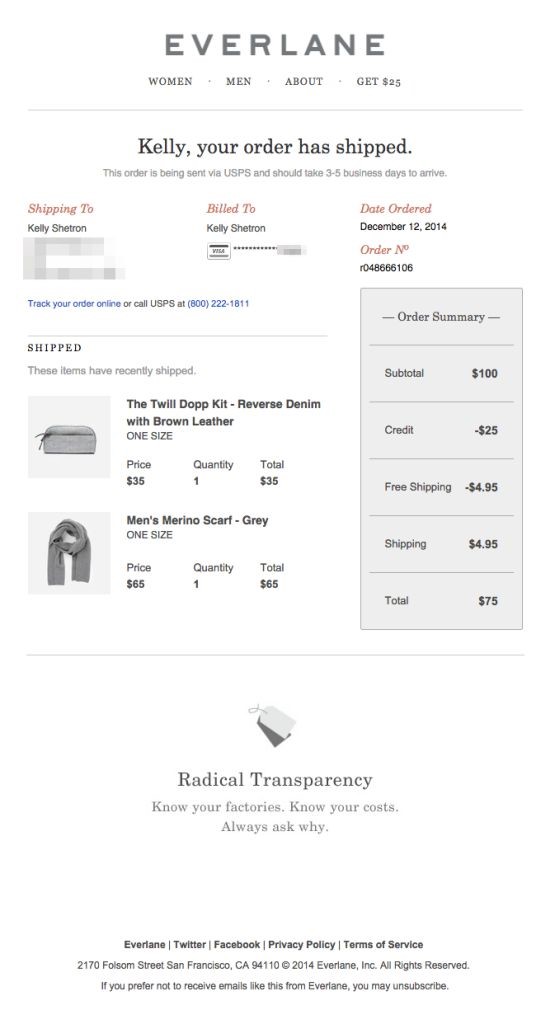 The best email templates providing shipping information actually go an extra mile by updating the exact time of day when an item(s) will be delivered. This is especially helpful for people living alone; or orders delivered before the holiday season when people are making their travel plans.
7. Best Email Templates for Referrals
Referrals are one of the most commonly used technique by online giants such as Amazon, Uber, and Alibaba. It is a simple and very cost-effective way of quickly increasing your user base by offering incentives to your existing customers to recommend the ecommerce store to their family, friends, colleagues, and acquaintances.
The way Uber uses this strategy is very effective. Their email template asks users to get three or five of their friends to sign up with Uber and when they do so, the customer who made the recommendations gets a discount on a few of their next rides. The best email templates that result in lead generation for ecommerce businesses focus on how their existing customer will benefit by getting more people to sign up.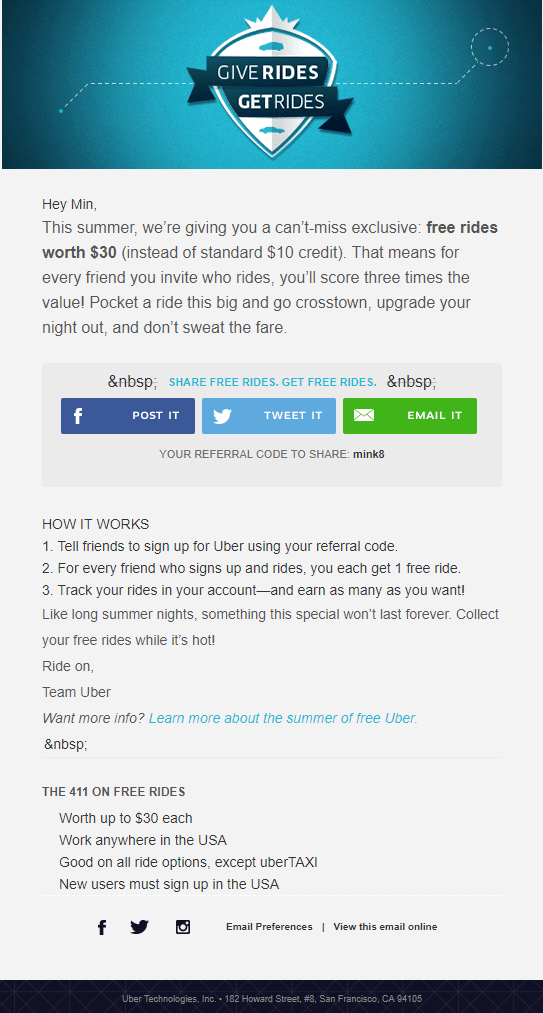 However, ecommerce businesses must be careful about how much of an incentive they are offering to get more referrals. More often than not, the strategy is an excellent way to expand the pool of your potential customers.
The other reason why ecommerce stores rely on referrals is that it is more likely that the profiles of the users – their existing customers refer – match up to their target audience.
8. Best Email Templates for Customer Feedback
While some may argue that customer feedback emails are a part of transactional emails, they are important enough to be mentioned here as a separate category. Customer Service is one of the most important, yet easily ignored, aspects for an ecommerce store.
It is important that as an ecommerce business owner you don't assume that all customers are happy and satisfied with the product and service they received. A few days after an order's delivery, be sure to send out a customer feedback newsletter to customers.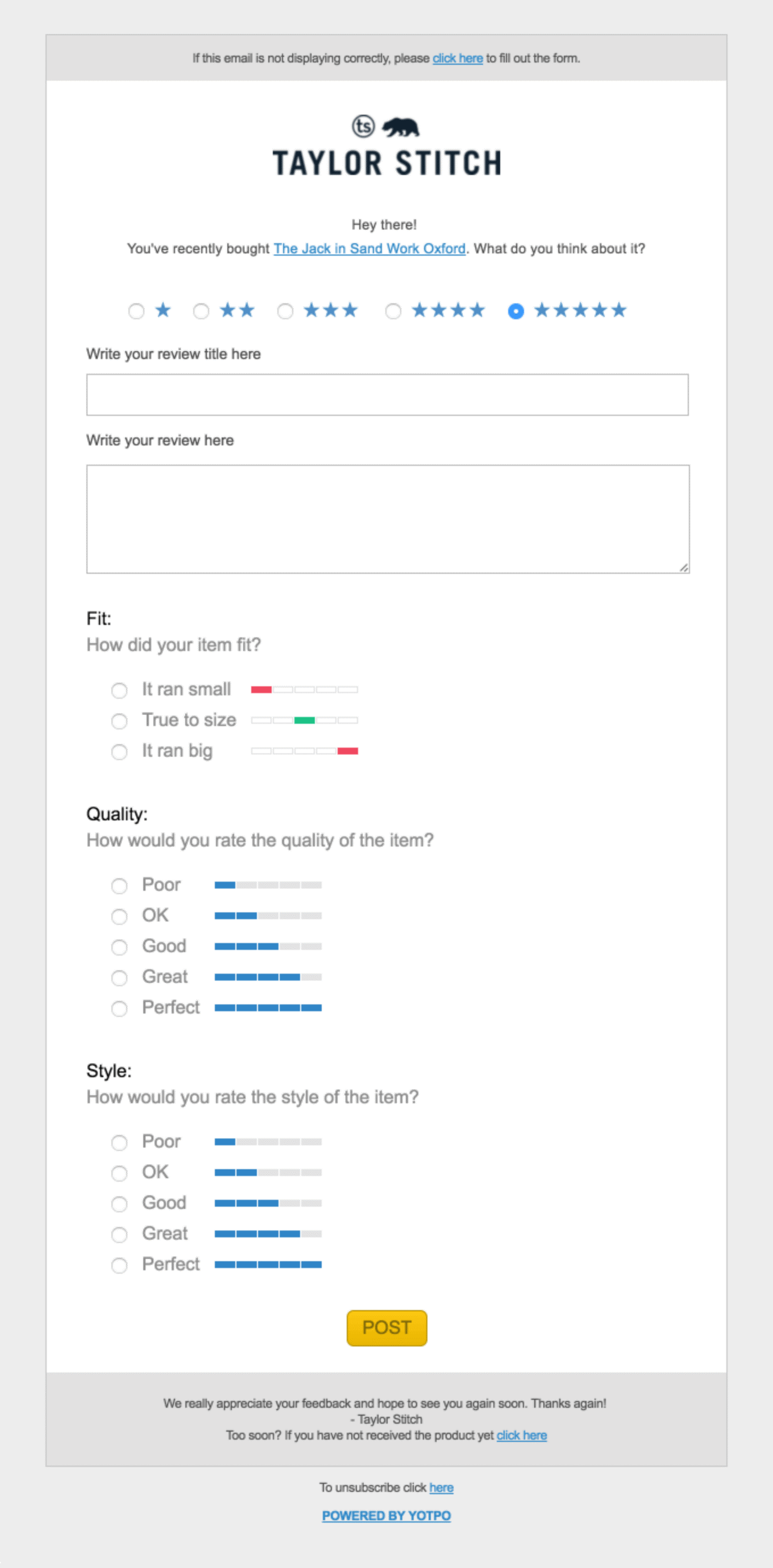 The best email templates for getting feedback should make it easy for customers to give their input, and also be mobile friendly since that is how the majority of the people will be viewing the email. The categories on which customers are now asked to give their feedback include (but are not limited to): satisfaction with price, product fit and style, quality, shipment and delivery schedules, and help from the customer support team.
The best email templates for feedback typically provide customers with a rating scale, as the results are also easy to compute and tabulate. One thing is crucial. Yes, the objective of these emails is to get the maximum information possible from customers about your ecommerce store, remember that people are always pressed for time.
The best email templates that generate response and feedback are short while being comprehensive, and are easy to navigate and understand. Any questionnaire that takes too long to complete will likely fall in the spam folder or will be ignored.
9. Best Email Templates for Cross-Selling and Up-Selling
The main objective of both cross-selling up-selling is to maximize your sales revenue by making your current customers buy more products. The best email templates for selling similar or related products to the ones the customer has already bought.
For instance, a customer who has just bought a camera on Alibaba is shown various camera bags, lighting equipment, and lenses in the "Related Products" or "Customers who bought this item also bought…" categories. Up-selling involves getting customers to buy a higher priced version of a product or service they already have.
The New York Times offers a regular subscription as well as a "Premium" subscription for its readers. The best email templates designed to increase up-selling focus on reminding people how – by paying a little extra than they already are – they can acquire a product or service of much higher quality.
10. Best Email Templates for Nurturing Existing Customers and Customer Re-Engagement
Remember the oldest rule of running a successful business, whether offline or online: It is far more difficult and expensive to acquire a new customer than it is to make the existing customer return to your shop.
Therefore, keep track of which of your previous customers have not returned to visit your online store, and also, if a special occasion such as a birthday is coming up. Sending a congratulatory email with a simple "We are celebrating your birthday with you and here's a 5% discount off your next purchase" goes a long way in delighting customers, and they might just click on the email and buy a product from your e-store.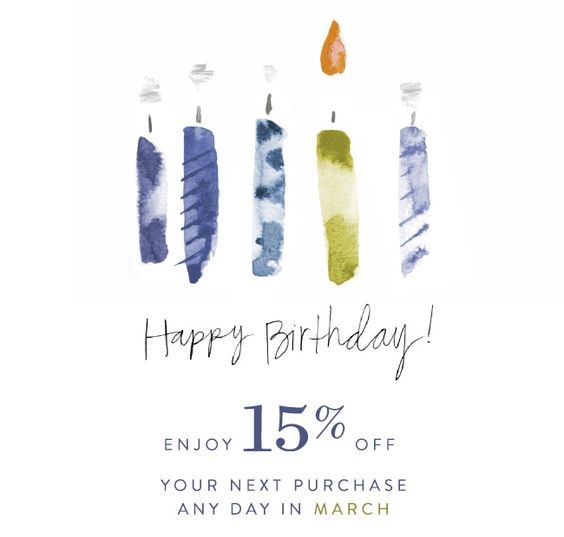 Otherwise, if it is not a birthday, celebrate a one-year or five-year anniversary of your business' relationship with them by sending an email with that particular sentiment that they signed up with you a few years ago on this very date.
Note: There are many email marketing software also that helps to get over several marketing barriers regarding brand promotion, customer satisfaction, and what not! You can check out top 10 email marketing software list to choose the one best for your requirements.
Wrapping it all Up
There is no question about the fact that the best email templates and ecommerce templates that work for online businesses have a direct message targeting customers' needs or the solutions that they are looking for. The point that ecommerce stores should remember when sending out ecommerce newsletters is that email marketing can serve a variety of purposes for their businesses.
From bringing new customers on board to incentivizing people to shop more frequently and in larger volumes, the best email templates are also a data source for developing customer profiles. This helps ecommerce businesses to tailor their offers and discount packages depending on various categories that a customer is interested in.
Therefore, before you send out your next ecommerce newsletter or email, remember that your email marketing strategy will work only if you follow the right sequence when communicating with your customers.
See: Must Have Emails For All Ecommerce Stores
People will respond and engage only when they see that your ecommerce store is offering items that they are using, or are interested in, and the process of purchase is neither too time consuming or complicated. The best email templates are well-thought out and are visually appealing, not to mention, they always keep the customer at the heart of all messaging practices.