Articles
Beginner's Guide to Starting an Ecommerce Business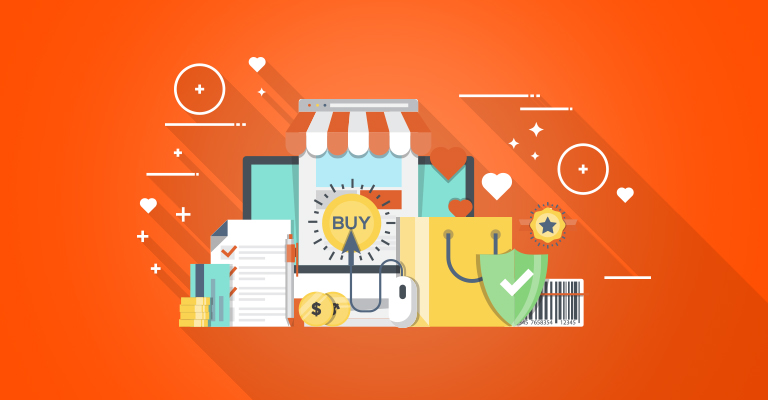 Gone are the days of brick and mortar stores and virtual stores are the new kings of commerce.
It's no longer necessary to step out of your home (although, for your health, it's highly recommended that you do) to buy something or do business. Thanks to the internet, the entire face of business from selling to buying has changed.
For those of us ambitious enough to step out of the comfort zone of buying online and want to start selling instead, the ecommerce industry has much to offer. And by much, I mean you can take a bite of the pie that was worth $1.915 Trillion in 2016. Let that sink in. And knowing the kind of potential ecommerce holds for now, you couldn't be on a better track.
Starting an ecommerce website may seem like a daunting task, though. With online retailers like Amazon, eBay, Taobao, and SnapDeal, etc. on the ecommerce front, surely it must be a game for big players with budgets of millions of dollars, right? Wrong. Anyone can start an online business. And yes, that includes you too!
"How to setup an ecommerce business?" Good question, but don't jump on the wagon right away. Let's take it step-by-step, so we can take off cleanly.
Before you set up your online business, you need to make a few decisions.
Choosing Products and Industry
Contrary to what's going on in your mind ("This is easy. I'll sell war tanks and weapons!". Uh, no you can't.), choosing what to sell isn't simple. Simply put, there are a gazillion products out there, and choosing the right product will be the determining factor in your store's success.
So you need to be clear about what you want to sell. Maybe you know that selling cosmetics can give you better profits, but if you don't know the cosmetics market that well and have no idea where to get the supplies from, you will face a hard time. Also, there are far more things to consider than just the product and your familiarity with it.
Here's a quick look at what you should keep in mind while deciding what to sell:
Profit Margin
Obviously, this is an important aspect of this stage. One of the primary reasons why you want to start an ecommerce business is because you want to earn money. And lots of it if you can't help it. So make sure you choose a product that gives you a better profit margin and also complies with the rest of the following factors.
Local Availability
Is whatever you are selling available locally? If yes, then you are ready to go. If not, then you will have to look for a solution to bring something to your market that isn't available locally. Non-availability of products that you can import from somewhere gives you an upper hand in your market as well, and you can stand out from the local competition. So choose carefully!
Industry
Agriculture
Automobile
Business Services
Clothing Manufacturing
Computer Software
Food & Beverage
Entertainment
Let's take a break here. The list above could continue for two more pages, and it wouldn't be enough. That's just to give you an idea of the number of industries you can step into, but shouldn't. Because you have to choose the one you are most familiar with and that can also bring out the passion in you. Do you like cars? Automobiles are the way to go. Do you like selling clothes? You know what to do. But decide clearly where you want to invest your time and then start your business.
Find Manufacturers and Suppliers
Once you have identified the product, you have to find the manufacturers and suppliers.
There are many ways to go about searching for manufacturers, with one of them being Google Shopping.
Google Shopping is a dedicated search engine that can help you search for physical products that are sold online with information on the resellers and the suppliers. Just type in the products you are interested in, and you will get all the necessary information.
You can also search the directories present online and find the manufacturers. Or, search your local phone directory and get it going. You can also ask around and see if the suppliers you are looking for are nearby and strike up a deal personally. Once you have all the necessary information regarding the product and you have it all worked out with the manufacturers or suppliers, you can move on to the next step.
Creating your Website/Choosing your ecommerce platform
Things are going in the right direction for you, but the most important of all steps has arrived: Your website and the platform you choose to base your online store on!
Pick a name that suits and resonates what you are selling. The name of your website and domain will play a vital part in your business's success so put your mind and time into it. Once you have finalized your name, it's time to start creating your website. At this stage, you're going to have to choose a platform to base your website on. As of this moment, one of best CMS (Content Management System) for online shops and merchants is Magento.
You will also need to host your website on a server. In our experience, Cloud hosting is the best option for you to go with because shared hosting servers do not yield the best results. Since you want to stay on top of your ecommerce game, Cloud Hosting will give you the most reliable server to host a large traffics as well as fast loading times. The website you're reading this article on, and the one that zipped open when you clicked on the article, is hosted on Cloudways. It has been the most robust hosting we've ever had, and we've been recommending it to all our readers ever since.
Magento as your CMS
If you visit this blog regularly, you may have a clear idea of why Magento is the best CMS for your purpose. Just in case you don't, you can read this blog post to get a better idea: Why choose Magento 2 for Ecommerce development in 2017?
Magento is basically an ecommerce solution that empowers hundreds and thousands of retailers around the world. It's a feature-laden CMS that will give you powers to control all the aspects of your online store. It's an open-source platform written in PHP, so you can use it for free, although you can pay to get the enterprise version for official support and premium features.
Logo and web design
Along with a great website, you'll need a visually appealing logo and web design. A logo is your representation in the online realm, and you would want one that will stick to people's mind easily. It has to be simple and easy to remember by, so when someone comes across it, they know they are looking at your business.
As far as web design is concerned, you can easily integrate a Magento theme to give your website the cosmetic it needs. You can pay for themes, but there are several free themes that you can use to turn your website into a beautiful work of art. The link to free themes contains some great ones, so you can select any and get started with the design of your website. Once you have your theme and logo ready, you're almost ready to start selling.
Add Products to Your Store
So you're all set up now. There's just one thing that's stopping you from starting to sell now: adding products to your website.
It's obvious, but you can't start selling without having anything on your online store. You have the products ready, you have your new Magento store up and ready, so just start adding products to it. As I said before, Magento makes it really simple for you to add products and customize things according to your needs. There are hundreds of tutorials and guides available here and online to help you through anything technical, so don't worry about the nitty gritty details.
Once you have added the products, you're ready to sell.
Start Marketing and Start Selling
Yes, you can start selling now. Ask your friends to visit your store and start ordering. Although, a better step would be to market your store through advertisements and social media activities. Since you are aiming to sell to a large segment of your local market, planning a marketing campaign would be an ideal thing to do. Nevertheless, great job! You're a proud owner of an online store.
As a beginner, you're on the right track. If you're looking for an in-depth insight into selling online, just let us know using the comment section below, and we'll get to work. And yes, don't forget to share this article with your ambitious friends who keep asking you about how to setup an ecommere business!