Magento 2 Tutorials
How to Setup Privacy Policy Page on Magento 2 Stores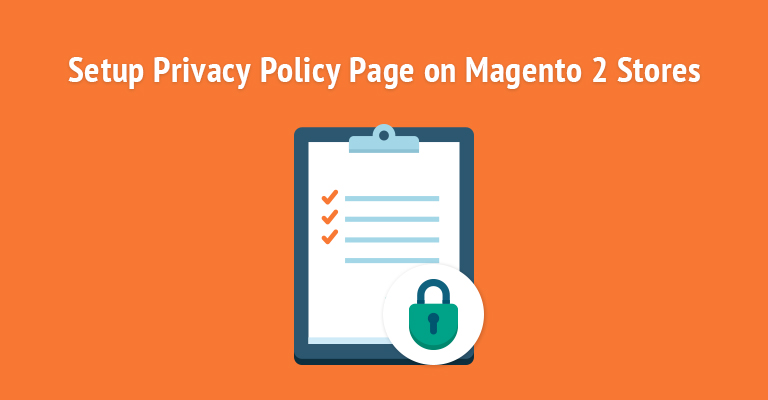 Disclaimer: Magenticians does not necessarily agree with the views expressed in this guest post. They are presented to bring to light all diverse views in the Magento and general ecommerce community.
Sometimes, online store owners ignore the Privacy Policy page while creating a store. It comes to me as a surprise. This page is an essential element of any online store.
A Privacy Policy page of an online store is the collection of statements and declarations you are making to your store visitors about the required information you are gathering. It is just like a daily practice of your store.
The Privacy Policy provides transparency and awareness to visitors. It includes how you are collecting the information, what you will do with the provided information, where the information will save, and why there is a need for accurate information.
These statements in Privacy Policy page are only the half of equation. The second half is the most important element — and that is the commitment to fulfill the declarations made on the Privacy Policy page. It is necessary that each and every member of the store's Customer Sales and Support team should have a clear understanding of the Privacy Policy and can clearly communicate it to the visitors when needed.
Regarding what your Privacy Policy page should say is up to your business and its internal privacy commitments. But, as for the starting point, below are the some basic points to keep in mind when it comes to writing the Privacy Policy page for your online store:
If your store is collecting personal information, you should explain this to your visitors what you intend to do with it.
How do you collect private data? Where do you save it? For how long you will hold that data?
How does your store utilize Cookies or an online charge system?
If your store is using third-party merchant services, you should write about the requirements and conditions your store needs to meet with them.
Who is the responsible person that has access to the data?
Setting Up Privacy Page
If you are using Magento 2 for your online store development, it includes a sample Privacy Policy page you can update according to your business information. While writing your Privacy Policy page in Magento 2, you should keep each and every above point in your mind. To change or edit the Privacy Policy page inside Magento 2, follow the steps below:
Step 1: Login to your Magento 2 admin panel.
Step 2: On the left sidebar, tap on "CONTENT".
Step 3: Under "Elements" menu, click "Pages".
Step 4: Find the "Privacy Policy" page using the Search Box and go to "Edit" by using "Action" field.
Step 5: In the left panel under "PAGE INFORMATION", tap "Content". Do necessary changes according to your store Privacy Policy content.
Step 6: When done, tap "Save Page".
Easy Setup, Complex Implementation
If you think this was easy, well yes it is. The hard part is the content; the promises you are making to your customers on this page. Therefore, while you are creating this page, create an internal Implementation Manual you will follow to get this policy adhered. Better still, get legal advice on this page too. It will help you deflect any conflicts that may rise.