Interviews
Former Magento CTO and Co-Founder Yoav Kutner talks about Magento Development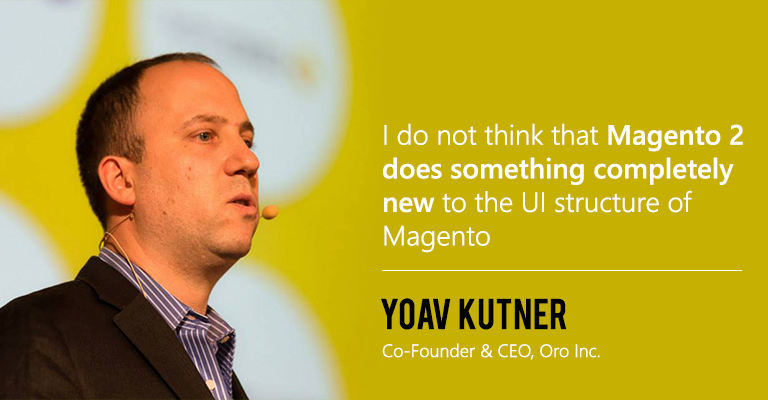 Yoav Kutner is who you will call a serial entrepreneur, a person that creates solutions in order to solve problems. Together with Roy Rubin, he created a revolution in ecommerce industry by creating Magento, and now his name is synonymous with the popular CMS. As CTO of Magento, he was influential in turning it into a world-renowned ecommerce powerhouse. Shortly after acquisition from eBay, Yoav Kutner left the ecommerce solutions provider to create a new venture.
These days Yoav Kutner is the co-founder and CEO of Oro Inc., the company behind OroCRM, an open source CRM solution for ecommerce websites. He also cofounded MAGECORE, an agency that provides clients with end-to-end Magento solutions.
Fayyaz: Yoav, it's an honor for me to be interviewing you. :) You were the Co-Founder and CTO of Magento Inc. What's the story behind starting one of the World's most powerful Ecommerce Application a.k.a. Magento? What challenges did you and Roy face in initial times while starting Magento? Share your career journey with our readers.
Yoav: Thank you for contacting and interviewing me, and the honor is mine.  In 2004, I joined Roy, and we started a web development company around custom web applications. We built all kind of websites you can imagine from CMS solutions to community websites and, of course, ecommerce.
We mostly used open-source software in our development, and that allowed us to be very competitive when we were bidding for projects.
We also had the ability to deliver what the customer wanted without compromises or limitations. As ecommerce became more popular, we started specifically focusing on developing ecommerce sites.
We started by using an open-source ecommerce product called osCommerce and we were able to create unique and sophisticated websites using this product. As we began to grow, our company was becoming one of the leading osCommerce system integrators in the US, and we started getting bigger customers and implementations.
Since osCommerce was a true community-based project, it lacked any real leadership or transparency into the roadmap for future development of the product.
Like many other companies using osCommerce, we found ourselves using a forked version of the code we were maintaining for our customers. But, that did not feel right after a while, and we decided to look for an alternative to osCommerce. As I was in charge of the technology, I looked around but could not identify any good alternatives and once again, akin to many other service companies, we decided to create our own product for our customers.
We started creating Magento in 2007 with the initial intention for it to be used for our customers and projects only.
However, for some reason, I decided to talk to Roy and asked if it makes sense to release Magento as an open-source project. And with "what's the worst that can happen?" on our minds, we both decided that we would go for it. We couldn't have imagined it would grow and become one of the leading ecommerce products on the market.
As such, we started transitioning our company's business model from a service provider to a product company which was entirely new to us. We also faced the age-old question of how to monetize a successful open-source project.
Fayyaz: Magento 2 was under development for a very long time. What gaps did you find in Magento 1 that made you work on Magento 2? What are your thoughts on Magento 2 after its release?
Yoav: When I started on Magento 2, it was supposed to be a refactoring effort and an upgrade to the major version that would allow us to break some backward compatibility with 1.x.
We set a timeframe of 12 to 18 months, and we did not want it to become a complete rewrite of the platform.
The main things we wanted to solve was some performance issues, replacing the frontend dependency on Prototype JS library, and cleaning up some of the EAV implementation for some of the areas of Magento.
Magento 2 release took way too long and was not following the vision I had for it.
I think it is still not production ready and needs some work.
The main issues we can see is with performance because as for now Magento 2 is slower and less efficient than Magento 1.
I was also surprised when I learned that the development team chose to implement their own framework rather than going with one of the more mature frameworks, like Symfony 2, for Magento 2.
Fayyaz: Yoav, what is the story behind eBay's acquisition of Magento? Could you share your best moments while working with eBay? What was the reason behind eBay and Magento parting ways?
Yoav: eBay acquired Magento as we were the leading ecommerce platform out there. We were helping small and medium merchants compete in the new world of ecommerce by providing them a platform and a feature set that matched their bigger and richer competitors.
It was great to see how an open source project and a company was taken seriously by a Fortune 500 company, like eBay. My most favorable memory of my time there was presenting the Magento Platform at a talk in front of thousands of eBay partner developers at their developer's conference, Innovate.
Fayyaz: Currently, you are the Co-Founder and CEO of Oro Inc. Why did you start this company?  How has Oro Inc. fared during the last two years? Share with our readers the idea that triggered you to come up with such an incredible CRM.
Yoav: I started Oro Inc. a short while after leaving Magento.
The fact was that I did not plan to leave Magento so fast and I really wanted to continue what I did. I wished to create new open source products. I was also very lucky that some of the best people I worked with at Magento left shortly after I did. Two of them included my Oro co-founders, Dima Soroka and Jary Carter.
We also had Roy Rubin, Magento co-founder and former CEO, join the Oro team.
Oro is doing extremely well, and we are growing our community on a daily basis. We also raised our first round of investment by Highland Europe. Today, we are working on 3—or 4, depending on who counts—products at Oro; OroPlatform, OroCRM, and our latest addition OroCommerce.
OroCRM product came as a response to the demand by merchants that needed a tool to manage their customers. The obvious product would be a Customer Relationship Management (CRM) tool, but most CRMs don't really manage customers. They are designed to manage a sales team pipeline.
So we started to build an app that will help companies manage their customer relationship and allow them to track the customer data across multiple channels—in simpler words, a point of contact with the customer. This was most requested by online merchants that needed a true 360-degree view of their customers.
OroCommerce is our answer to the lack of a true B2B Ecommerce Platform on the market. A lot of the existing ecommerce solutions neglected the B2B needs when building out their offering. Magento was no different. We designed Magento to be a B2C ecommerce platform.
Given a lot of merchants have customized Magento to do some simple B2B features, but if a true B2B merchant wanted to go live with a Magento B2B implementation, they would end up with a costly bill on customizations. They are more likely to end up with a fork of Magento that they would have to maintain for life.
Some of the fundamental features that are needed to solve B2B problems are not available on the architecture level of Magento, and that means that a lot of work needs to be done to create these features.
B2B features — like unlimited price lists, Corporate Customer Accounts with multiple users, and supporting workflows for checkout, and quote-to-order — must be implemented on the platform level.
OroCommerce is in Beta 2 now, and we are going to release our first stable version of it later this year.
We are also working on our OroPlatform, which is a Business Application Platform (BAP). This app helps companies that need to build custom business applications as products or as custom needs for internal use. It is released under MIT license, so we want to encourage companies to build applications using it.
We also keep working on improving our OroCloud, which is a SaaS and PaaS solution for Oro products. We are just about to release a new version of it with many new features. So, I think we keep ourselves pretty busy. :)
Fayyaz: What was your motivation behind Oro Inc., MageCore, Magento, Inc., and Varien? Did you always love technology? Who do you think is one of the finest tech entrepreneur of today?
Yoav: I have loved building stuff since I was a young kid. When I started with software, the idea that I could manipulate code and make the machine do what I programmed was amazing to me.
I fell in love with software development.
There are many, many great technologists today and I am blown away from all the new technologies that keep coming out.
But if I had to pick one person that influenced me the most it has to be Amazon's CTO, Werner Vogels. What he built with Amazon Web Services (AWS) is great, and he is an impressive person to talk to. I was lucky to meet him once in Amsterdam shortly after we released Magento and I learned so much in a 30-minutes meeting with him.
Fayyaz: As an ex-CTO of Magento, in your opinion, what functionality improvements are more competitive today, frontend features for customers or backend refinements for Magento admins? How do you compare Magento 2 UI structure with Magento 1? Do you think any framework UI structure is an important part of development?
Yoav: I don't think that Magento 2 does something entirely new to the UI structure of Magento.
I believe it is in line with what we had started originally as a product goal for Magento; To have unlimited ability to implement any design and branding for ecommerce sites.
I think we know that in ecommerce, no two merchants want to have the same look for their online store. It is important for the UI structure to support and enable them to have their unique design.
This truly has been one of the early differentiators for Magento as an ecommerce platform.
Fayyaz: Jeff Bezos, Founder and CEO of Amazon, recently said: "You know, if you make a customer unhappy they won't tell 5 friends, they tell 5,000 friends." Do you agree with this quotation? How do you think ecommerce will change the technology world in the next ten years? How do you foresee the future of Magento? Do you have any predictions on its development for this year?
Yoav: I completely agree with the quote. All merchants should strive to have happy customers. They might not bring as much value or new business, but the damage they can cause if they are unhappy is huge.
As newer technology appear, customers expect these in their lives and ecommerce is no different.
Take Virtual Reality for example. As this technology will grow and become better, people will start expecting VR from online stores as a browsing option for catalog and products.
Speed and performance of websites will have to keep getting better as people are getting used to a fast and responsive web experience. Of course, customers will continue accessing the internet on any device and demanding the same experience across all of their devices when it comes to shopping online.
I am no longer at Magento, so it is hard for me to predict its future.
I can just hope that even though a private equity group bought them, they are not just looking to flip it and sell again for a profit. I hope they are investing for the long-term in the product, ecosystem, and the community.
It seems that some of their decisions are not aligned with the original Magento philosophy: staying true and transparent with the ecosystem. Some of the pricing model and changes to Magento Connect are evidence of that.
I hope this is not the direction they will continue to move Magento in as this will be harmful to what made Magento great: a strong and thriving ecosystem.
If I had to make decisions at Magento for this year, I would say that investing in the core Magento 2 product should be priority number one. Everything thing else—like Connect, Cloud, B2B, etc.—should take back seat for now.
Even though Magento 2 was released, it is not production ready. There are a lot of improvements that need to be done and fixed, primarily in performance and scalability of Magento 2, before businesses can successfully run it.
Fayyaz: Yoav, how can the Magento Community approach you? Which social network do you prefer the most for connecting yourself with the Community? What is your advice for those who want to connect themselves with the Magento community?
Yoav: I am best reached on Twitter or through the OroCRM and OroCommerce forums.
I guess the real way to connect with any community is to get involved and contribute. Open source works because people work together and collaborate.
I saw that Stack Overflow and Magento Stack Exchange are pretty busy for Magento lately. There is a podcast called MageTalk which is very entertaining and brings the latest from the Magento world to their subscribers.
Roy and I featured on the centennial episode.
Fayyaz: Have you attended any Magento events recently? Which Magento or tech conference do you prefer to attend the most? What are your thoughts about Magento conferences, like Magento Imagine, Meet Magento, and so on? Why do you think merchants should attend these conferences?
Yoav: I have attended Magento Imagine 2016, but it was my last one as Magento Inc. banned me from attending any more official Magento events as they see OroCommerce and me as a competitor.
They do not welcome us or any other competitors to their conferences. Again, it's not the way we ran Magento. The reason so many of the Magento events were successful was because they were inclusive and allowed people from all over the ecosystem, including competitors. These meet-and-greet sessions are filled with learning experiences. They help in creating partnerships and friendships.
It seems now that most of this "pure" community events are fast becoming a business and are not about the ecosystem around Magento. If a merchant is looking for many vendors that are trying to sell products that work with Magento, they should attend these events. Nonetheless, I am still hopeful; we see some of the "old school" community events we use to have in the early days
Fayyaz: Yoav, we all have some influencers who inspire us to push ourselves in our daily lives. Who has been your inspiration? Name some influencers who have inspired you to achieve success.
Yoav: Of course, my parents inspired me to always be better and taught me the value of hard work. My dad still works full-time at the age of 73, and my mom retired at the age of 67. But in terms of what inspired me at Magento, it had to be the energy we got from the community. As I mentioned before, we did not set our goals to create such a successful project. But when people started sharing how Magento impacts them in their personal life and the level of trust they put in us by making their livelihood from Magento, it just made me work harder and try to deliver the best product I could. So I think the community was the biggest influencer on Magento's success as a product.