Articles
The 10 Important Aspects of Building an Ecommerce Store with Magento 2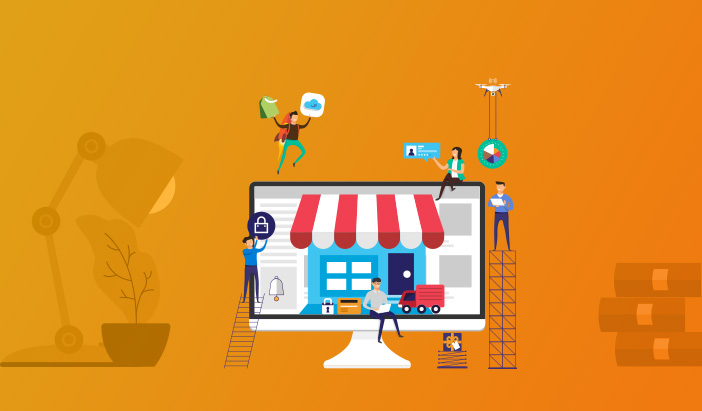 Disclaimer: Magenticians does not necessarily agree with the views expressed in this guest post. They are presented to bring to light all diverse views in the Magento and general ecommerce community.
You may have heard about Paul Smith, Made.com, Osprey London, Kurt Geiger, Grenson, Bellroy, etc.. And you might be wondering why am I listing brands of distinct categories,  what do they have in common?
Do you have an answer…!! No?
Here's a fact; today, more than a quarter of all eCommerce stores in the world, are powered by Magento.
There's a hint to the question above. Yes, all of the above-mentioned brands have huge online stores powered by  Magento, the known, evident giant of the eCommerce industry.
By choosing any other platform, you may get a  bunch of unwanted features coupled with dozens of bugs. So let's check out why Magento is considered the best in this industry, some important facts, and features that make it a standout amongst its competitors.
The table below shows the features and comparisons between different platforms:
Okay! So now that you 've decided to start your eCommerce store with  Magento, let's move to the important process of building it.
Before you start with the implementation,  you must plan and organize the products you want in your store. In order to make your eCommerce store successful and profitable, you should outline the fundamental things to be considered while building an online shop. You must look out for your store's security, the hosting environment, SEO, layout, design and a lot more.
1. Layout and Design
Have you ever noticed your refrigerator? I guess not.
There's a reason why we don't.
Because it's working properly. But when it doesn't, it's a bad day, isn't it?
Same goes for the design for your website. You'd be amazed at the difference that even a minimal change to the smallest details make that may optimize and help your website's conversion rates. The change in color or an image on your website might seem like a small thing for you, but for your visitors, it makes a huge difference when buying products and browsing.
You can say that "The key to any website is in its design".
You must take some points into consideration while designing your website:
People like consistency, especially online. Never make your website look inconsistent by using different fonts, different layouts, different colors for every page of your website.
The domain name must reflect your brand's assets.
Domain name, as well as content, should nearly be impossible to misspell.
Keep your design clean so that viewers can focus on the brand instead of distracting graphics.
Include relevant content describing your brand or products rather than large text paragraphs.
2. Product Page Content
CONTENT IS KING! The bedrock of any page is its content. You always need to write and publish catchy content that visitors would love to read and explore more about your product.
Product image: It is the first impression of your product. The image you include should describe your product well. Add the images of all the products you are going to include in high resolution to create a greater impact on the visitor's mind.
Product description: These descriptions are your salesmen and represent your product to your visitors. A powerful description will influence your conversion rates and help convert visitors into regular customers. You should include everything your customers might ask of, and organize the information well so users can understand easily. Since the description is a crucial part of your product page, never take this portion for granted. The description you write should be materialistic.
Static page content: Never forget your visitors are always willing to know more about what you offer. You need to include an 'About us', a 'Contact', 'a Privacy Policy', and a 'Return policy' section along with a 'FAQs' page to let them know you better.
Articles / Blogs / News:  These things should be included according to your needs. Though you will need some resources(time and/or money) for creating this content, including a blog section will work wonders for bringing in traffic onto your ecommerce store and help boost sales.
3. Quality of Website
Remember, visitors will judge your products from your website's quality. If your website's content is messy and uninformative, with blur images of products, lengthy unwanted descriptions, chances are you'll fail to make an impression on your customers.  It is really important to maintain and develop your website with the highest standards. Let your visitors enjoy the browsing.
Once you understand the importance of investing in your website's quality and presentation, you'll be converting visitors into customers.
4. Mobile Compatibility
Before designing your store, just ask yourself one question; "Would you buy products from an online store if everytime you needed to order, check out and pay from your computer?" It's a quite difficult right! Today, customers are actively adopting smartphones and other mobile devices to make transactions, view websites, conduct research and make purchases.
The main thing to consider is the mobile compatibilities of the eCommerce solutions you are planning for your store. It is a must that your store is able to sell products through mobile devices. A mobile-optimized version will help you move ahead of your competitors, expand your business and encourage more traffic onto your website.
Along with this, make sure to consider other features like:
 The website should be able to deliver a pleasing experience regardless of the screen sizes.
There should always be a one link URL and a single address for a specific description t, regardless of the devices or from wherever the page is accessed.
Graphics must be simple and attractive so after calibration, it looks good on any device.
Regardless of the device's size or type, make sure your page's navigation and shopping must be super convenient for the user.
5. SEO
SEO is important if you want customers to find your website first when they search for a particular product or a service. SEO isn't something you work on it after you're finished with building your website. Rather, you need to start SEO as soon as you decide on starting your eCommerce store. Relevant to your project, you need to determine your SEO transaction plan which defines the basic requirements. After the recent Panda and Hummingbird updates by Google, you might want to analyze certain aspects  such as:
301 redirects
Appropriate tagging
URL optimization
Navigational hierarchy
Internal Linking
Keyword analysis
Content quality
Keyword density
Keyword stuffing
Domain length
Keywords used in domain URL
Visitors engagement
To automate all the nitty-gritty aspects of your Magento store, there are many Advanced SEO extensions available in the market you need to go through before making a website live on Magento 2.
6. Easy User Navigation
Compare your website to a brick and mortar store. You are supposed to find what you're looking for from the merchandise. What are you going to do? You'd probably leave. The same applies to your website.
Make sure your site contains the products or services users are looking for. If they can't find what they want, they are not going to spend much time on your site. And it's quite obvious, they will click back to the search results and go to your competitors' website. In order to make navigation easy and clear for users, you need to take extra care of your content.
7. Hosting
Make sure the servers on which you are deploying your website must be fully equipped to handle the traffic you are expecting on your site. Nothing is more annoying to the visitors than slow loading speed of your site.
Do remember "You get what you pay for". The cheapest hosting company will result in slow speeds and poor service. So never get stuck on price.
As a startup, you don't need a lot of bandwidths, but it is vital to leave some room for further growth.
Don't just skate through the Terms of Service and Refund Policy. Read them, what exactly they're getting signed from you and then accept them.
Ask them, "What's the backup plan and security features?" If you are not comfortable with the answer, you know better about what you want to do.
Choose the right web host and relevant hosting packages.
Understand the needs for your website and then plan to host them.
Research a web hosting company through their customer reviews, before making any decision.
8. Security
Security is the key aspect while building an eCommerce store. As your customers are providing you their credit card and bank account details, they are supposed to know that it is being used, stored and processed with great security. Below are some of the tips for your website's security:
Use secure protocols like HTTPs and SSL if required.
Test your website's security with the use of website security tools, also referred to as penetration testing or pen testing.
Avoid file uploads from your users. It may look simple but could consist of many scripts which when executed on your server, opens up your website to them.
The passwords to your servers and admin panels should always be in encrypted values. Also preferred to use a one-way hashing algorithm such as SHA.
Never provide full exception details as an "error message" to your customers. The reason is to simply ensure that they don't leak details on your servers like API keys and database passwords.
To avoid complex attacks, and SQL injections, keep detailed errors in your server logs.
Protect your pages against Cross-site scripting (XSS) attacks which inject malicious JavaScript and run it into your users' browser, which can change the content of pages and resend information to the attackers.
Always make use of parameterized queries, so that attackers are n't able to attack through SQL injection to gain access to your database. Moreover, they use web forms or URL parameters to insert rough codes into queries so they could get valuable information or even delete data.
9. Test Thoroughly
Why test again and again since you have built everything with fully functioning modules, right? WRONG!
What if your visitors will lose on your bet?. You should test your site as much as possible and mainly before you set it live.. Give it to your friends and family. Believe me! They are the best testing tools. Challenge them to find flaws and errors and let them play with it. Do not worry if they won and land you a handful of errors and bugs, it is far better to find and crush the bugs through them rather than through your customers.
Another effective way is A/B testing where you have to randomly serve visitors two versions of your website that differ only in the design or any of the elements, and the relative efficacy of the two versions can be measured.
10. Reason For Customers To Come Back
"There's nothing more expensive than a free gift". Doesn't matter what it is. The same rule applies to your website. Show your visitors that how much you care for them. When they are finished with their checkout, provide them with vouchers, discount coupons, or any other reason to come back to your website. This will surely keep your customer coming back again and again.
Conclusion
Just like driving Michael Schumacher's Ferrari won't help you win the F1 championship, the same manner, only reading this isn't going to help you build a successful eCommerce store. You need to consult the experts for that. And while optimizing your site, in Magento 2 you will face many hiccups and issues during optimizations. At that critical point of time, you actually need an emergency support which can help resolve your issues at the earliest.
Author Bio
Pooja Monani is a Business Development Executive Digital Marketing Analyst at Emipro Technologies (P) Ltd. She also an ecommerce Strategist and SEO expert.