Articles
Top 5 Tools to Test Ecommerce Website Load Time (2019)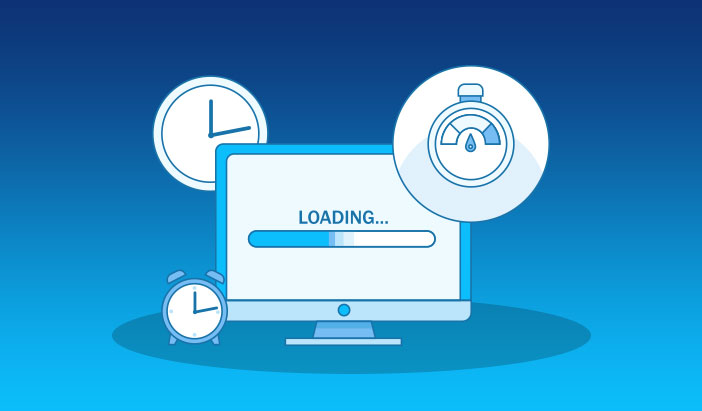 Assuming you've done everything by the book when it comes to starting an ecommerce store, you'd think there's nothing to get worried about, wrong. There is always something or the other which makes you wrench every day, making tweaks, enhancing designs and optimization.
The same could be said when you begin to test website load time. You need to make sure your ecommerce website is always competitive in the ever evolving digital world, so you need to put things to test and make sure everything is working as it should. Regular testing of your website's speed is a good way of knowing what is happening behind the scenes.
What's more is that you can also learn a thing or two about how your competitors are performing and devise ways to improve your customer experience and get more conversions.
Wondering how would you test your ecommerce website's page load times? I will show you how, with the top 5 tools designed specifically to gauge how well your website performs on the speed scale.
Tools to Test Ecommerce Website Load Time
1. Pingdom

Pingdom is a Free online tool that can be used to test website load time. And not just ecommerce, it checks and scans through every website you want to check for as well. Pingdom comes highly recommended because it offers a wide array of results that could help you make the tweaks needed in order to keep your website performing to the max everytime you or a customer visits.
One of the most unique features about Pingdom is that it shows you a detailed graphical representation of your website performance in comparison to others in the same league. Once you go through the graph, it has an expandable analysis tab too.
2. GTmetrix

GTmetrix is a simple online tool that can be used to test website load time. You do however need to sign up, like almost every other speed testing website out there. It is reasonable and offers a bunch of nifty features that provide lots of details about specific aspects of your website. You can also take advantage of the "instant replay" option which shows how your page is rendered by slowing it down 4 times.
GTmetrix also offers details on which specific aspect of your website takes the most time to load which can be helpful in knowing where tweaks need to be made.
3. Google – PageSpeed Insight

We didn't forget Google and its ease of use USP that helps with gauging your website's potential against the industry standards. You can check your ecommerce website's integrity, including landing page insights, compressions, resources, content, plugins and lots more with Google's PageSpeed Insight.
What's more is that Google offers a very intuitive, easy to navigate and friendly interface for you to test website load time against a variety of criteria used for other ecommerce websites.
One of the coolest things about Google's PageSpeed Insight is that it is mobile friendly, meaning you can check your website on the go wherever you are. Want to know what exactly to change or fix? Google tells you.
4. Web Page Test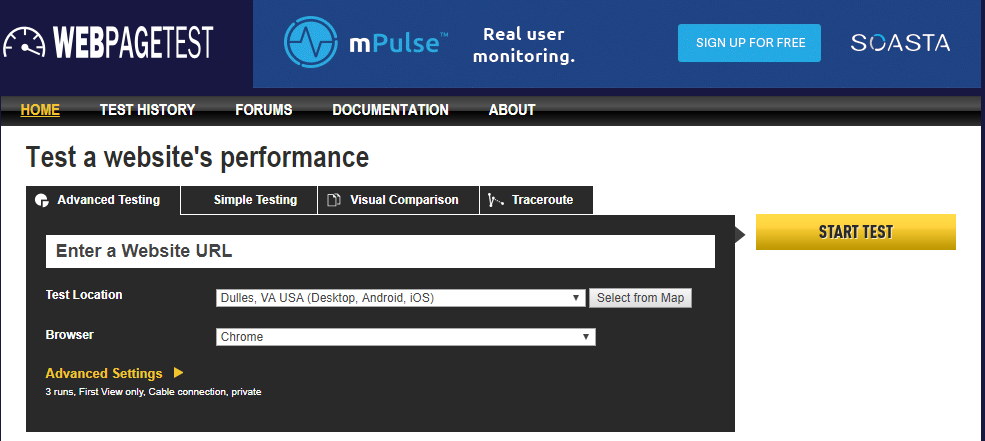 Web Page Test is a great option for those who want to test website load time. Not at all restricted to just page loading times, Web Page Test offers you test servers in America, Europe, and Asia, so around the globe, you're able to see where your ecommerce website ranks against others. Since you're free to use any browser, Web Page Test will also help you understand which browser is best suited to browse your website and where tweaks need to be made.
Put in your own scripts if you want to see more in-depth results, check your CPU's performance and the bandwidth and of course, the page load times.
Still, being a great resource, it does lack in providing the intricate details that GTmetrix does, which is not a bad thing at all, it is, in fact, great for those who just want to know where their website stands and make amendments.
5. YSlow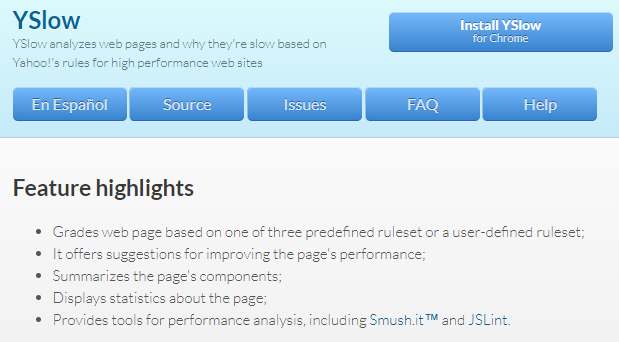 The innovative name of this online speed testing tool is synonymous with its purpose. Wondering why is your website slow? YSlow can help you with just that. Being a Yahoo! Website, you'd expect it to be accurate, to the point and reliable, you'd be right. The website tells you how fast your website is and rates it so you'd know where you stand in the digital stratosphere. What's more is that the website offers a very clean, easy to navigate interface which helps pinpoint the exact segments that need attention. You can also choose how your website should be gauged.
In addition, you have reports that are quite detailed. While it may lack some of the extensive details provided by sites like GTMetrix, it is still a great option.
Conclusion
Almost every website out there goes through a tough phase in a competitive ecommerce world. Some websites have the potential to get ahead in the beginning while some need lots of time to even be considered the competition. As the world of ecommerce evolves, it is imperative that you always take out the time needed to test website load time and if that does not meet the requirements, you need to make the changes necessary in order to rank as high as possible.
There are chances of going unnoticed if your website is not ranked in the top but mostly, ecommerce store owners test website load time all the time in order to better understand the steps needed to ensure their work and products are being noticed. Since speed is one of the most important aspects of providing a great user experience, it is important you pay special attention towards your website and whether or not it caters to the needs of visitors.
If you think I have missed any tool that should be mentioned here, drop your feedback in the comment box below!