Interviews
A (Magento) Beauty With Brains: Simone Zuurveld Talks About Her Career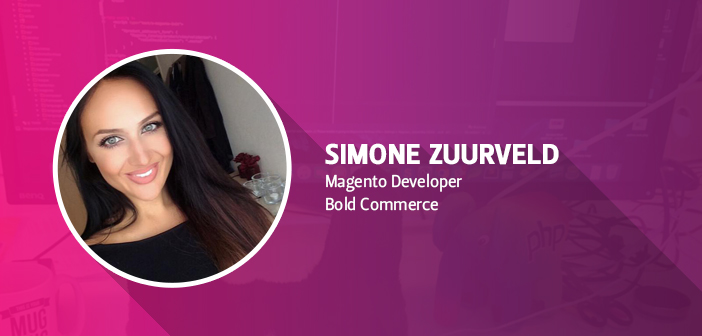 Magenticians is lucky to interview amazing people week in week out and give the community something to learn from them. With that goal in mind, we have with us this week a beautiful Magento lady who employs her skills as a Magento Developer at Bold Commerce.
Let's get talking!
Muneeb: First of all, thank you for connecting with us today. Please share some highlights of your career with our readers
Simone: Thank you! I'm very flattered :-).
This is a tough one! I'm not sure if my highlights would be considered highlights by other people, but to me, it's where I'm at today. I have the nicest colleagues at Bold commerce and I get to learn new stuff every day. Another highlight was probably Meet Magento in the Netherlands 2017 where I took part in organizing this awesome event.
Muneeb: How would you compare Magento with other ecommerce platforms? What was your reason behind choosing Magento?
Simone: I actually got to know Magento as a merchant initially back in 2011 when I was using a SaaS platform for my online store. Since the store was growing rapidly and this platform was pretty limited in options, I decided to look for a software that could be scaled with a focus on growth. I ended up loving development more than being a store owner, ha!
Muneeb: What are your responsibilities as a Magento Developer at Bold Commerce?
Simone: Aside from regular support and requests from our long term clients, I mostly do Magento 2 frontend development since we've had a few new projects coming in.
Here's something completely different I do; I've picked up on our online marketing a bit recently because since we're an all-dev agency, we don't have a separate marketing department.
And I crack the occasional jokes.
Muneeb: What are your views on Magento Certification? Do you think every Magento developer must be certified?
Simone: Not necessarily. I think it's a good way to push yourself and test your basic Magento knowledge, but I don't think it's a must. I know some highly skilled Magento developers that are non-certified and I'm pretty sure there are a few certified devs out there that are less skilled. It might be a smart choice business wise; for example, when you're a freelance developer showing your skills with Magento or an agency just starting off. With that being said, I can't wait for Magento to start doing M2 certifications, haha.
Muneeb: If you could go back in time when you were just getting started with Magento, what advice would you give to yourself?
Simone: I love this question! I would tell myself that it's okay to not know something. I've spent hours and hours of my life trying to find answers to questions I had, when I could've just asked the senior/lead developer to point me in the right direction and saved myself so much time(and sweat, and maybe even a few tears lol!). I was afraid of looking 'stupid' and I ended up spending a lot of time on finding answers, sometimes until midnight.
For some reason, I always felt like I had to know everything, like I should've been somehow born with this knowledge, which of course is nonsense. It takes time to really become an expert at something, no matter what that is. I still struggle with this sometimes, though ;-).
Muneeb: What advice would you give to newbies who want to learn Magento Development? Can you name educational Magento resources that are worth reading and will be helpful for them?
Simone: Aside from all of the obvious resources that have probably been mentioned a million times like the official docs and Alan Storm and Inchoo's blogs, a book that has really helped me become a better developer in general is Clean code by Robert C. Martin.
For me, personally, I learn best when diving into the core and looking at those examples. I'd also recommend doing a Magento developers course.
And last but not the least: The most important piece of advice I'd like to give is something I mentioned earlier and should've given myself too; It's okay to not know something. Don't be afraid to ask questions, and reach out to the awesome community like StackOverflow or the forums if you need any extra help! :-)
Muneeb: Being a Magento Developer, what are the key points you focus on before starting a Magento project?
Simone: Good question. It kind of depends on the client, but to take a more general approach, I try to understand the client's needs as clearly as possible. I like to focus on extensibility and normal human friendly (non tech) usability.
Muneeb: Please share your workplace picture with our readers.
Simone: It's kinda messy in this photo (who am I kidding, it usually is this messy), but I wanted to use this one since my dog Charlie is in this photo. I get to take her to work every day. We call her the BOLDdog :-).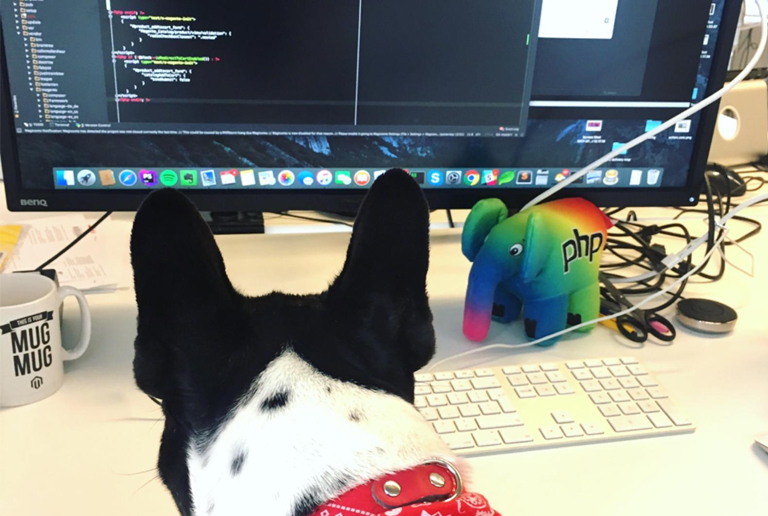 Muneeb: Do you attend Magento events? How useful are these Magento events for Developers?
Simone: I started attending Magento events in 2016, and I just wish I would've started earlier. Not only are they very useful (I love exchanging views, ideas and learning new stuff), they are also a lot of fun. Big shout out to the Magento community, it rocks!
Also, as mentioned earlier, I was part of the organization of Meet Magento NL this year, which was all of the above!
Muneeb: How do you enjoy your free time, and what are your hobbies? Do you like watching movies, playing games or something else?
Simone: I love working out and being outdoors. It balances out the sedentary lifestyle I have as a developer. It keeps me relaxed and focused. I travel as frequently as I can and I love cooking.  Recently, I adopted a dog from the shelter named Charlie and I love taking her to the woods!
Muneeb: Everyone has some inspiration personality in their lives. Name some people who have inspired you in your life?
Simone: My father! A very smart man, also a software engineer, and the one who suggested this line of work to me.
My mother! A very loving and empathetic human. I like to think I'm a combination of both my parents when doing my job. Or at least I hope I am/try to be.
Also, Albert Einstein inspires me in several different ways, one of them being his views on intelligence. I actually have a really large printed canvas of him in my living room.
Muneeb: Now it's time for a fun Rapid Fire round!
Rule: You can't spend more than 15 seconds on this question ;)
| Muneeb | Simone |
| --- | --- |
| Shopify or PrestaShop? | Ouch ehm.. Shopify I guess |
| Movies or Games? | Movies |
| Travelling or Party? | Easy; travelling! |
| Tea or Coffee? | Coffee definitely! |
| PlayStation or Xbox? | PlayStation |
Muneeb: I hope you liked the interview :) Lastly, name some people who you'd like to be interviewed next on Magenticians? You can nominate your friends or anyone else who have notable contributions in the Magento community.
Simone: I loved it, thank you very much! I'd like to nominate Andra Lungu . The very first person I ever befriended at a Magento event and a super knowledgeable lady :-)!