Over the last decade, mass-market products have become very popular in the retail and ecommerce industry. Inexpensive to produce and widely accessible, these products have become the preferred choice for the majority of consumers. Thus, merchants who only deal in high-end products only often find it difficult to make significant profits when offering their products to the wider audience.
According to Deloitte, over a third of all buyers prefer unique and personalized goods that reflect their personality and interests and can make a statement. Custom designed products are a great gift, as they create long-lasting memories and show the loved ones that you care.
Forward-thinking retailers have put two and two together, and now provide opportunities to design and purchase custom products. The result is an increase in customer loyalty and satisfaction.
Magento 2 Web-to-Print extension by Aitoc is a lightning fast mobile-optimized solution that can turn a conventional Magento store into a real design studio. The new extension from Aitoc allows shoppers to easily customize existing products by adding unique images, logos, quotes, and other visual elements directly to the products. With Custom Product Designer, personalization of clothes, mugs, business cards, office stationary or any other items becomes the simplest part of the transaction.
Custom Product Designer Features Overview
Custom Product Designer features robust functionality for both frontend and the backend. This simplifies the process of managing the product customization for Magento stores.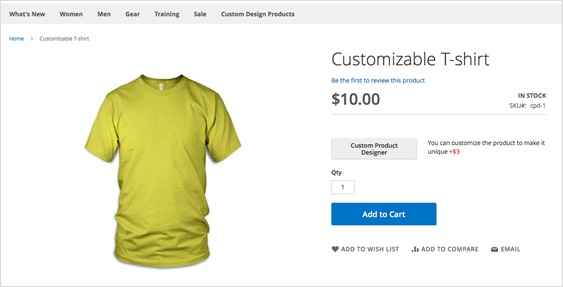 Frontend Options
Let's start with the options available at the frontend of the extension:
Easy Design Creation
Intuitive and easy-to-use, the solution provides a simple interface and convenient editing tools so that customers could create custom products without needing any design skills.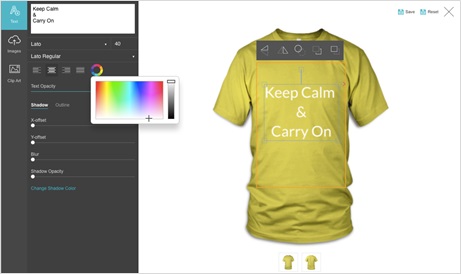 Design Elements Options
Customers have the choice of a wide range of elements including clip arts, images, photos, text objects. This increases the customization options for the customers.
Built-in Library
When creating a new design, customers can either upload the specific elements they need via drag & drop or take advantage of the built-in library that offers both images and cliparts.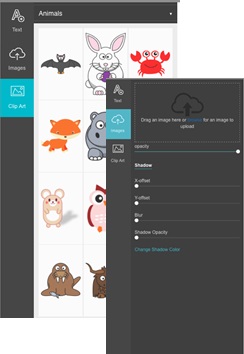 Extensive Image Customization Options
The extension provides an amazing assortment of editing tools, allowing users to generate completely unique designs. Thus, cliparts and images can be flipped, resized, rotated, and duplicated. In addition, shadow effects can be used to add another level of depth to the customization efforts.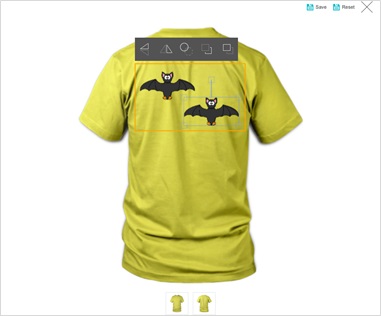 Text Editing
The solution also allows for flexible text customization, supporting opacity, size, length, rotation, distortion, and other settings. It is also possible to use built-in Google Fonts or upload custom fonts to add a personal flavor to the customization efforts.
Multiple Design Areas
Custom Product Designer has no restrictions in terms of design areas, which means that regardless of the product type, all visible areas can be easily customized.
Backend Capabilities
Flexible Custom Products Management
Magento 2 admins are able to make any number of products (even all of them) available for customization and configure individual settings for the entire offering.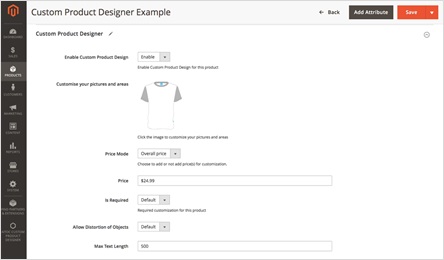 Clipart and Font Library Creation
To make it easier for buyers to customize products with funny or interesting images, Magento store managers could create a library of cliparts and images. There are no restrictions on the number of images to be uploaded to the library.

Pricing Rules Configuration
Exclusively designed goods offer the ultimate opportunity for retailers to increase average order value and get higher profits. With the help of this Magento extension, new prices can be configured for all types of custom products.

Custom Product Designer for Magento 2 allows shoppers acquire exclusively designed/made goods. Similarly, retailers exceed their customers' expectations and generate additional revenue opportunities.
With the purchase of Custom Product Designer, Aitoc offers a 30-days money back guarantee, free lifetime updates, and email support! To learn more about the capabilities of Custom Product Designer and buy the extension, please, visit Aitoc website.