Interviews
"Magento Has An Extraordinary Community," Reckons Lars Roettig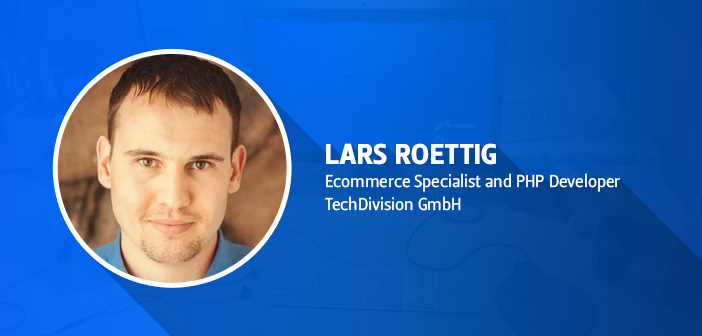 The wait is over as Magenticians is back with another Magento man, Lars Roettig. He is currently working as an Ecommerce Specialist and PHP Developer at TechDivision GmbH. Not only that, he also has a Magento Developer Plus Certification to his name.
Now let's peer right into the thoughts and experiences of Lars!
Muneeb: Thank you for taking the time out of your busy schedule for this interview, we really appreciate it. What was your reason for choosing Magento out of all the other ecommerce platforms?
Lars: First of all, I didn't choose Magento. It more or less happened by accident. A couple of years ago, I was unhappy with my actual work and company. At that time, I already had two opportunities to work as a PHP Developer. One of them I got during the CeBit 2013 event when I met with Josef Willkommer from TechDivision. I felt that his company could be a really good fit for me not only from a technical perspective but also from the cultural side so I decided finally to join. Within the next month and until now I learned a lot and still do. Therefore, it was indeed the right decision because now I'm able to devote more time for community work also and I really like it because Magento has an extraordinary community which already feels like a second family for me.

Muneeb: Can you please share some highlights of your career with our readers?
Lars: I'll list them:
A couple of really big international ecommerce projects and also some big scaling ones like the Ritter Sports Unicorn Sales Event with 35 orders/s
PHP UK CONFERENCE 2016
ZendCon 2016 (Las Vegas)
Magento Hackathon and Contribution Day 2017 Leipzig
Multi-Source Inventory (MSI) Project
Our great team spirit at TechDivision since day one
Muneeb: How important is Magento Certification for Magento Developers? How did you benefit from Magento Developer Plus Certification?
Lars: The Magento Certification does not necessarily mean that you are a great Magento developer, but it shows that you have spent at least some time with Magento. And of course, it always looks good on your CV. It motivated me to work hard with Magento and allowed me to show that I have some knowledge about it in general.
Muneeb: Can you please share some of the essential resources and tips that every Magento Developer should follow before starting Magento Development?
Lars: The best resource to start is indeed the Magento 2 Training course. On top, there are a lot of blogs and great tutorials that you will find like the following:
Muneeb: What advice do you have for beginners that are new to Magento Development?
Lars: If you feel like you want to get involved in the Magento ecosystem, then I recommend the following steps:
Pick a topic that you are passionate about.
Connect with the team on Github, Twitter, and Slack (request to join via

[email protected]

).
Share and improve your knowledge by attending hackathons.
Don't get tired by learning new stuff and always think outside the box.
Muneeb: Could you please share a picture of your workplace?
Lars: Here you go: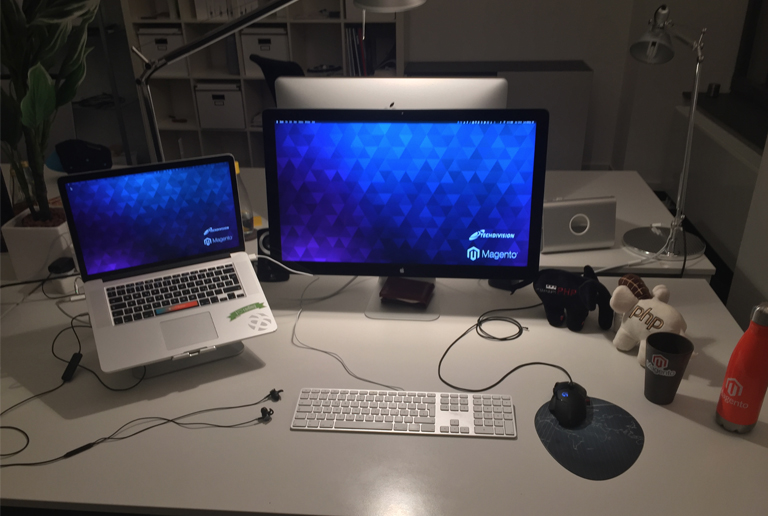 Muneeb: What kind of improvements would you like to see in Magento? In your opinion, what are the future prospects of Magento?
Lars: 
Multi-Source Inventory, yes we are working on it already
More APIs for headless support
A real language handling to improve the re-use of content
A thread-based import/export framework
Standardized build and deployment environment
Muneeb: How do you manage your work-life balance? In your free time, do you like playing games, watching movies or anything else?
Lars: Counter Question, do you have to manage your work-life balance when work is more fun than work? Anyway, of course, I do other stuff because you know the brain needs respite. That's why I really like to bask in nature's glory right here in the south of Bavaria. I also like cycling, hiking or sometimes just relax somewhere to free the mind and gain new ideas.
Muneeb: Now it's time for a fun Rapid Fire round!
Rule: You can't spend more than 15 seconds on this question ;)
| Muneeb | Lars |
| --- | --- |
| Shopify or PrestaShop? | PrestaShop |
| Movies or Games? | Games |
| Travelling or Party? | Travelling |
| Tea or Coffee? | Coffee |
| PlayStation or Xbox? | PlayStation |

Muneeb: Name the people who you'd like to be interviewed next on Magneticians? You can recommend your friends or anyone who has a notable contribution to the Magento community.
Lars: Please Interview David Manners because he is an excellent developer.