Articles
Cloudways Grand Giveaway Worth $22,000+ for Magento Enthusiasts & More!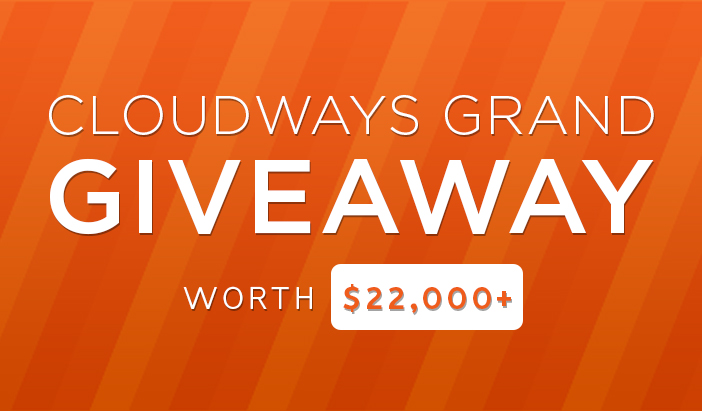 Cloudways has launched a Giveaway with Magento themes, extensions, and tools worth $22,000+ for the Magento community. The last date of taking part in the Giveaway is April 10th. Enter now by visiting the Cloudways Giveaway page.
Cloudways has emerged as a major player in the Magento cloud hosting arena, and it caters to thousands of Magento stores by providing a reliable cloud hosting platform. The users can choose from six top-class cloud hosting infrastructure providers including Digital Ocean, Linode, Kyup, AWS, Google Cloud, and Vultr.
This year, it has launched a mega giveaway for Magento users so that they could join Cloudways in the celebrations of its Year End Review Roundup. The more ways a user enters the contest, the more chances he gets to win.
WIN Massive Magento Swag!
By entering the giveaway, Magento enthusiasts can win a dozen marketing, development, and design tools worth thousands of dollars and give their business the edge to beat all competition.
Here's a glimpse of top Magento swag that the participants can win:
MageComp extensions.
TemplateMonster premium Magento theme.
Aheadworks ecommerce extensions and tools,
UberThemes Magento extensions.
Aitoc data migration extension.
SEOmator keyword analysis, website audit, and SEO analysis tools.
Cloudways Magento hosting credit.
Inspectlet, a website heatmap, and session recording tool.
And much more….
How Much You Can Win
Cloudways will be distributing the prize amount of $22,000+ among the top three winners. Here's the breakdown:
$8,181 worth of themes, plugins and hosting credit for the 1st winner + Aheadworks Tools
$6,334 worth of themes, plugins and hosting credit for the 2nd winner + Aheadworks Tools
$6,103 worth of themes, plugins and hosting credit for the 3rd winner + Aheadworks Tools
Even if you're not among the lucky three winners, don't worry. You can still win hosting credit and Magento development tools. Just make sure you add more entries to increase your chances of winning.
How You Can Enter
There are eleven (11) ways to enter the competition. First, visit Cloudways Giveaway page and enter your email address. Make sure you confirm your participation by verifying the email address.
Each entry is allotted a number of points. By making more entries, you increase your chances of winning further prizes.
Enter the Giveaway
Hurry Up! Cloudways has announced the last date of the competition is 10th, April 2018. So, start making your entries in the competition today and increase your chances of winning it.
Subscribe Newsletter
Subscribe to get latest Magento news