Are you looking for a place to buy some of the best Magento themes? If yes, then you must keep your eyes open for the right opportunities. You'll be surprised to know how far you can go in promoting your business using Magento themes.
Business promotion is a key element to help you find your way to success. If you're passionate about what you do, help people find you. Get online! An online presence can help people make the most of your product or service. There's no need to break the bank with a first-class website to gain the online presence.
Having the right Magento theme from TemplateMonster can jumpstart your web project with minimal fuss. But why buy Magento themes from TemplateMonster? That's the million-dollar question, right?
What Is TemplateMonster?

Let's start from the very beginning. TemplateMonster started as a company of five and has made great strides since then. As of today, this is a true game-changer in the web design industry. It offers a huge inventory of website templates for different business niches. In fact, this giant looks just unstoppable.
Here's something more; if you're looking for high-quality products, welcome to the TemplateMonster digital marketplace. It offers a staggeringly powerful collection of WordPress themes, as well as Joomla, MotoCMS, PrestaShop, Shopify, and Magento templates, different extensions and design assets. And that is just the icing on the cake!
Apart from a huge inventory of website templates, TemplateMonster provides an excellent lifetime 24/7 support to help you get rid of all the worries that you may encounter. If you're a small business owner struggling to figure out which one solution to choose, you are not alone. With the right collection of plugins and assets, you can easily extend the functionality of your site.
However, choosing the right ready-made template can be the hardest thing. Not sure where to start? Well, we suggest you check out a collection of beautiful Magento themes to get things done.
Why Magento? Today, Magento is one of the most popular eCommerce software platforms offering a fantastic opportunity to set up a feature-rich eCommerce website in a less amount of time. Once you decide to use this powerful CMS platform, your eCommerce options will almost be endless.
Why Buy Themes From TemplateMonster?
TemplateMonster's inventory is the best place to find themes for your future e-store. When you buy a Magento theme from TemplateMonster, be sure it's worth doing it for the long-run. With TemplateMonster, you get much more than ready-made website templates. Actually, they provide numerous plugins and assets, corporate identity packages, partner programs like Certification Center, Service Center, Web Studio Catalog, and more.
Take the time to learn more. Taking into account that most of the currently available website templates are made in-house, TemplateMonster can extend any product updates and upgrades, whereas other smaller developers can't ensure the same support. What's the cut? This means you can get more freedom to extend the functionality of your website.
Do not be afraid to view live demos of each template to understand whether it fits your desired preference. So what's holding you back with all the advantages?
Some Info About Pricing Policy and Features
In general, the price varies. It depends on the functionality of the Magento template you choose. Well, the most popular Magento themes are available for purchase between $100-$200. What's more, you can add optional upgrades like installation, premium web hosting, stock images set, and more.
Along with the standard license, TemplateMonster offers a buyout license meaning that you're the last person to download it. This is something to consider when you need to create a truly unique design for your website. Think of it.
The comparative table below reflects the main features of two popular Magento themes – MountainLife – Climber's Gear Magento Theme developed by TM, and Ultimo – Fluid Responsive Magento Theme, by ThemeForest. It's highly recommended to check what particular features each Magento theme includes before making a purchase.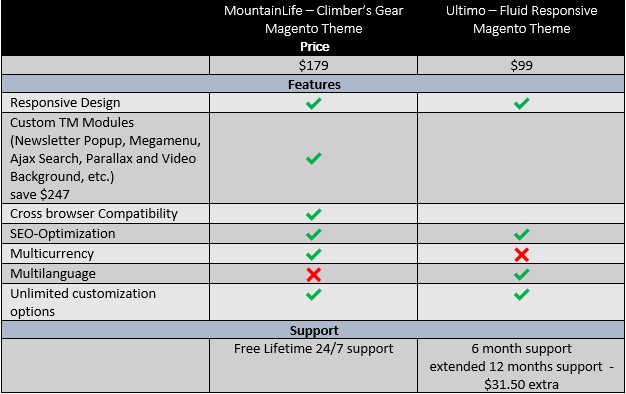 Well, here's a list of a few of the most impressive options to help you find the best TemplateMonster Magento theme. Be sure to find at least one solution that can help get you started. Modern, trendy, well-coded, and optimized for all last-generation devices, each of these Magento templates can make a difference in your business.
Illin.Co – Tools & Equipment Online Store Magento 2 Theme
Built with a flat design and a clean layout, Illin.Co is a perfect choice for any tool and equipment website. It features responsive design, unique style, and a pro-functionality. This Parallax Magento theme can be the difference that puts your visitor's decisions in your favor. It comes with a bunch of custom Magento extensions that can help you save $1060. Isn't it great? What's more? This SEO-friendly template is cross-browser compatible and supports multiple currencies. Don't miss it.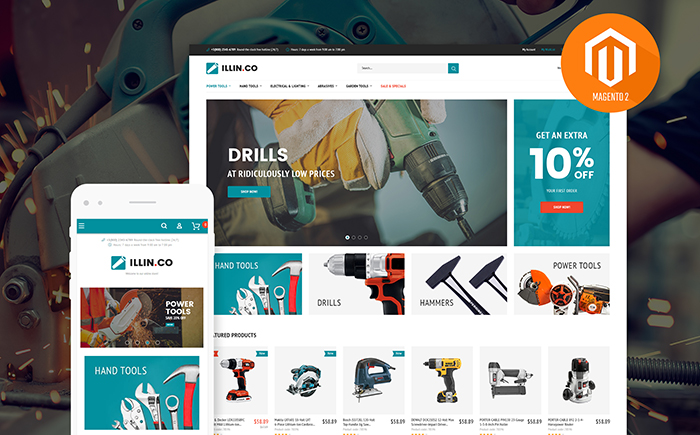 Hard Gainer – Sports Nutrition Online Store Magento 2 Theme
Hard Gainer can jumpstart your sports nutrition business and save you a ton of time and effort. Do everything in your power to grab the attention of your visitors and lull them into a sense of victory. Save $376 with TM custom modules and make your website worth a million bucks. Built around modern standards, responsive, cross-browser compatible, and SEO-friendly, this flexible Magento 2 theme can promote your online business 24/7, 365 days a year. With multi-currency support, your eye-grabbing e-store can help you expand the shopper base. Get it.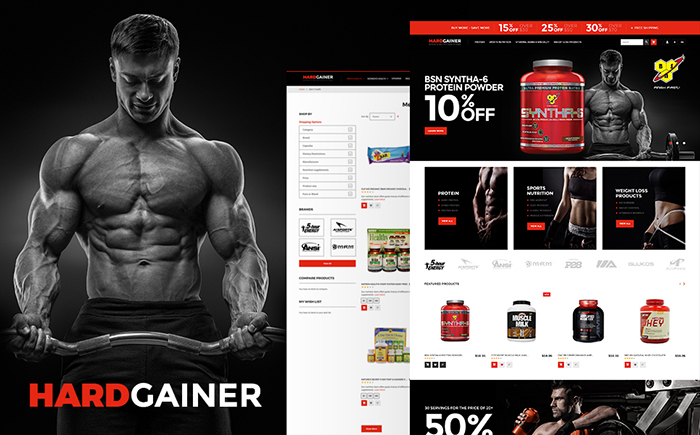 Magetique Lingerie Store – Beautiful Online Store Magento 2 Theme
If you'd like to turn your passion into a business, you should consider Magetique Lingerie Magento 2 theme. This modern template can be your starting point for setting a successful online store with minimal fuss. Being part of the Magetique Family, this SEO-friendly solution comes with all necessary features you may need to level up your eCommerce business. Thanks to multiple customization options, you can make your visitors feel special when they land on your site. With this responsive and top-notch template, you can build a repeat business. Have focus.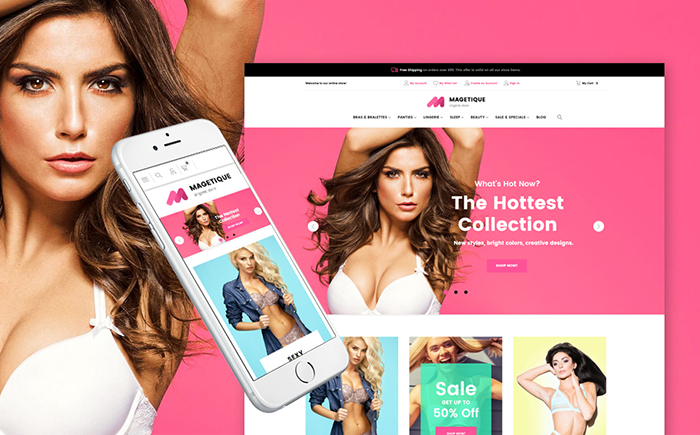 Snuficco – Tobacco & Cigars Online Store Magento 2 Theme
Snuficco is a unique and attractive Magento 2 theme that can give your online business the fuel it needs to scale. It comes with a fully responsive and retina-ready layout, easy installation, multiple custom modules, clean valid code, and multi-currency support. Represent your online store in a way that appeals to your target audience the most. Showcase a huge variety of your tobacco products to expect sales to flood your store. With a Wishlist & Compare plugin, your visitors can lay aside favorable products they need and compare them. Get the store you wish in no time.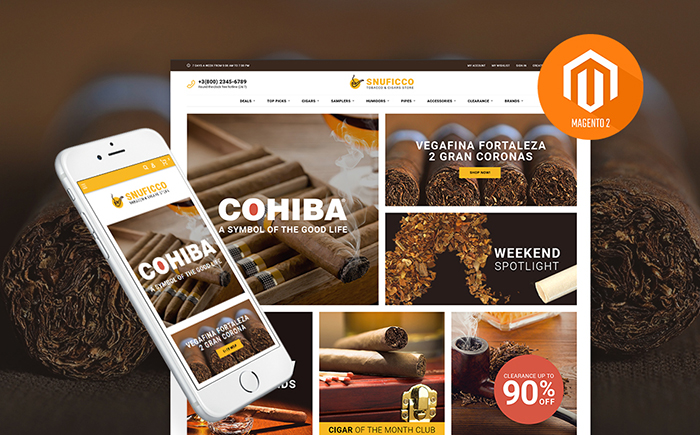 Recuidi – Healthy Food Store Magento Theme
Take a look at this absolutely stunning Magento 2 theme to establish your online store selling organic food. Along with a set of customization options and fully responsive, retina-ready layout, Recuidi also features a clean valid coding and sample data installer. Using this modern Magento 2 theme can save you time – time that could be better spent growing your business. Want to know more? The theme includes a Contact Form, Login Form, Newsletter Subscription, and more. Hit the live demo button to learn more. Face it, your audience deserves the best. Way to go.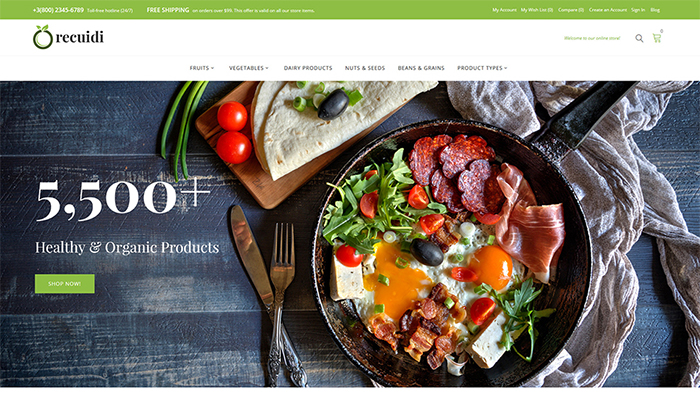 As a bonus, we encourage you to grab this eBook as a Big Thank You for your attention.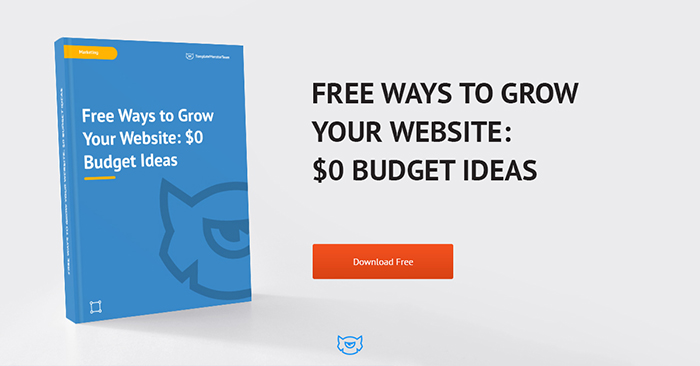 Final Thoughts
Well, to sum up, it boils down to one thing: if you're looking for a template website service that is proven to be reliable, buying Magento themes on TemplateMonster is an excellent solution. Let's say, Magento is probably the best online store platform where TemplateMonster might very well be your best bet. Want to know more? Don't forget that TemplateMonster templates are multilingual, meaning you can appease visitors from all over the world. And don't forget – its various payment methods include PayPal, Skrill, SWIFT, Payoneer, and more. What more proof do you need? Don't knock it till you try it. Check them out now.