Interviews
"Magento 2 Is the Modern Open Source Framework We All Asked for," Claims Alessandro Ronchi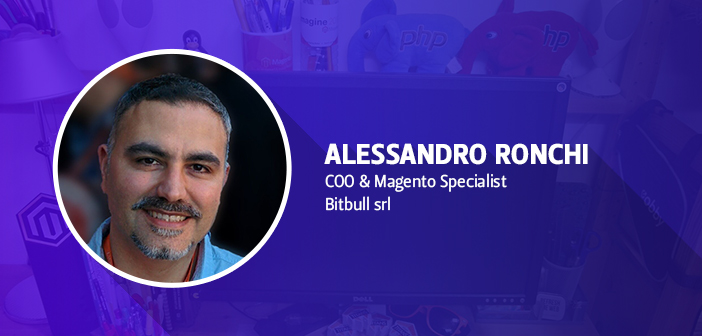 Magenticians is back with another Certified Magento Developer with vast experience in Magento, Alessandro Ronchi. He is currently working as a COO and Magento Specialist at Bitbull srl.
Without taking more of your time, here's my chit chat on Magento with Alessandro!
Muneeb: Alessandro, first of all, thank you for taking out time for us. Please shed some light on your career for our readers!
Alessandro: I'm a 42 years old guy, and I started coding at the age of 13, so I'll celebrate 30 years of coding this year. A lot of time has passed, but I'm still learning things because, at the end of the day, our work consists of continuous improvement.
After graduating, I worked as an employee for some years and, at the age of 30, I started my career as self-employed professional. A couple of years later I founded my company, and in 2009 I began working with Magento. In 2015 I left my company to join Bitbull as partner and COO.
Muneeb: What is your job role at Bitbull srl?
Alessandro: I play multiple roles in Bitbull. As COO I develop the business, remove obstacles, and keep the team motivated. As Magento Specialist, I do architectural analysis and help define the team that will work on a project. I'm also involved in research and development.
Muneeb: After getting certified in Magento Development, what changes did it bring to your career? When did you realize the importance of this certification?
Alessandro:  I got certified in 2012, and at that time there were only a dozen certified developers in Italy. It made a big difference because together with the fact that my company was one of the few Italian Magento Solution Partners, it brought us a lot of work and experience. The importance of certification, for me, was that it forced me to delve deep in the core of Magento. At that time there weren't many official resources, and the only way to have definitive answers was that of looking at the Magento code. Studying to get the certification provided me the basis for some of the topics that I covered in my book some years later.
Muneeb: Being a Certified Magento Developer, what would be your advice for newbies who want to learn Magento Development?
Alessandro: Assuming that we refer to learning Magento 2, things have changed a lot since the early days of Magento 1.
Nowadays there are a lot of official resources to draw on, and paradoxically I wouldn't suggest looking at how the core code is implemented. Magento 2 still has a lot of legacy code; it will change in the near future, and the best thing to do is to refer to the official documentation and integrate your code based on public interfaces as much as possible.
For the same reason, there is a lot of heat these days about going headless with Magento 2 and trying to avoid from coupling to the framework. Some of the talks and workshops of the next Mage Titans Italy are focused on this subject.
Muneeb:  What is the thing that makes Magento special from other ecommerce platforms? What was your reason behind choosing Magento?
Alessandro: In 2009 when I had to develop some ecommerce websites for my customers, there weren't many open source alternatives to Magento. Developing from scratch wasn't a choice, osCommerce was in its decaying phase and even if learning Magento seemed very challenging I sensed that it would be the right choice.
And it has proven to be a successful pick since, even if next year Magento 1 will be deprecated, it has been on fire for almost a decade, and that's a real record for a web technology.
Muneeb:  You published a Magento Best Practices Handbook. Please tell our readers something about the book.
Alessandro:  As I mentioned before, the idea of writing a book goes back to the time of my certification. At that point, I realized that a lot of bad development practices were due to the lack of knowledge of how the Magento core was developed. At that time I had just become a father and didn't find any further energy and spare time for writing. Two years and more experience later I finally felt motivated and started working on the book in my free time. After ten months I published it.
Writing a technical book was a dream of mine, and I managed to realize it. But I don't think I will do it again. As my friend Jisse Reitsma says, nowadays there are more suitable ways to share up-to-date knowledge. If you want more details on that, you'll have to interview him :-)
Muneeb:  Do you attend Magento events? What's so special about these events?
Alessandro: Not only I attend events, but I organize them as well. After a couple of local events in 2013 and 2014 called Mage Day, I organized the Mage Titans Italy 2016 and next month we will turn the spotlights on Mage Titans Italy 2017.
I attend several Magento events around Europe; tech conferences are my favorite, liked Mage Titans and Mage Unconference above all. But this year I attended Magento Imagine for the first time. It has been a memorable experience that gave me the possibility to meet in person a lot of friends from the Magento community that I didn't have the chance to meet in Europe.
I am an advocate of every initiative that's useful to share knowledge and strengthen the community.
Muneeb: In your opinion, what is the difference between Magento 1 and Magento 2? What's your advice for merchants who are looking to move to Magento 2?
Alessandro: From a merchant's point of view, the main difference is that Magento 2 is where innovation and support will take place in the next few years. There will only be security updates (not improvements) for Magento 1 until October 2018, when official support will end.
Not to mention that security support will also be dismissed for PHP 5.6, that's the latest PHP version Magento officially runs on.
Obviously (and thanks to an Inchoo's module) Magento 1 runs on PHP 7.0 but it's worth remembering that Magento doesn't provide support for Magento 1 Enterprise Edition running on PHP 7.0.
From a developer's point of view, Magento 2 is the modern open source framework we all asked for. I know it's not all sunshine and rainbows but the real difference is that we, as a community, can now give our contribute. Thus my advice is: if you are not happy with some issues, give your 2 cents or use something else. Blaming doesn't help.
Muneeb: As a man with a busy schedule, how do you manage your work life balance?
Alessandro: It's not an easy task considering that I mainly work from home. The trick for me is having a room dedicated to work; there I have my laptop docked and wired in a way that it's not easy to get it and bring in other rooms.
The real challenge is avoiding checking emails and notifications on the smartphone during family time.
Muneeb: As is our tradition, could you please share your workplace photo with our readers?
Alessandro: Yes, with pleasure. As you can see, the laptop is not visible, because it's docked aside. What's visible is a large number of pens (and gadgets) I collect at events. The oldest (even if not distinguishable) is a pen by Borland dating from the late 1990s. And last, but not least, you can also see the just-delivered Mage Titans stickers ready to be distributed in the welcome bag.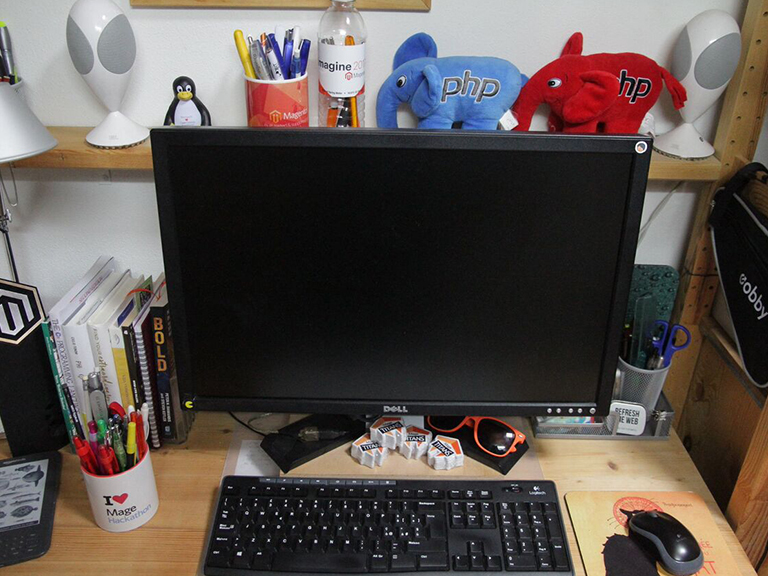 Muneeb: Now it's time for a fun Rapid Fire round!
Rule: You can't spend more than 15 seconds on this question ;)
| Muneeb | Alessandro |
| --- | --- |
| Shopify or PrestaShop? | Shopify |
| Movies or Games? | Movies |
| Travelling or Party? | Travelling |
| Tea or Coffee? | Coffee |
| PlayStation or Xbox? | PlayStation |

Muneeb: I hope that you enjoyed this interview :)  Who would you like to be interviewed next on Magenticians? You can recommend your friends or anyone who has notable contributions in the Magento Community.
Alessandro: I enjoyed a lot, and it was a pleasure, thank you!
About the next interviews, other than the aforementioned Jisse Reitsma, I'd like to mention another friend of mine that is contributing a lot in sharing knowledge among the Magento community lately: Mak Pronko.