Disclaimer: Magenticians does not necessarily agree with the views expressed in this guest post. They are presented to bring to light all diverse views in the Magento and general ecommerce community.
As the holiday season draws closer, ecommerce stores will be gearing up to take full advantage of the annual opportunity. According to a study from RJMetrics, shopping days from Black Friday through Christmas see up to 100% more revenues compared to the rest of the year.
Promotions, discounts, and special offers are the order of the day for most online stores in a bid to attract customers. But what about visitors who have added items to their cart, only to walk away without actually completing the purchase?
You are not alone.
The Baymard Institute found that a staggering 69.23% of online shoppers abandon their carts, leading ecommerce stores to leave up to $4.6 trillion on the table.
So, how can you recover those customers?
First, let's take a look at the full breakdown of the Baymard study: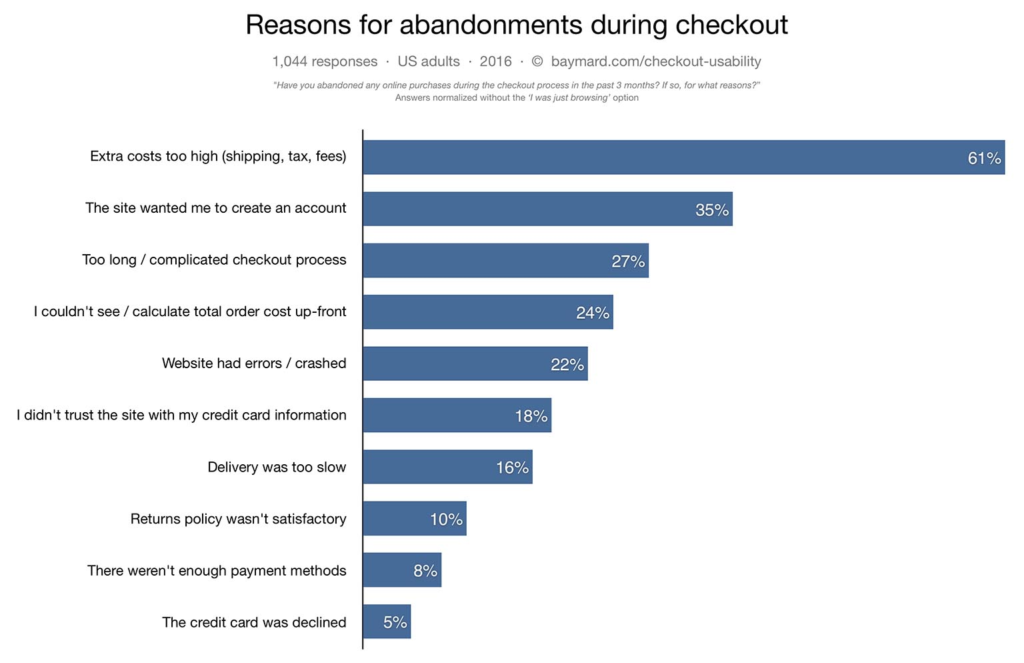 (Source: Baymard Institute)
As we can see, by far away the principal reason for shoppers abandoning their carts are the extra fees added at the end of the checkout process, with the most usual suspect being shipping charges. Coming in at number four is a similar issue of customers being unable to calculate costs upfront.
A recurring theme throughout the reasons for cart abandonment is communication, or rather, the lack of. Imagine, for example, if you have gone through the process and ready to pay, only to find the total cost has jumped up by 10%. It would be off-putting for any potential customer.
How to Use Emails to Recover Abandoned Carts
While abandoned carts are probably here to stay, fortunately, there are ways your business can recover some of the lost revenue.
The first step should always be to look at improving your checkout process. Be upfront about the costs and try to limit the number of steps customers take to complete the purchase.
By streamlining the process and making it as easy as possible for shoppers to buy on your site, you should start to win back at least some of the 27% of customers leaving because of a complicated checkout process.
There is another highly effective method of recovering abandoned cart sales.
Automated Email Campaigns
At 44.1%, abandoned cart emails enjoy a far higher open rate than other marketing emails. A study by SaleCycle also indicated that 28.2% of click-throughs resulted in a recovered sale. At MageMail alone, we have helped clients recover $60m in lost revenue with an average of 15% recovery rate.
How to Run an Abandoned Cart Email Campaign
The first email should be sent immediately an hour after the shopper has abandoned their cart. The tone should be open and friendly and nothing more than a reminder. Email is also the most effective for abandoned carts, so it is worth putting in the thought and efforts into the design and copywriting.
Friendly and Focused
Designer products retailer, Fab, has a great example of a friendly and focused email, delivered with the aim of reminding the shopper of the product they left behind: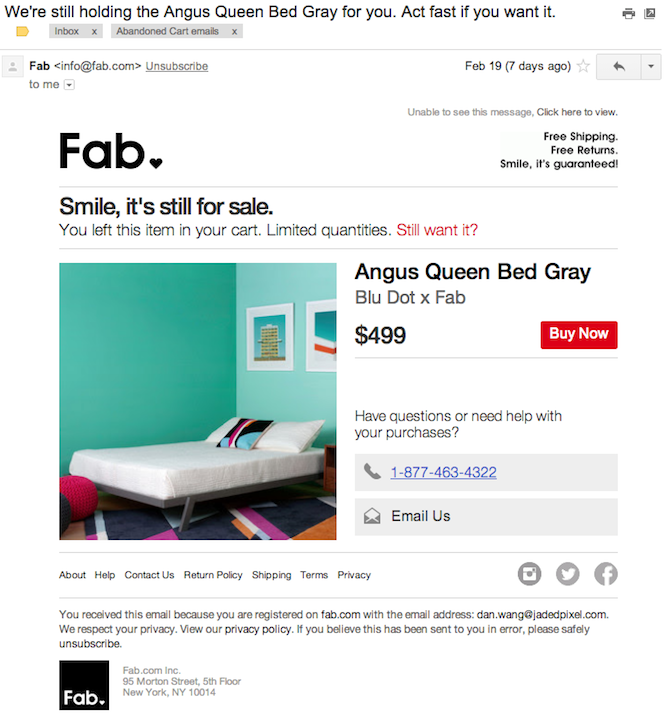 (Source: Fab)
This is a simple email, which comes with a big image of the product, together with an offer of help with the purchase, and a suggestion that stock is limited, pushing the urgency factor.
Complete with contact details, the friendly tone is all about enticing the shopper to complete their purchase that they may have abandoned simply because they got distracted or the website crashed. And this could just be the nudge they need.
Humor
Depending on the nature of your brand, humor is an excellent tool to use in abandoned cart emails. Of course, you should play it safe and keep the audience in mind when coming up with humorous content.
Wine membership club, Winc, managed to put together an email combining friendliness and humor to give off a personal vibe:

(Source: Winc)
With a powerful message of "the wine belongs in your home," coupled with an offer of $20 off the first order, it would be difficult for any wine lover to move away from the email without completing the purchase.
As we can see, smart use of gentle humor can help deliver a memorable and inviting email, tailored to the subscribers and the brand of the business.
Personalize
Fifty percent of companies have identified personalization as the number one way to increase interaction with subscribers through emails. So utilizing it in recovering abandoned carts is an obvious step to take.
Ugmonk, an American apparel ecommerce store, has the personal element deeply embedded within its brand. Founded and run by Jeff Sheldon, the brand is about creating high-quality products that the founder would be happy with.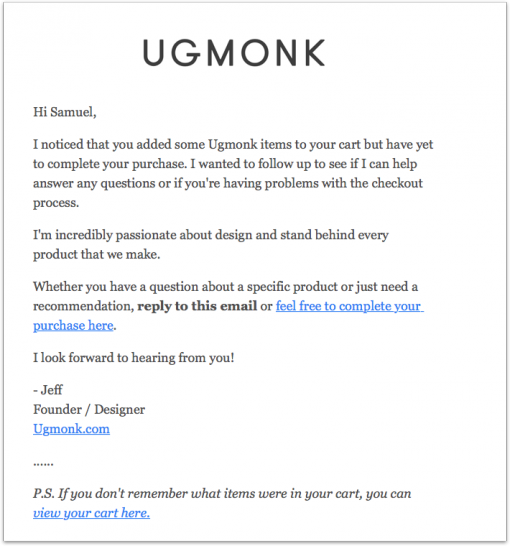 (Source: UGMONK)
The plain text and personal message from Jeff is helpful and open in tone. Addressing the recipient by name in itself hits the sweet spot but signing off simply as "Jeff", the founder is leaving a lasting impression.
Second Email
Around 72 hours after they have abandoned their cart and failed to take any action after the first reminder, you should send them a second email.
Once again, the tone should be friendly and open, but this time, with a special offer.
A common strategy is to give free shipping if the customer meets the minimum requirement, which can be set by you.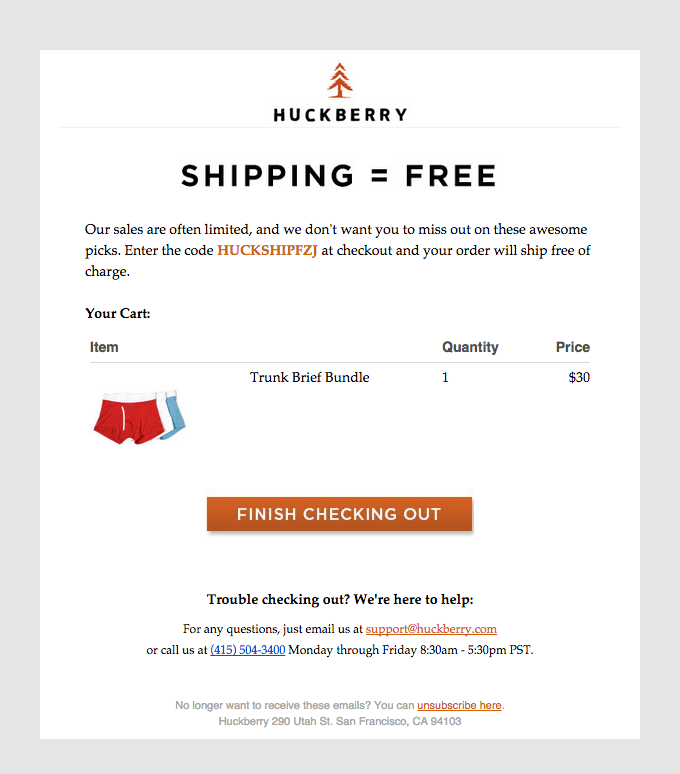 (Source: HUCKBERRY)
American men's apparel store, Huckberry, simply offers free shipping with a voucher code. The content itself is brief, with a relentless focus on two things – the free shipping code and the call to action tab inviting the shopper to finish the order.
The third email, delivered around a week after the abandoned cart, should be similar in tone with a hint of added urgency such as limited stock or a deadline on a special offer.
The aim is to give a final, friendly nudge to the shopper, and hope they click through to complete the purchase.
Wrap Up
At MageMail, we offer automated email solutions to enable Magento merchants to recover a significant proportion of lost revenue. As we have seen, it is possible to incorporate a friendly and engaging email campaign to bring shoppers back to your site during the highly competitive holiday season.
The fact is that shoppers will be leaving carts behind for a variety of reasons. They may even carry out research on other sites to compare service and prices. Automated emails can allow your Magento store to nudge ahead of the competition by offering discounts, free shipping, or simply helpful advice.
Statistics clearly prove email is the most effective method in recovering abandoned cart sales. Plan ahead now and take advantage of the holiday season.
Author Bio
Karl Kangur is the Marketing Director at MageMail. Having set up his first online company over 9 years ago, he went on to become an advisor and consultant for digital marketing all over the world. He specializes in content and email marketing, advocating the latest ideas and techniques through blog posts, talks, and media appearances.